This post may contain affiliate links. Read my disclosure policy here.
Judith O'Reilly agrees to move with her husband to northern sheep territory in England — away from her job, friends and beloved city of London. This is how she becomes Wife in the North.
The book is written journal style, and after reading several chapters, I thought that it seemed to be a lot like a blog — covering topics from food, to friendship, to nursing babies and disciplining preschoolers. And then I discovered that it had indeed started as a blog.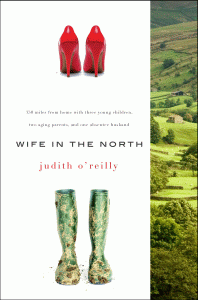 Judith O'Reilly began the blog to chronicle her move to the North of England, to help her husband live out his dream. When she gets there, she's frustrated by her house, the neighbors, the bullying that her son endures at school, her husband's absence while he's working in London, the responsibilities of a new baby and a new home and a new life.
I find that when I read now, certain themes resonate with me — such as friendship, marriage, and the many roles that a woman serves as she navigates through her life, and in this memoir O'Reilly covers these. If you enjoy reading personal blogs, and specifically stories that illuminate a different lifestyle than you are living, I think you'd like this.
I found myself shaking my head at her, just as I would my sister or a friend who keeps complaining the same complaints over and over — "Instead of fussing at your husband for leaving the car empty, why don't you fill the gas tank yourself?" But sometimes as a woman juggling all the balls that we do in the air, there are things that we rely on others to do for us — our friends, our husbands, even our children. O'Reilly captures the reality, frustration and incongruity of this perfectly.
You can read an excerpt of the book HERE.
You can enter to win your own copy by leaving a comment here. The FOUR winners will be announced next week.
We usually announce a winner in each column of the previous week's book, but the contest from last week is still going on. You can enter to win all of the Harry Potter books in hardcover, plus the anniversary edition of the Sorcerer's Stone HERE. The winner will be announced October 6.