This post may contain affiliate links. Read my disclosure policy here.
Do you have a little horse lover in your home? My daughter, Audrey, loves horses and dreams of owning her own horse someday. And although it isn't the same thing as her own real live horse to ride and love, she is very fond of her toy horse from Paradise Horses.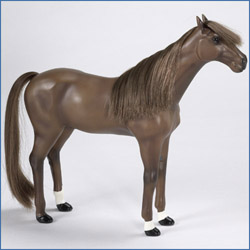 She owns Corduroy, a fully posable horse. He came with a halter, comb and carrot. She loves that his legs can bend and move and that his mouth opens so that she can feed him.
Corduroy is one of four different posable horses sold by Paradise Horses, and each horse comes with its own story. Corduroy is a chestnut horse with a soft muzzle. He is affectionate and enjoys being pet and groomed.
I think that it is wonderful that they make each horse unique so that children can choose which horse they would like to own, based on its coloring and personality, much like they would if they were purchasing a real live horse.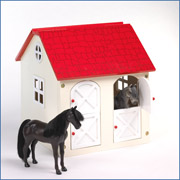 Your little equestrian will also love Paradise Horses' line of riders, clothing and accessories for their loved horse.
Realistic jumps can be used for practices and exercise. The Two-Stall barn makes a great home for the horse and also provides room for clothing, tack and accessories. The tack and clothing offered allows for the horse to be dressed and prepared no matter the occasion. Each piece is also highly-detailed and realistic, making it a smaller version of the real thing.
Paradise Horses encourages serious horseplay with realistic horses and accessories that are handmade and hand painted with love. Every horse is an original and once in your child's arms, can be registered with the Paradise Horse Club, receiving a Certificate of Authenticity.
If you have a horse lover in your home and would like a chance to win one free product of your choice from Paradise Horses, please leave a comment below. You can choose from any of the horses or accessories. This giveaway is only open to US shipping addresses.
We will draw a winner on October 25th.
Paradise Horses also has a promo code for our wonderful readers, just in time for holiday shopping. If you would like to receive 20% off your order, please enter in promo code paradise5.