This post may contain affiliate links. Read my disclosure policy here.
BlogHer 2010 in New York City was fabulous!
Janice and I had so much fun, it's hard to recover and fall back inline with reality.
But the joy is that it's not really over… in some ways, now the fun really begins as we all take time to look at photos, remember and laugh again.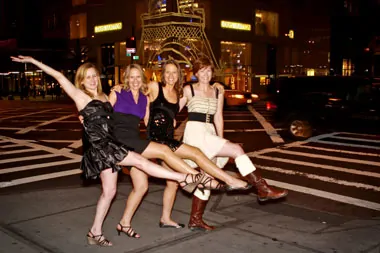 And if you weren't there, you know what? You're still in the same place as those of us who were.
What do I mean???
Well, there was sooooo much happening all at the same time, that we all missed out on 90% of everything. All we could do was taste the moments we were in and now we get to look at everyone's photos and read their posts and find out what we missed.
I admit that sometimes it's hard when you see photos of your friends and you're not in the shot and you realize you missed out on that moment and you have a twinge of that left-out feeling.
But don't let that feeling take hold. Instead enjoy the moment through their smiles and realize that BlogHer really is a celebration of the profound and amazing friendships that we build virtually through this phenomenal blogging medium.
When we have times to come together in real life it is in a burst of energy, fun and laughs and it's worth every penny and moment away from our families… but the crux of it all lies here… in the blogosphere!
So come with us now, whether you were in NYC or not, and celebrate the beauty of all the friendships we've created and are creating everyday.
Here Janice and I kick off our BlogHer 2010 video footage with some laughs in Bryant Park and Times Square…

Thanks to Kmart Design we shot and will be publishing a ton of video posts in the coming weeks, so make sure you watch our feed.
What About You?
Were you at BlogHer 2010 in NYC? If you were what was your favorite memory? If not, do you wish you were and do you hope to come to BlogHer 2011 in San Deigo?
Remember to read the posts in our BlogHer 2010 Link Up and add your links.

Written by 5 Minutes for Mom co-founder Susan.
You get our feed, right?