This post may contain affiliate links. Read my disclosure policy here.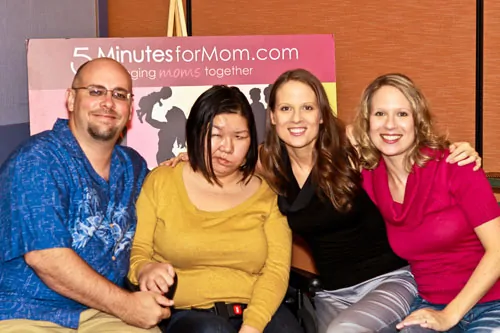 Of the 2500 bloggers at BlogHer 2010 in New York City, the one who I most wanted to interview was Anissa Mayhew!
And we were so blessed to catch a few minutes on camera with Anissa and her husband Peter.
Janice and I have always been huge Anissa fans… we've laughed along with her on Twitter and she was a fantastic contributor and helped behind the scenes at 5 Minutes for Special Needs.
Many of you may know Anissa's story and have been inspired by her and her family. They are an amazing example of how to laugh and pull together through difficult times.
Both Anissa and Peter are so funny and we loved talking to them and listening to them make everyone laugh during their BlogHer panel.
Listen now as Anissa shares with us how laughter gets them through…
Make sure you visit Anissa on her blog FreeAnissa and laugh with her on Twitter @AnissaMayhew.

Thanks to Kmart Design we shot and will be publishing a ton of video posts in the coming weeks, so make sure you watch our feed.
So Tell Us…
Have you followed along Anissa's journey? How has she inspired you?

Written by 5 Minutes for Mom co-founder Susan.
You get our feed, right?