This post may contain affiliate links. Read my disclosure policy here.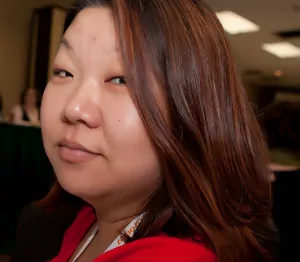 I think Anissa Mayhew must be one of the most inspiring bloggers in the world. She's shared her heart wrenching journey through her battle with her daughter's cancer and now shes takes us all with her through the miraculous but brutally difficult recovery from a stroke and coma.
I know that all of her friends and fans are thrilled that she is on her way to New York for BlogHer 10.
Over at her blog Free Anissa, she's shared her first vlog post. She's brave and beautiful and pure inspiration.
I reached into our footage from the last BlogHer and discovered we have a fabulous interview with Anissa that we had not yet released.
So here is a taste of Anissa from the Nikon party in Chicago last year. After you watch it, please be sure to visit Free Anissa and show your love and support for this amazing woman.
Video Interview with Anissa at BlogHer 09
I can't wait to party with Anissa this weekend!
Remember to click over and share some love at Free Anissa and laugh along with her witty humor on Twitter @AnissaMayhew.
Thanks to our Sponsors
Thanks to Kmart Design for sponsoring our BlogHer 09 video shoot and again helping us bring more videos to you from BlogHer 10 in New York.
Help us thank Kmart Design for supporting mom bloggers!
Thanks Kmart Design!
Written by Susan, Mom Blogger and Co-Founder of 5 Minutes for Mom
You get our feed, right?