We had a blast at BlogHer 09. But the best part was meeting and talking to all the fabulous people there. So we've captured it on video and we'll be publishing it here.
Stay tuned to our RSS feed so you catch each new video post as soon as it is published.
We want to thank Kmart Designs for sponsoring these video interviews so that we can bring the BlogHer 09 experience home to you.
We went to a style session at the Kmart headquarters and we were sincerely impressed with their fantastic and well-priced clothes.
We are proud to be supported by a store that is so affordable and is helping women satisfy their desire for style while still balancing the family budget.
We chatted with some fantastic women during BlogHer09 and we'll continue to update this page as we release the videos here at 5 Minutes for Mom.
Enjoy!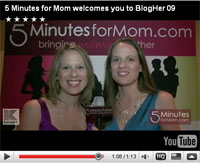 We're Bringing You The BlogHer 09 Experience
Watch on YouTube.