This post may contain affiliate links. Read my disclosure policy here.
Yes, you all know that I love American Idol and even auditioned for it. I also adore Brooke White. I was such a fan of hers during her season of Idol. I loved her personality, her vocal style and her clothes. I especially loved her butterfly dress.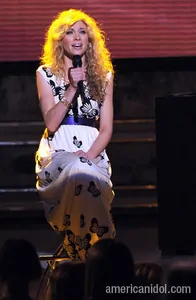 I can get a little obsessive about things that catch my eye. I remember googling as soon as that episode aired to find out where I could get that dress. I did finally find it, and the designer and saw the price tag.
And some obsessions, well you just have to let them float away, because there was no way I would be able to afford Brooke White's dress.
If you want to know, it's alice + olivia. $396 for the long dress, $330 for the short version. But that was awhile ago, so it might not even be sold anymore. Or maybe it's on clearance somewhere…hmmmmmm
Anyway, this past July at BowlHer, I had the pleasure of watching Brooke perform a few songs from her new album, High Hopes & Heartbreak. She also included her version of "Let It Be", which she performed on Idol.
Because I am obsessive such a fan, I caught her right after her sound check, but right before hair and makeup, and talked briefly with her about American Idol.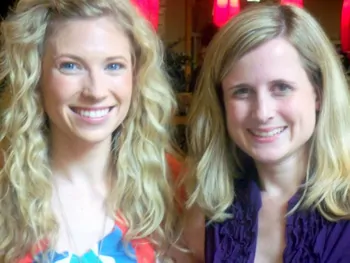 I also told her that I loved her butterfly dress. She laughed and said, everyone remembers that dress. Supposedly she wore it on the night she infamously stopped her song and asked to start over. I honestly didn't remember that.
Anyway, we snapped a picture, and I left so that she could go get all dolled up for her performance later that night. A little later on in the evening, Janice interviewed her.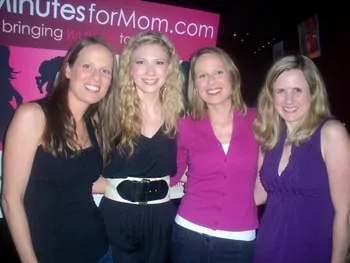 While the interview was being conducted, I chatted briefly with her manager and almost begged him to um, listen to me sing, or help me make an album..or anything..something. Actually, I awkwardly asked him his advice on how a young mom can get an "in" into the music business if they have no demo or representation….he looked at me like I was an idiot…and told me that Youtube helps to get exposure.
So, check out my Youtube page soon for various karaoke style numbers … KIDDING!!!
I am over the whole wanting a music career deal. I love the life God has blessed me with. Anyway, enough about THAT.
Check out our interview with Brooke White. She dishes about American Idol, talks about her new album and shows us once again that she is just the sweetest person EVER.
Oh, and check out her album too. 🙂 I think you'll really like it.
Written by 5 Minutes for Mom contributing editor Erica.