This post may contain affiliate links. Read my disclosure policy here.
Do you want to know a secret? Do you?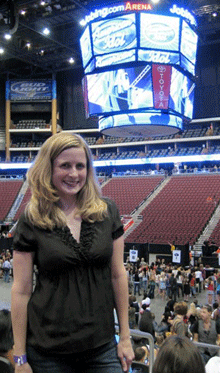 Well, this past July, I attended the auditions in Arizona for season 8 of American Idol. Which by the way, are handled quite a bit differently than they show on TV. The magic of reality TV is how fake it can sometimes be.
Auditioning for American Idol was something I had always wanted to do, and this year was my last chance. Next year I will be too old. I wish that I could tell you all about meeting the four judges and how Simon reacted to my song. Unfortunately, I didn't make it that far.
Before you make it to that round, you have to first make it through round 1, singing for the producers. The huge mass of auditioners that you see on the audition episodes, that are lined up outside or packing an arena, all take part in round 1.
And as much as they want you to pity Simon, Randy, Paula and Kara for thinking that they have to listen to those thousands of auditioners, it just really isn't so. They probably listen to maybe 75 -100 from each city. So don't pity them. 🙂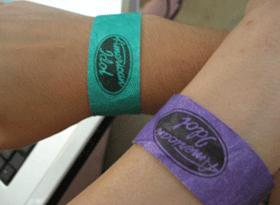 On audition day, my friend and I arrived bright and early to the arena. Since we auditioned in Arizona, in the middle of the summer, they let us into the arena a bit earlier than scheduled. Thank goodness. It was HOT outside.
For the first couple of hours, the camera crew circled around the arena, as we sang the two required city songs over and over and over again. We clapped and cheered as the cameras approached us. Oh, and bikini girl, who you saw on the first episode, she was there getting tons of special treatment.
She didn't have to sit in her seat in the arena. Nope, she was down on the floor, with a camera man following her every move as she kissed, posed and waved. In fact there were times we had to do crowd shots over again, so they could make sure bikini girl was in them, front and center. To be honest, I think we all hated her. We did give her props though for showing up in a bikini.
Finally, the auditions began. Twelve tables were set up on the floor of the arena, with two producers at each table. In groups of three, we approached our assigned table and one at a time we sang for about 15 seconds. The producers wouldn't know anything about us, not even our names. Those 15 seconds were all we had to make an impression. Now you can see why the gimmicks get through.
(This is about 1/3 of us, just to give you an idea as to how many came out to audition)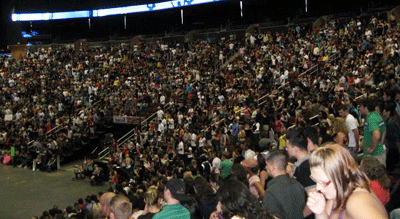 I was in one of the last sections to audition, so I spent hours observing the audition process and coveting those who received a golden ticket, which meant an audition with the famous judges. I watched as many gimmicks went through, but that was to be expected.
When it was time for bikini girl to sing, we were all staring her down. Although from the stands, we were unable to hear her, we assumed that she didn't have any talent. After being asked to sing one more time and a brief discussion between her judges, she was given the lucky golden ticket. At that moment, the entire arena erupted in boos.
It was finally my turn to go, after hours and hours of waiting. I was very confident and surprisingly not nervous at all. I can honestly say that I sang my absolute best and was very happy with my audition. But sadly, nobody in my group was sent through. My bracelet was snipped off and I was asked to leave the arena.
All in all, it was a wonderful experience and I am so glad that I was a part of it. It was fun! I am looking forward to watching this season of American Idol. It has always been one of my favorite shows ever since season 1.
Now I want to know, do you watch American Idol and are you as hooked on it as I am? Also, what did you think about bikini girl?
Written by: Erica