This post may contain affiliate links. Read my disclosure policy here.
BlogHer 2010 was a fabulous blur of parties and friends and fun. Susan and I had such a blast.
It was our favorite BlogHer conference so far. Why? Because we were partying in New York City with our incredible blogging friends!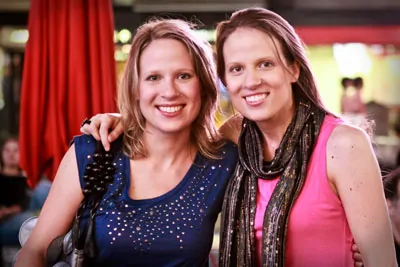 The taste of NYC added extra spice to all the off-site parties and brand sponsored events. I loved that we had tons of opportunities to get outside of the hotel and have some real New York experiences — crazy cabbies and all.
I went on an Ellis Island tour thanks to Liberty Mutual, we shot video in Bryant park (and were asked to shut down by the NYPD since we didn't have a permit) and we partied roof top style and drank in the New York sky line thanks to Hallmark… and so much more.
We even walked (and shot video) in Times Square at 3am. It is amazing how lit up and bright Times Square is even in the middle of the night. People were all around and it felt like the middle of the day. They aren't kidding when they say, "The city that never sleeps."

Thanks to Kmart Design we shot and will be publishing a ton of video posts in the coming weeks, so make sure you watch our feed.
But there was so much we missed out on… There were parties happening everywhere and all the time. Thousands of bloggers that we wanted to hang out with… so much more we'd have loved to experience, but that is the tragedy of BlogHer. Too much to do in too little time.
Janice snapped this shot while a few of us tweeted at the ultra-chic Nate Berkus event organized by our friend Meredith. From left to right, Jenny, Jyl, Jane, Susan, Molly, and Jen.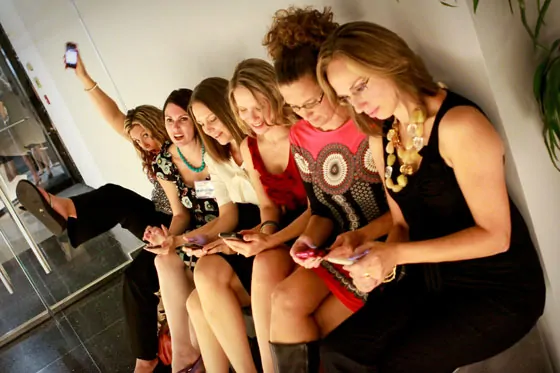 So… let's all relive it together… we can remember the bits we did get in on and find out what we missed.
Link Up
Link up all your BlogHer 2010 posts. If you write more than one post, come back and add the new link too.
Here is a fun thumbnail style linky…
IF the thumbnail Linky doesn't work for you — or you prefer the old style, you can enter in the linky below.
Written by 5 Minutes for Mom co-founder Janice.
You get our feed, right?