This post may contain affiliate links. Read my disclosure policy here.
Becoming a parent is sometimes a difficult road. And you may find yourself wondering how does surrogacy work? This is Susan here… I struggled with infertility for over 3 years before I finally got pregnant with my first baby. It was so incredibly difficult to hope and get let down month after month.
So many couples face infertility and need to find other ways to build their families. Adoption is, of course, the most common approach, but gestational surrogacy is another route to parenting that helps many people.
So today, our contributor Jenna Cyprus is sharing some insight to answer the question, how does surrogacy work?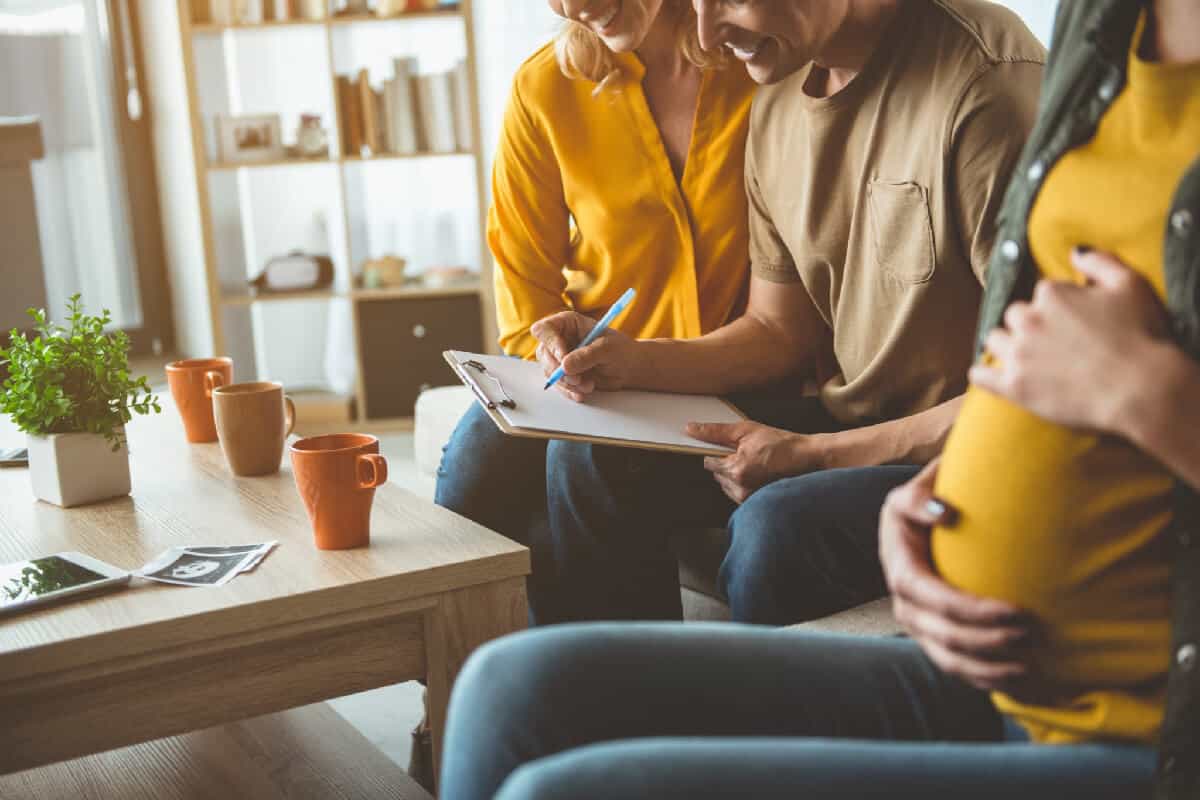 In recent decades, advances in science and medicine have made it more flexible for parents to have children in a variety of ways. Gestational surrogacy is one such option.
What is Gestational Surrogacy?
"When most people think of surrogacy, they think of traditional surrogacy – the surrogate becomes pregnant in either the traditional way or through artificial insemination, conceiving with her own egg," Conceivabilities Surrogacy Agency explains.
"In a process that dates back many generations, it's only been in very recent decades that the second type, gestational surrogacy, became an option. Here, the surrogate carries a child that was conceived with the intended mother's or a donor's egg and the intended father's or donor's sperm. A gestational surrogate or gestational carrier has no genetic connection to the child."
Surrogacy is generally considered for several reasons. They include:
Medical problems with the uterus that make conception difficult or dangerous.
Cases where women have had a hysterectomy to remove the uterus.
Medical conditions that make pregnancy challenging or risky – such as heart disease.
Male couples who need a surrogate to help them create a family.
Surrogacy is usually pursued after other assisted-reproduction techniques, like IVF, have been exhausted. But it shouldn't be viewed as a last-ditch effort. It's useful in a variety of situations and can be a wonderful way for parents to grow their families when unique circumstances are at play.
4 Things Parents Need to Know about Surrogacy
Surrogacy is one of those things that most people don't know anything about until they find themselves in situations where conception is difficult, dangerous, or impossible. And then they start questioning how does surrogacy work? Before you pursue it (or write it off), you should do your research and gather as much information as you can.
Here are a some important issues about surrogacy to be aware of:
Surrogacy Isn't Legal Everywhere
While laws are changing rapidly, it's important to understand that surrogacy isn't legal in all 50 states. The United States is one of the most surrogacy-friendly countries in the world, but there aren't federal laws on the issue. This means each individual state has the ability to set its own laws and regulations. Certain states outlaw the practice all together, while others have versatile laws that are parent-friendly. Keep this in mind as you're researching how does surrogacy work.

But even if you live in a state where surrogacy isn't legal, the key is where the surrogate lives. California has some of the best laws for surrogacy, so it is great state to find a surrogate. An agency can help you find a surrogate in a state that supports surrogacy.

There Are Multiple Ways to Find a Surrogate

Surrogate mothers can be found in a variety of ways. People often start by floating the idea around with family and friends. However, there are also complex issues about parental rights and genetics. For example, surrogacy is discouraged if the child would potentially carry incestual genes. It's for this reason that most parents choose to find a surrogate through surrogacy agencies.

When choosing a surrogate mother for a child, experts generally recommend choosing someone who is 21 years or older, has already given birth to at least one child, and can pass a mental health or psychological screening to uncover any potential issues with giving up a baby after birth.

Legal Issues Can be Complicated

The nature of a surrogate birth makes it a complicated legal matter. There are physical, emotional, and financial factors in play. As such, parents need to work with attorneys who are experienced in surrogacy cases to develop strong contracts and documentation before the process begins.

Most Surrogacies Work Out Well

Some surrogate processes are like business transactions. Others are much more intimate. In most cases, the parents-to-be and surrogate mother stay in contact throughout the pregnancy.

"Usually at minimum, they speak one time per week, in my experience," reproductive endocrinologist Mark Leondires explains. "Once the journey has started, regular email and texting or phone calls are common. Everyone is excited."

And while horror stories of surrogacy gone wrong tend to grab headlines, the reality is that 99 percent of cases go really well. It's nothing for parents to be afraid of.
Normalizing Surrogacy
Advances in science and medicine over the past decade have made surrogacy less taboo. However, there's still a large segment of the population that's unfamiliar with the process. It's time that we make a concerted effort to normalize surrogacy as a method for having children and building families. Every parent faces unique circumstances and society should embrace any opportunity that brings joy and fulfillment to parents who desire families.
Pin It For Later – How Does Surrogacy Work?
Save this post on Pinterest for later and share it with others who may need to find an alternative route to become a parent.