This post may contain affiliate links. Read my disclosure policy here.
It's hard to remember it.
I've said before… it feels like it all couldn't really have happened.
Except that the evidence is sleeping upstairs. A girl, turning five a few hours from now, sleeping next to a little sister who worships her.
Her name is Julia because that's who she was years before she was. On a train in Italy a young couple in love dreamed aloud about what they'd name their children. Julia. She would be Julia. There was never a doubt.
I dreamed of Julia for years after that train ride. But she lived only there. In my mind. And I begged God. Pleaded. Wept. Begged more. I felt like I could almost feel her alive but out of my reach. Like a mother who can't reach her trapped child. Every morning I'd wake and feel like I lost her again.
And then one day, after years of begging, she showed her signs that she was there… growing inside me.
For nine months, I lived in thanks but in fear. Too many things could still go wrong… and threatened to go wrong.
A test revealed a high risk of Down's. And an investigative ultrasound happened to suggest that this baby was a girl… that she was truly Julia.
But we refused further tests and waited to meet Julia.
For a woman with an intense anxiety disorder, giving birth is a rather massive panic trigger. Even thinking back and trying to remember it, doesn't seem like a safe thing to do.
Since I'd come off my medication (Paxil) during the pregnancy, I was going into battle unarmed. And with zero training.
I had a rather odd road to my delivery… actually it was a 60 minute road that I drove several times. Now I don't want to kick up a conservative frenzy here, but while I am blessed and thankful to live in Canada and not have to pay to birth my baby, I did have a tough time getting a bed to do said birthing.
My water broke one night and I naively thought soon I'd meet Julia. No. It was days later. Several trips back and forth to the hospital. Hours in the waiting room. Trying to get a bed to be induced. It was four days later at about 11 pm after a day spent sitting in the waiting room that I finally hit the jackpot and got a bed in the delivery suite.
I was so excited to get the bed that I felt like I'd won a lottery. My extreme stress, exhaustion and nervous energy made me extra talkative and I rattled off to the nurse how I had an anxiety disorder and my baby may have Down's and I need her to tell me immediately — as soon as the baby comes out — if there are signs of Down's. "Please don't hide it and try to soften it for me. Just tell me fast."
Saying it out loud made it so terrifyingly real. Telling this stranger that I may have a massive panic attack while I try to push out this baby kicked my chemistry even further out of line.
I can hardly believe I survived those next few hours. I was amazingly calm considering how intensely panicked I was becoming. Drugs pumped into me and started to force me into contractions. Brutal, unrelenting, unnatural contractions. Thankfully the doctors gave me some relief with an epidural that although terribly executed into my crooked spine did lower the pain to something that I could bear. Sort of.
Then came the time. A woman's most intense time of pain. Time to push. I was in no way prepared for the ridiculous pain of pushing out a human being. No description or warning can do that justice. Because it is impossible pain. As the doctor, nurses, my husband and twin sister tried to cheer me on, I panicked. It was impossible. This baby just could NOT come out this way. What were they thinking. This would NOT work. I cried. I gave up. It wasn't working.
But then, somehow, maybe it was what my doctor said, maybe it was what a nurse said, maybe it was Janice… I can't remember it. Maybe I've blocked it out.
But I pushed beyond what made sense. I pushed beyond pain. I screamed. I cried. Then her head came out. And then the rest just slipped out and she was in my arms. I think I was crying. I can't remember it.
If I wasn't crying yet. I would be soon. A lot.
She appeared healthy. No sign of Down's. A little blue, but she tested well and the nurses placed her on my exhausted body. I needed oxygen. I couldn't even hold her. I was spent. And confused. Hormones took over and I just cried and cried.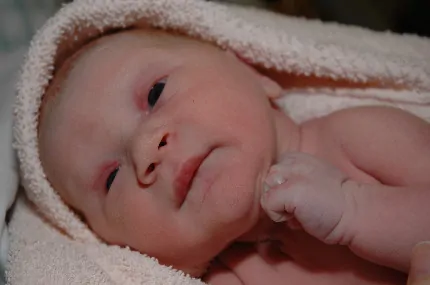 Eventually, I tried to stand to walk to the washroom, but I fell down. They let me recover in the room as long as I was allowed, but soon I had to move on. I had to go upstairs to another room so another woman could endure a similar torture.
The rule is the mother must carry her baby with her as she is wheeled upstairs. I cried and said I couldn't do it. I was too weak. I was too sick. I was too afraid. They insisted and as I lay in a bed on wheels, my baby lay propped in my arms, a foreign being that I'd wanted for so long but suddenly didn't know at all.
Tears were streaming down my face and I could sense the worried conversations around me. Postpartum depression. Without question. She'll need medication quickly. A private room. Once upstairs, Julia went with her Dad and a nurse, he discovered how red her hair was in the florescent lights. He watched her first bath.
But I wasn't there. I was sick with tears and convulsions taking over my body. They gave me something, but I don't know what.
Here was the day I'd dreamed about, the gift I'd wanted more than anything, but I wasn't there. I was lost inside myself. Depleted. I needed to heal. I think I slept a bit. I think they gave me something to make me sleep a bit. But there wasn't much time, I had to teach this baby to drink. And she didn't catch on.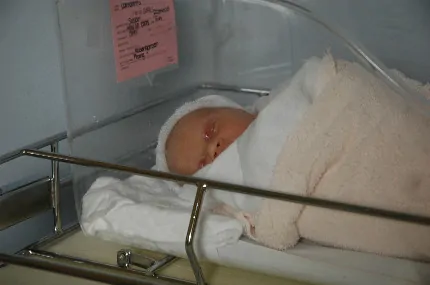 We were in the hospital for five days. They were the toughest five days I've endured. The second day in, while I was still an emotional, physical basket-case, the pediatrician stopped in for a routine check on the baby. He listened to her heart and casually announced she had a heart murmur, likely from a small hole in her heart.
Bolts of panic knocked me completely out. Paxil, Ativan, nothing could help me enough. Breathing was terrible and eating out of the question. But I had to eat. I had to create milk for my poor little baby whose heart was literally broken.
It was all too much.
And everyone knew it. Everyone knew it was too much for me to bear. You could see it in the nurses faces. In the five different lactation consultants who all tried fruitlessly to teach my baby to nurse. Even in the psychiatrist.
But after 5 days of taking up a much needed hospital bed, I was sent home with my baby who still did not know how to nurse.
Our first two weeks at home are lost to me. I know that my husband looked after Julia and brought her to me to nurse and then took her away to look after her. I slept. Sort of.
When my husband went back to work, my mother rescued me.
I don't remember how long it took me to feel better. It was little by little I guess. Just as she grew, little by little.
And here we are now. Five years later. Julia still has her hole in her heart, but it's small and not causing the doctors concern. I'm still on Paxil. Every so often I resort to an Ativan. And after a similar torture delivering Julia a sister, I've also taken Seroquel to stop the panic attacks that would routinely make me black-out.
I often joke about being heavily medicated. I'll even laugh about my four days in a waiting room with my water broken.
But I know it was no joke. It still is no joke. Battling postpartum depression and anxiety is never a joke.
I thank God. I thank my doctors. I thank my family. I thank my friends.
I love my babies who've grown into such precious girls.
And I'm amazed that my first born Julia is turning five years old today.
I am blessed.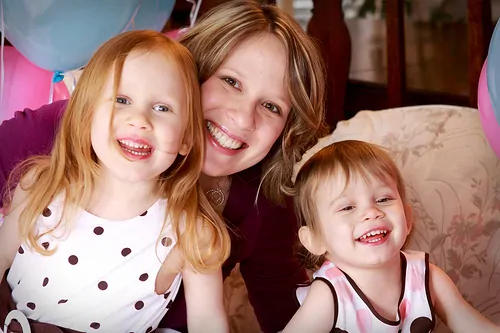 Written by Susan