This post may contain affiliate links. Read my disclosure policy here.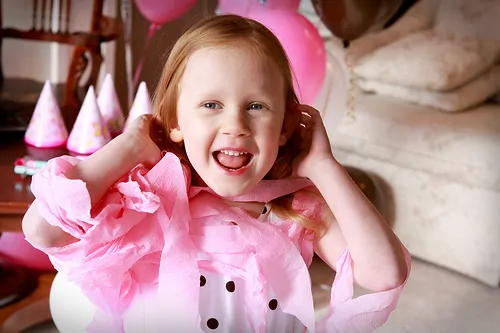 Happy Birthday My Dear Julia.
Today you turned five years old but instead of waking up excited for cake and presents, you woke with a sore belly. But you were amazing and didn't even complain about having to postpone your party.
The photo above should have been from today, but it wasn't.
We spent the day snuggling in our PJ's and watched your favorite shows, Charlie and Lola, Clifford the Big Red Dog and Peep.
When you felt well enough, you opened presents and played with your sister.
Now it's evening and you've dressed up in your party clothes and we took lots of photos of you outside. You've never been more in the mood for a photo shoot. I snapped some shots and we'll look at them later. But now, it's still time for us to play together and enjoy these last few moments of the day you turned five.
You are beautiful in every way and your love for life beams right through you.
I am so blessed to be your Mommy.
Written by Susan, co-founder of 5 Minutes for Mom