This post may contain affiliate links. Read my disclosure policy here.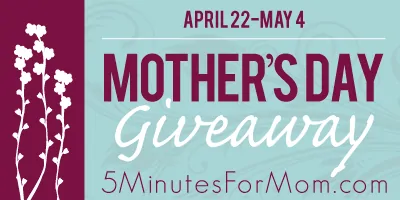 The Mother's Day 2010 Giveaway has come to a close. Please remember to add contests5m4m(AT)gmail(DOT)com to your "Safe Senders" list or address book, to ensure that your notification is not marked as spam. If you haven't received an email, please send your FULL NAME, SHIPPING ADDRESS, and TELEPHONE NUMBER to contests5m4m(AT)gmail(DOT)com in order to claim your prize. Any prizes unclaimed will be forfeited and a new winner or winners will be selected.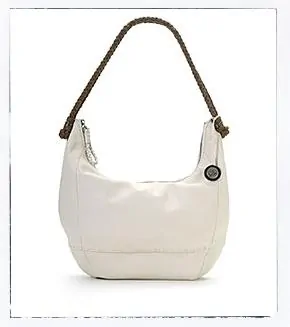 Indio Leather Hobo from The Sak
The Sak is one of the largest handbag companies in the country, offering multiple, highly differentiated handbag brands, through specialized points of distribution. The Sak designs and manufactures four distinct handbag brands – The Sak, Elliott Lucca, Luxy and Lina.
The Sak brand karma is happy & free. Their bags complement your easy going style taking you from work to the weekend effortlessly. Retailing for $69-$229, the sak bags can be found at department stores including Macy's, Dillard's and Nordstrom's, at select specialty stores and at www.thesak.com.
Comment Number 152 – Erin, will receive the Indio Leather Hobo from The Sak!
Snapily would like to give ALL of you a free offer for Mother's Day – a free personalized card!! All you pay is $2.23 for shipping and handling, which is less expensive than any non-personalized card that you could buy at a grocery store – this offer is hot! Simply go to this link for the 5 Minutes for Mom Reader's exclusive offer, click "Get Started" under the "Free Photo", pick your design, upload your picture, and you're done! Be sure to use the code gift4mom when checking out. But be sure to take advantage of this offer as soon as possible to ensure that you get your personalized card by Mother's Day!
Comment Number 33 – Jennifer, will receive a $25 Gift Certificate to Snapily!
Celebrity Mother's Day Gift Basket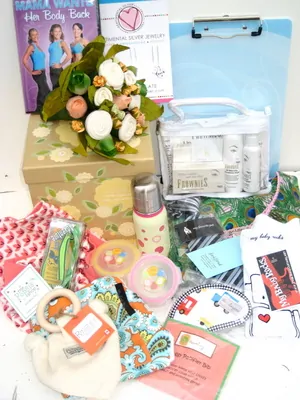 Other than the fact that they are fabulous Hollywood moms, what do Jennifer Hudson, Heidi Klum, Giselle Bundchen, Sarah Chalke, and Kourtney Kardashian have in common? They will each receive a celebrity Mother's Day basket filled with some of the most coveted products for mothers and their little ones.
This gift basket, retail value $544.00, includes items from Baby Banz, Innobaby, Frecklebox, Popsie Organics, Frownies, The Baby Bunch, Organic Kidz, Sentimental Silver, Bonitas International, Bed Head Pajamas, My Baby Rocks, My Favorite Pal, My Little Roo, RiNGLEY Natural Teething Toys, Stroller Strides, Traveling Pea.
Comment Number 552 – Gloria, will receive _!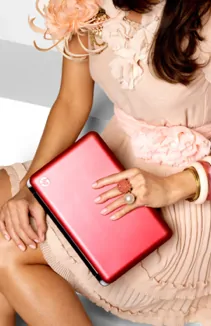 HP Mini 210
The HP Mini 210 makes life on the go so much easier because you can easily slide the Mini into your purse or bag and take it with you to class to take notes or take it to your child's soccer practice and work on your latest business proposal! Again, it's small, sleek, stylish, and super affordable! All making it a great gift option this Mother's Day! You can purchase yours at www.hpdirect.com!
Comment Number 195 – Jennifer, will receive an HP Mini 210 in Sonoma Red!
Ghirardelli Million Moments of Timeless Pleasure
The job of "Mom" comes with an abundance of blessings and treasures. It is wonderful and rewarding and…hard. Yes, being mom is hard. While the benefits are indeed great, so are the demands. Whether you have one child or ten, you know that the moments that are yours and yours alone are often few and far between.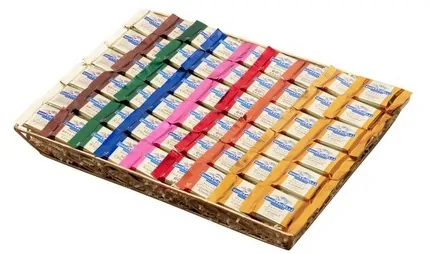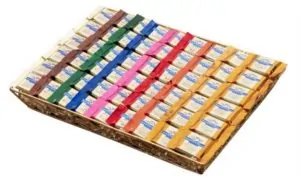 But I've found that if I don't take a couple of minutes every day that are just for me, I quickly become overwhelmed. Whether it's a simple cup of bubbling hot tea early in the morning before anyone esle is awake or a hot shower in the afternoon while they nap, just a few moments where I don't have to think about anyone but myself give me the Oomph I need to make it through the long days.
And what better way to indulge yourself than with chocolate? Can I get an Amen?!
Comment Number 32 – LeeAnn, will receive a basket filled with 100 hundred squares of Ghirardelli chocolate!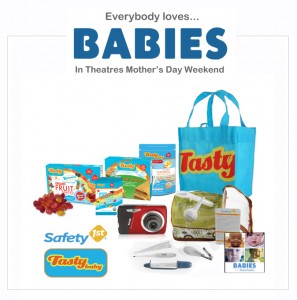 Directed by award-winning filmmaker Thomas Balmès, from an original idea by producer Alain Chabat, Babies simultaneously follows four babies around the world – from birth to first steps:
Ponijao, who lives with her family near Opuwo, Namibia
Bayarjargal, who resides with his family in Mongolia, near Bayanchandmani
Mari, who lives with her family in Tokyo, Japan
Hattie, who resides with her family in the United States, in San Francisco
Comment Number 372 – Lisa K., will receive a Kodak Camera Prize Pack!
Musical Keepsake Box from Things Remembered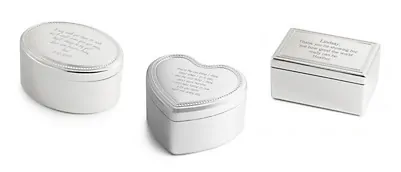 One of my favorite items on the Things Remembered Mother's Day gift list is the Custom Musical Keepsake Box.
These silver-plated, beaded musical jewelry boxes feature a soft black interior that is elegant and spacious, giving you plenty of space to hold many rings, bracelets, and necklaces. What sets these jewelry boxes apart from others out there is that you get to personalize your Keepsake Box in three different ways:
Step 1: Choose from one of three different shapes (heart, oval, or rectangle)
Step 2: Select a classic song for your Keepsake Box. My favorite is "What A Wonderful World" by Louis Armstrong, but you can choose from the Jackson Five to Elvis to the Temptations.
Step 3: Add your own personal message. This is where you can really express your love or appreciation for that special someone, or at least where you can butter them up (i.e. gift for the Mother-in-Law)! If you need help coming up with something clever or lovely, just look around at Things Remembered — they have some great suggestions that will help inspire you!
Comment Number 82 – Jamie C, will receive their own custom Keepsake Box!
Four Seasons Hotels and Resorts Gift Card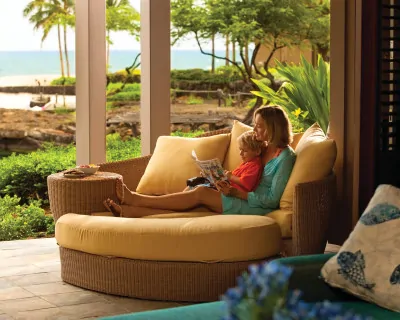 This May, Four Seasons Hotels and Resorts worldwide presents the With Our Compliments program. From Scottsdale to Paris to Bora Bora, until the end of summer all 83 hotels will be offering either the "Stay Longer" package that extends complimentary nights, or the "Experience More" spending credits to be used towards almost anything at the hotel – from a family meal at a Michelin Star restaurant to a round of golf on a Championship course.
Often it is the simple, complimentary events and amenities offered by Four Seasons properties that leave the lasting mark. Distinct to their locations, these range from stargazing sessions and "Cowboy Campfires" at Four Seasons Resort Scottsdale at Troon North, a new "Summer in the Garden" program the teaches the locavore lifestyle at Four Seasons Resort The Biltmore, Santa Barbara, and complimentary loan of Radio Flyer Red Wagons for park excursions and Wii video game systems for rainy days at Four Seasons Hotel Chicago.
Comment Number 176 – Heather, will receive a $300.00 gift card to Four Seasons Hotels and Resorts!
$50.00 Gift Certificate to Luna & Stella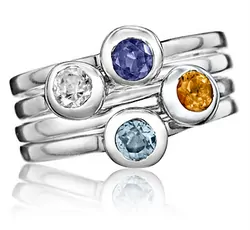 The popular Moon & Stars Birthstone Necklace can be hand-set with the birthstones of children, grandchildren, partner, family or cherished friends, and will be ready to ship in just 5 business days for silver, or 10 business days for gold.
This mother's day, Luna & Stella has introduced the Crescent Moon Stacking Birthstone Rings. Designed to stack, each ring represents a family member or friend. If a new member joins the family, a new ring can be added on. It's the ring that grows with your family!
Comment Number 52 – Christine, will receive a $50.00 Gift Certificate to http://www.lunaandstella.com/!
$50.00 Gift Certificate to Moody Mamas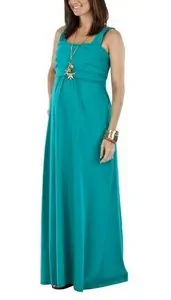 Just because you're pregnant does not mean that you need to cover yourself in a MuMu and walk around the house barefoot. There is nothing sweeter than a baby belly shining for the world to see. And Moody Mamas, pulling from the trends of today, give the pregnant woman what she needs to feel confident, cute and fierce throughout her pregnancy.
In addition to shopping the fabulous Moody Mamas website, you can also find a brand new line of Moody Mamas clothing at Targets nationwide! So if you prefer to see and try on your clothes before purchasing, head on over to Target and check out Moody Mamas in person!
Comment Number 84 – Jeanette, will receive a $50.00 Gift Certificate to Moody Mamas!