This post may contain affiliate links. Read my disclosure policy here.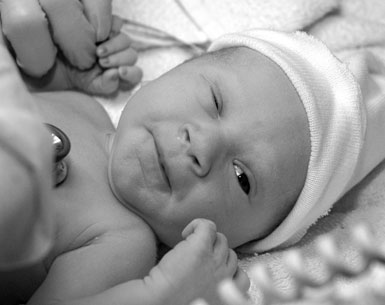 Do you ever feel like it all couldn't really have happened?
I look at my sleeping 2 and almost 5 year olds and I can't rewind the time in my mind and picture them as tiny, screaming newborns.
I know it happened…
The stretched pregnant belly, the insanely painful delivery and the first terrifying few days…
The nipple confusion — not the baby's, but yours — as you tried to figure out how to get your baby's tiny mouth suctioned on to your enormous lumpy breast…
Being left on your own for the first time with your baby.
All of it… the crazy-hard, sleep-starved life with a newborn.
Did it really happen? I can't remember it… I try to pull out memories, put myself back there, feel the experience again… but I can't.
I watched The Office tonight and laughed as Pam and Jim spent their first night with a newborn. It made me think about my hospital stays after giving birth to Julia and Sophia. But the memories felt so old and like they belonged to a character in a novel that I read 5 years ago.
I'm somewhat relieved that I can't remember all the scary parts, but what hurts is that I feel like I can't recall well enough the good parts either.
I'm so happy my girls and I survived their infants days and that life is far easier with preschoolers than newborns. But I crave to remember the sweet smell of my babies and remember the warmth of wearing my tiny infant snuggly wrapped around me.
I guess it's good that I remember just enough to know I couldn't do it again. LOL. I can't believe I survived it twice. Well, I know that "I" did not survive it… My life then was a series of mini-miracles that got me through.
But I worry I didn't take enough photos. I didn't record enough videos. I didn't write down the dates when they first smiled and first sat up.
And I wonder if other mothers can remember more than I do?
Tell me… do you remember it all???
Talk soon,
Susan, co-founder of 5 Minutes for Mom.
Don't miss posts, subscribe to our our feed and please tweet with us — @5minutesformom. 🙂