This post may contain affiliate links. Read my disclosure policy here.
Tonight, as I lay in bed nursing Sophia, her warm body snuggled next to me, she happily drank my milk without any idea these times are coming to an end. I kissed her hair and breathed in the smell of her sweet, sweaty little head.
I was so overwhelmed with emotions that I worried I'd have a panic attack.
I am so thankful to have both my girls, but so sad that my time with them as babies is ending. Sophia is almost twenty months old and weaning her feels like such an ending.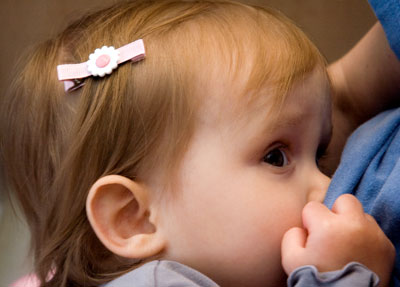 I am fortunate to have been able to nurse Julia for 25 months and Sophia for 20 months, so perhaps I sound spoiled when I say I'm sad.
But what feels so strange is that, despite how sad I am, I can't cry… my anxiety medication plugs up my tear ducts. I suppose it's a good thing that I'm not sitting here a blubbering mess, but it actually hurts that I can't even really 'feel' how sad I am. It really is bizarre… for those of you who've never experienced muted emotions because of depression or anxiety medication, just take a moment to be thankful that you can taste your happiness and sadness. My mouth is dry.
So why am I weaning you ask?
Because the cost of toting my tots and a babysitter with me to conferences is no longer in the budget. Last year Janice and I broke the bank to bring our nursing babies to BlogHer and to other conferences we attended. Janice weaned Olivia several months ago because of recurring mastitis and has been doing most of our traveling while I stay home and nurse Sophia.
But BlogHer 09 is creeping up and a week later is StomperNet. I cannot afford to bring my girls with me.
When I bought my BlogHer 09 ticket, it seemed so far away and was easy to say, "Of course I'll wean by then." But the saying was much easier than the doing.
I've been slowly reducing the number of times per day she nurses, but ending it all will still be a shock to us both.
A friend suggested that I don't wean, that Sophia will still remember how to nurse when I return. But I can't bear to leave her to try to fall asleep without her nightly nurses. To know that while I'm away she's frantically signing to nurse. The thought sends panic through me.
So I think that what is best for Sophia is for me to wean her. (Well, I guess what would be BEST, would be for me not to go to the conferences… but tickets have been bought and I must go.)
I'm going to try to keep telling myself that she was able to nurse for 20 months and that she'll be okay. I'll be okay. We'll be okay. But I'm not easy to convince.