This post may contain affiliate links. Read my disclosure policy here.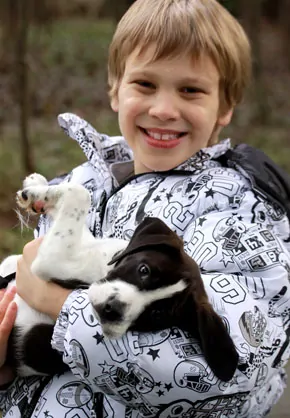 Jackson with his new puppy, A.J.
On Monday, we adopted 11 week old A.J. from a rescue. He is a cross between a Cavelier King Charles Spaniel and a Beagle, often called a Beaglier.
We are all completely in love and eight year old Jackson is a dedicated new puppy owner, tending to all of A.J.s needs. Jackson is doing a fantastic job!
UPDATE: Looking Back 13 Years Later
It's now November 2013 and Jackson is in his third year of university and A.J. is thankfully still filling our lives with joy.
A.J. turned out to be a fabulous family dog with the perfect personality for our chaotic home. He was always amazing with the kids when they were little and as they grew up.
I'm so thankful that A.J. forces me to get outside for short walks a couple times a day, every day. I know all that fresh air and little bits of exercise have been critical for my health and happiness.
We're so happy that we chose to adopt A.J. and I want to encourage you to adopt a dog or cat for your family.
Written by Janice, co-founder of 5 Minutes for Mom