This post may contain affiliate links. Read my disclosure policy here.
Introducing the newest member of the 5 Minutes for Mom family…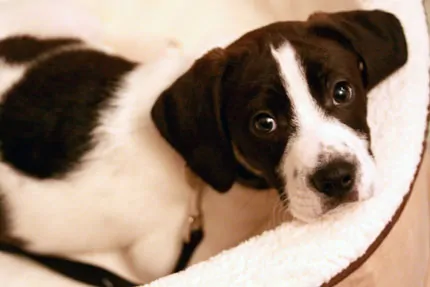 A.J.
After years of wishing, wanting and begging, my son Jackson finally has a dog!
Last week, we decided that the time was right for our family to expand one more time. To read more about our decision, read my post, The Doctor Ordered a Dog.
AJ's name is a fun twist that Jackson came up with, based on Jackson' name, Jackson Andrew.
AJ is a cross between a Cavalier King Charles Spaniel and a Beagle. This hybrid breed is often called a Beaglier.
I had searched through hundreds of rescue dogs before I came across AJ. He is almost 11 weeks old and the absolute perfect dog for our family.
Beagliers are great with children and AJ has a wonderful, sweet temperment already. Jackson absolutely adores AJ and is a doting big brother just as I knew he would be.
Olivia loves AJ too and is thrilled to have a dog of her own. Susan's kids Julia and Sophia are also completely taken with our little Beaglier and are of course asking Susan when they can get a puppy of their own!
After years of resisting getting a dog, (I am already so busy as it is!) I feel totally at peace about our decision to bring AJ into our family. God certainly had all the details and timing worked out and despite the trials of trying to housebreak this little puppy, I am in new motherhood bliss.
Thank you SO VERY MUCH for all of your advice and support on my post about our decision to get a dog. Your comments mean SO much to me! Thank you!!!
And here is one more shot of a very sleepy AJ at the end of his first day in his new home…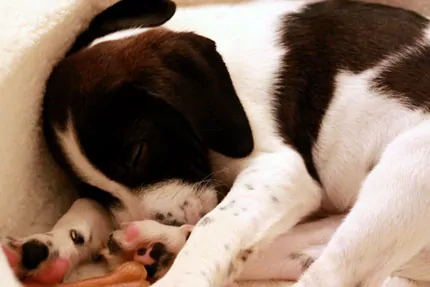 Written by Janice, 5 Minutes for Mom co-founder
Have you subscribed to our RSS feed?
Tweet with me @5minutesformom and @janicecroze.