This post may contain affiliate links. Read my disclosure policy here.
I came home with a very different kind of prescription last week…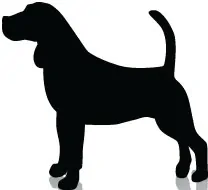 My doctor suggested pet therapy for my son, Jackson. Yes, she wants me to get him a dog!
Jackson has been begging and pleading for a dog since he was able to speak, so the fact that my doctor suggested I get him a dog made me laugh — and finally give in.
I have always planned on getting Jackson a dog eventually. I know he needs one. My son is so loving and relational. He lives to love. And I know he will adore his dog just as much as he adores his little sister.
But, I have always told him that he had to wait until I was finished with diapers. I have to much poo in my life as it is!
Now that Olivia is well on her way to being "housebroken" herself, and now that Jackson is about to turn eight, I had been thinking that it might be time to start considering getting Jackson a dog.

When I told my doctor about how bad Jackson's anxiety is getting and she insisted that I get him a dog, I realized that it is the right time and the right decision for our family.
Jackson struggles with ADHD and anxiety. He is a wonderful, compassionate, bright child, but he has a rough time with his "challenges," as he calls them.
I haven't written too much about Jackson's issues here or at 5 Minutes for Special Needs, although I could fill a blog for sure with my unwritten posts. Parenting Jackson is a roller coaster that leaves me exhausted and blessed at the end of each day.
But, I struggle with how much to share about my children's medical and personal issues. I want to talk freely with you about them, but I also want to respect my children's privacy. It is a tough call — one that I haven't figured out yet.
This last month has been an especially difficult month with both of my children's medical concerns and I have wished that I could pour my heart out here.
But for now, I will say that we are on the hunt for the perfect dog for Jackson. I have spent the last three days researching breeds and looking at thousands of rescued dogs.
Hopefully soon, I will be showing off pictures of a boy and his dog.
P.S. I would LOVE to hear YOUR advice about finding the right dog. Tell me your story!
UPDATED: Want to meet our new dog? Here he is…
Written by Janice, 5 Minutes for Mom co-founder
Tweet with me @5minutesformom and @janicecroze.