This post may contain affiliate links. Read my disclosure policy here.
For young and old, the proof is in the PHOTO!
This year, don't just put out milk and cookies!
Now, you have one more SPECIAL step to make your Santa magic complete: Capture the Magic!
Yes, after your house is decorated and ready to go, grab your camera, take a few photos and then log in to Capture the Magic.
Within a few minutes, you will photographic proof of Santa's very special visit.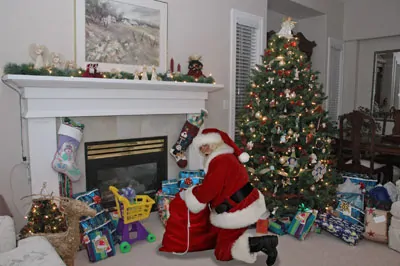 This is a shot I had of our house a couple years ago at Christmas. I can't believe how well Capture the Magic works!
Your kids will be giddy with excitement and you will get to watch as their minds light up with the possibility of magic!
Oh… and Santa has a Present for YOU too this Christmas Eve
Did I forget to mention Capture the Magic has a great affiliate program too?
So, the "magic" doesn't have to end with a photo.
You can sign up as an affiliate, spread the word about Capture the Magic to your friends and/or readers, and earn some extra money this Christmas!
SO HURRY UP!!! Christmas is almost here!
Get your cameras clicking and start making magic… and Capture the Magicspread the news as an affiliate too!
We are affiliates and are running an advertising campaign with Capture the Magic.
Written by Janice Croze, co-founder of 5 Minutes for Mom.