This post may contain affiliate links. Read my disclosure policy here.
It is easy to lose our focus on Jesus during the "holidays."

But Dayspring has created a fun, interactive way for kids to celebrate Jesus this Christmas through an online Happy Birthday, Jesus! party. The experience is part of Really Woolly's growing line of Online Family Adventures and kids are taught live, with a teacher online, during their party.
Live parties run every hour, so you can find a party that fits your schedule. And the learning continues for seven days after with a week's worth of daily activities.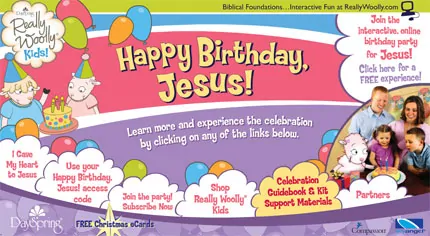 Happy Birthday, Jesus! launches the new technology platform for an online interactive experience from Oregon-based Flying Rhinoceros Enterprises, sure to dominate mainstream online gaming when it's introduced in 2010. But this time, a Christian product leads the technology curve. How does the Happy Birthday, Jesus! party work? Families, churches or Sunday school departments log on. Teachers appear on-screen—young, enthusiastic, encouraging each child by name—and the games and learning begin. Each login to the party gives:

A live, interactive, fully-immersive 30-minute session with a trained teacher
Live sessions on your schedule, daily, each hour 10 a.m. to 7 p.m.
Games and activities that educate and entertain
Stories from the lovable lambs of the Really Woolly series
A week's worth of daily activities
You can also purchase Happy Birthday, Jesus! Celebration Kits. The kit comes with supplies for a party of 8, including a 30 minute online experience & 7 days of activities following the event.
And you can buy a Really Woolly Kids DVD – The Gift of Christmas – Movie & Online Event for the party as well.
I love how interactive this experience is — way to go Dayspring for creating such an innovative program! If you have a chance, grab your kids and celebrate Jesus with an online party this Christmas!
And not only will your kiddos understand the true meaning of Christmas and giving, but a portion of all the proceeds from the party kit goes to Compassion – for Bibles to be distributed to children all over the world. (DaySpring's goal is to have 250K families hosting a Really Woolly Happy Birthday Jesus Party. If that goes is achieved, over 10K children will receive a Bible from Compassion in 2010!)
Yes — an online Happy Birthday, Jesus! party is a great way to focus on Jesus this Christmas Season!

Dayspring provided review materials and live press pass for review purposes.
Written by 5 Minutes for Mom co-founder Janice.
Do you have our feed in your reader?