This post may contain affiliate links. Read my disclosure policy here.
Get the school year off to a fantastic start with these 10 back-to-school organizing tips! From quality labels for your kids' belongings to tricks to tackling the paper clutter, these tips will get you prepped and prepared for your more organized school year. Doesn't it feel great to know you're about to be the most organized mom on the block?
This post is sponsored, so extra thanks for reading and sharing.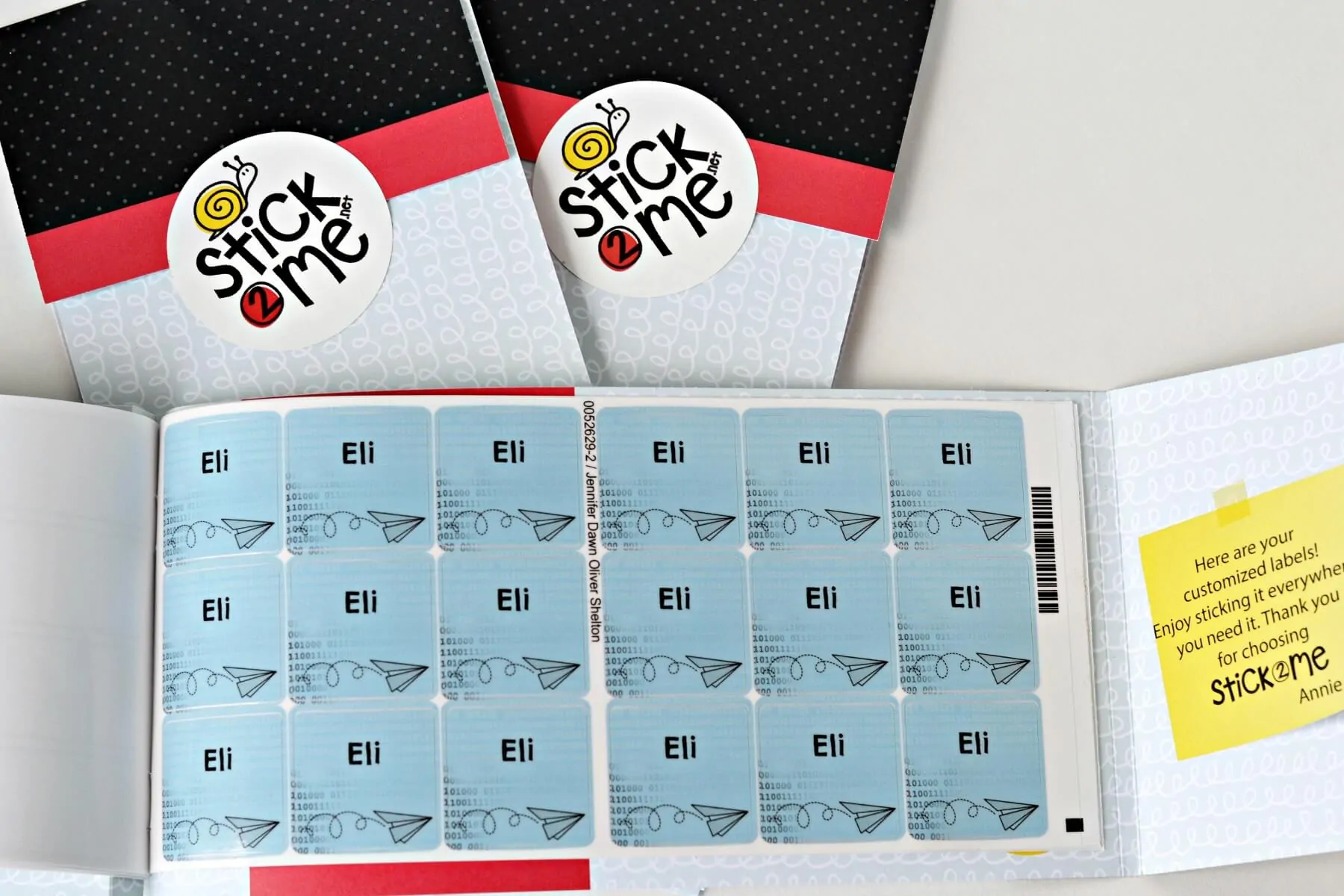 Hi, I'm Jennifer, homeschooling mother of three, blogger at The Life of Jennifer Dawn, and contributor here at 5 Minutes for Mom. As a former public school teacher and current homeschool mom, the back-to-school season is one of my favorite times of the year. This time of year–more than January–motivates me to get organized and set purposeful goals for myself and my family. And I must admit that all the freshly sharpened pencils and brand new boxes of crayons make my heart sing.
Yes, the start of a new school year is an exciting time. I know it can also be a super busy time and a little stressful as you try to figure out how to help your child succeed. One of the best ways to stay on your A-game during this hectic time of year is simply by getting organized.
If getting organized this school year is a goal you have for your family, you're going to want to grab a cup of coffee (or tea), get cozy, and continue reading. Today we're covering several mom hacks and tips that will help you get organized for the start of a brand new school year.
10 Tips for an Organized School Year
Label everything!

Labeling your children's belongings saves time and money by sparing you the expense of having to replace the items if they end up lost during the school year.

This is one of the simplest ways to get the school year off to an organized start–especially when you have Stick 2 Me to help. Stick 2 Me makes labeling your child's school supplies and belongings a super easy task with their customized labels for kids.

And just look at how cute they are with their fun and unique illustrated designs…


By clicking through a few easy steps on the Stick 2 Me website, you can have a pack of 216 labels customized with your child's name and favorite design on its way to you in no time at all.

It gets even better than that! These customizable labels are also waterproof, washable, and UV resistant. They are of the highest quality and much thicker than other labels I've used. They're even able to go into the microwave and dishwasher. Wow! It's doesn't get much more durable than that. With a pack of the Stick 2 Me labels, you really can label EVERYTHING–shoes, clothing, water bottles, and more. These sticker will last the entire school year!

I even used the Stick 2 Me labels to put my daughter's name on her dance gear. She's at her dance studio a few times each week. As she and all of the dancers change outfits or slip out of their ballet slippers and into their tap shoes for their next class, she'll never have any doubt on which slippers are hers out of the pile.

Set up a lunch packing station.

Designate a cabinet or rolling cart in the kitchen as the lunch packing station. Stock it with food containers, utensils, napkins, non-perishables, and anything else you use to pack your kids' lunches.

This is a great place to keep lunchboxes. And don't forget to include note cards and pens to write out encouraging notes to slip inside the kids' lunchboxes. Making lunches can be one of the most overwhelming tasks for moms… so this is a key step towards your organized school year.


You can even keep a money jar in your lunch packing station for the days when the kids will be buying a lunch instead of packing one.


Keep snack baskets handy.

Have a snack basket in the pantry for non-perishable snacks and one in the refrigerator for perishable snacks. Fill both baskets with plenty of healthy foods. This is a quick and easy way for the kids to grab an after-school snack for themselves.

It's especially convenient if they need to snag a quick snack as they head out the door for soccer practice, dance class, or other activities.

Create a homework station.

Set up a seating area in a quiet part of the home. Stock it with writing utensils, paper, and extra school supplies. A space that's inviting and cozy will entice your child to sit and finish their homework before heading out to play. Keep it well lit, especially for older kids who need to sit there longer and learn how to take notes from a textbook. Your organized school year will be easier to achieve if your children have an organized homework area.




Establish a routine.

Putting a routine in place can cut down on stress and keep the whole family on track. No more rushing around in the mornings calling out directions and struggling to get everyone dressed and ready. With a clear routine in place, everyone will know what to do next.



A morning routine makes getting out the door on those busy school mornings much less hectic. Post a visual of the steps the kids are expected to follow on the refrigerator so they'll know exactly what's expected of them. The morning routine should include tasks such as eating breakfast, getting dressed, brushing teeth, gathering belongings, and putting on shoes.

You'll want to have an after-school routine in place too. This will make homework time, dinnertime, and even bedtime run much more smoothly. Great news! We have a fun printable for you to get on track with an after-school routine!


Have a plan!

Set up a command station with a family calendar, menu plan, grocery list, and chore chart. This is a great way for the whole family to stay informed and on the same page.


A clear plan posted for all to see helps keep the whole family organized. And chore charts give everyone a role in keeping the home clean and organized.


Set out clothes out for the week.

As you are folding the laundry and putting it away each week, set out the clothes each child will need for the school week. Keep these outfits separated from other clothes in a closet organizer labeled Monday-Friday.

Toss in bows and socks so your child will have everything they need to get ready each morning.

Tame the paper clutter.

I'm sure every mama can attest to how quickly the papers can pile up at the beginning of the school year. Stay on top of the papers all year long by putting a system in place. Use a binder for each child to hold the school work and artwork you want to keep. You can even use the cute labels from Stick 2 Me to label the binders with each child's name. As the years go on, these binders are sure to become a cherished keepsake.

A filing system will help you keep other papers sorted. Bonus points if you implement a color-coded system! Create files for papers that need to be filled out, signed, returned, or saved. Green folders are great for papers that need an action taken on them like signing and returning. Red folders are ideal for the papers that stop at your desk and simply need to be stored.

Go through your child's backpack each evening to stay on top of the paper clutter. Ensure that each page makes it to the proper place.

Have a designated spot for bags, shoes, and other items.

By having hooks for backpacks and baskets for shoes, you can keep your kids' belongings neat and tidy. Coats, bags, shoes, and umbrellas will remain easy to grab on the way out the door each morning. And the kids will know exactly where to place these things as they come through the door each afternoon.

Prepare the night before.

Take care of as many things as you can the night before. Prep breakfast, pack lunches and check backpacks ahead of time so your mornings are much less rushed.
Pin it for Later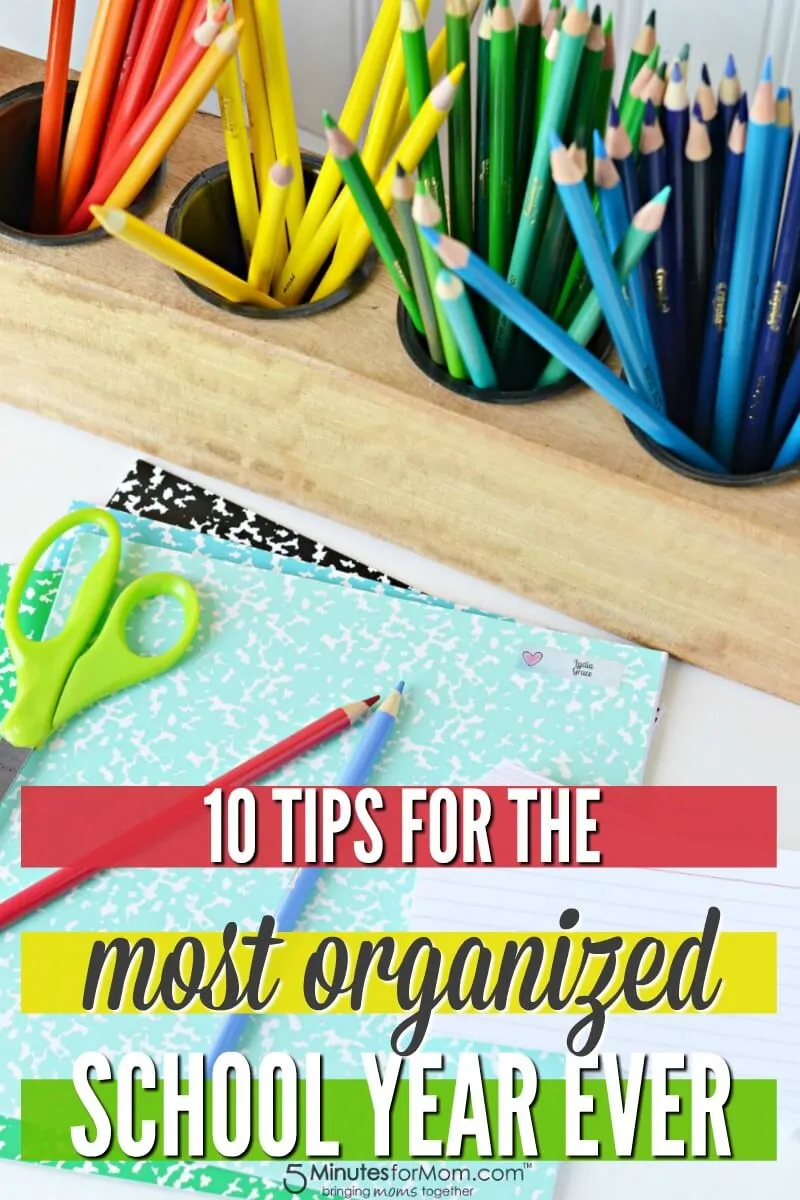 Disclosure: This post is sponsored, so extra thanks for reading and sharing.
Written by Jennifer Dawn, a contributor here at 5 Minutes for Mom, and the blogger behind The Life of Jennifer Dawn.
Talk with us: @5minutesformom and Facebook.com/5minutesformom
Pin with us at http://pinterest.com/5minutesformom/