This post may contain affiliate links. Read my disclosure policy here.
If you're looking for another awesome TV show to binge watch, we've gathered and categorized the ultimate list of TV show to binge watch. We all need an escape from reality, so turn on your TV and get lost in these 65 addictive TV shows to binge watch.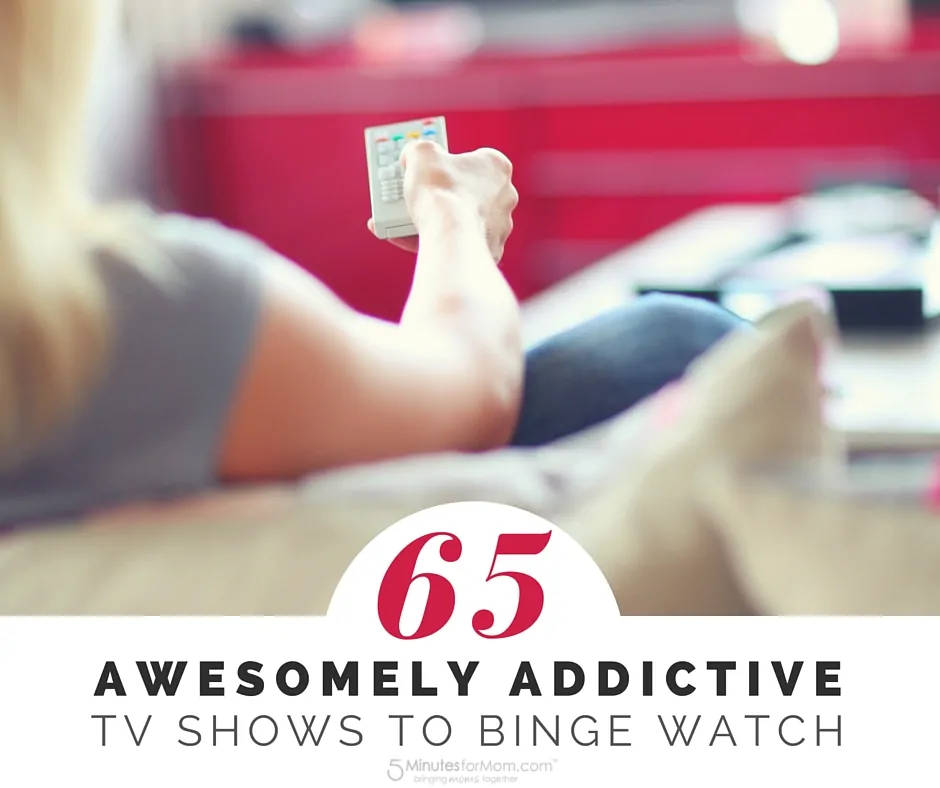 I haven't personally seen all of these shows — because there are LOTS here — but we've collected these top shows based on many recommendations and show ratings as well as our own favorites.
Since this is a collection of addictive tv shows that are most "binge-worthy", we've added lots of drama, action and thrillers. These are the types of shows you want to keep watching one episode after another.
Also, most of these TV series are NOT family friendly. You'll want to wait until the kids are asleep to watch almost all of these shows.

The Ultimate List of Addictive TV Shows To Binge Watch
10 of The Obvious Best
You've probably already seen these incredibly popular series, but just in case…
Breaking Bad
Better Call Saul
Orange Is The New Black
Weeds
House Of Cards
The Sopranos
Band of Brothers
Scandal
Downton Abbey
Homeland
5 Recent Seriously Addictive TV Shows
These are fabulous shows that have been released recently.
I'm just sad to hear that Vinyl didn't get renewed for a second season. But you'll definitely want to binge watch the first season.
Billions
Bloodline
Narcos
Empire
Vinyl
10 High Performing Series
These are huge hits with tons of episodes to enjoy for hours and hours…
Game of Thrones
Sons of Anarchy
Six Feet Under
True Blood
Entourage
Dexter
West Wing
NCIS
The Good Wife
Mad Men
10 British TV Shows You Must Watch
British TV can be brilliant. Take a look…
Broadchurch
Luther
Happy Valley
Shameless
Black Mirror
Hinterland
Sherlock
Mr. Selfridge
The Fall
SouthCliffe
20 More Series Full of Drama and Action
Here are 20 more TV series that you'll want to watch…
The Americans
The Newsroom
Suits
White Collar
How to Get Away With Murder
House
Nurse Jackie
Blacklist
River
The Killing
Orphan Black
Wentworth
The Wire
Prison Break
Deadwood
House of Lies
The Riches
Preacher
Wayward Pines
Outlander
5 Shows with Strong Characters
Take a break from the violence with these dramas. The characters are so captivating, you'll miss them when you're done.
Derek
Friday Night Lights
Olive Kitteridge
Big Love
Enlightened
5 Top Comedies
And for a laugh, be sure to watch…
Veep
Silicon Valley
Arrested Development
Curb Your Enthusiasm
How I Met Your Mother
If you're looking for more family friendly shows to watch with your teenage kids, check out 5 TV Shows to Binge Watch with Your Teen. Also, last year we shared Top Ten Binge Worthy TV Shows on NetFlix That You Might Have Missed which included some real gems that you also will want to add to your list of TV shows to watch.
Share With Your Friends
We'd love, love, love a tweet or a pin… Thanks so much! 🙂
[Tweet "The Ultimate List of TV Shows To Binge Watch"]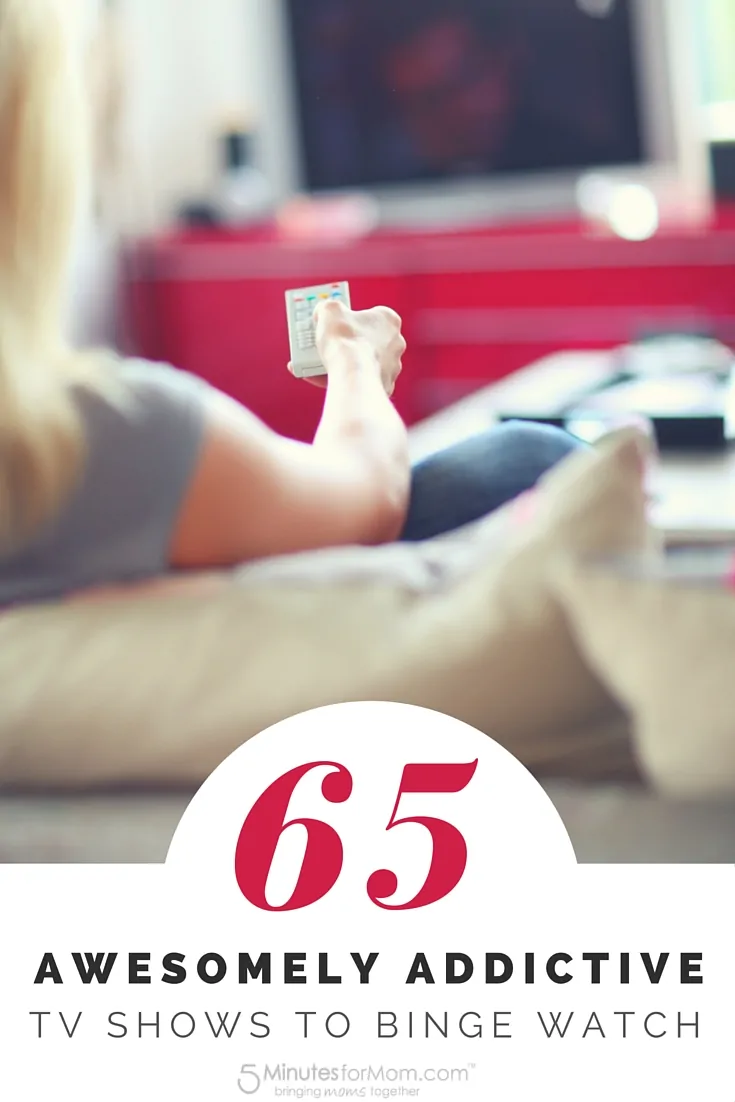 Written by Susan Carraretto, co-founder of 5 Minutes for Mom
Talk with me: @5minutesformom and Facebook.com/5minutesformom
Pin with me at pinterest.com/5minutesformom