This post may contain affiliate links. Read my disclosure policy here.
Are you looking for book ideas to get your kids reading? It can be tough to try to guess what types of books your kids will enjoy. Often we end up searching for "books for boys" or "books for girls", but it's important to look beyond gender when you're recommending books for kids.
There's nothing wrong with considering gender when picking out books to give as gifts or to recommend to your kids. In fact, we have book lists for middle school boys and middle school girls. But you don't want to stop there…
Keep reading to discover great books that kids, tweens and teens love.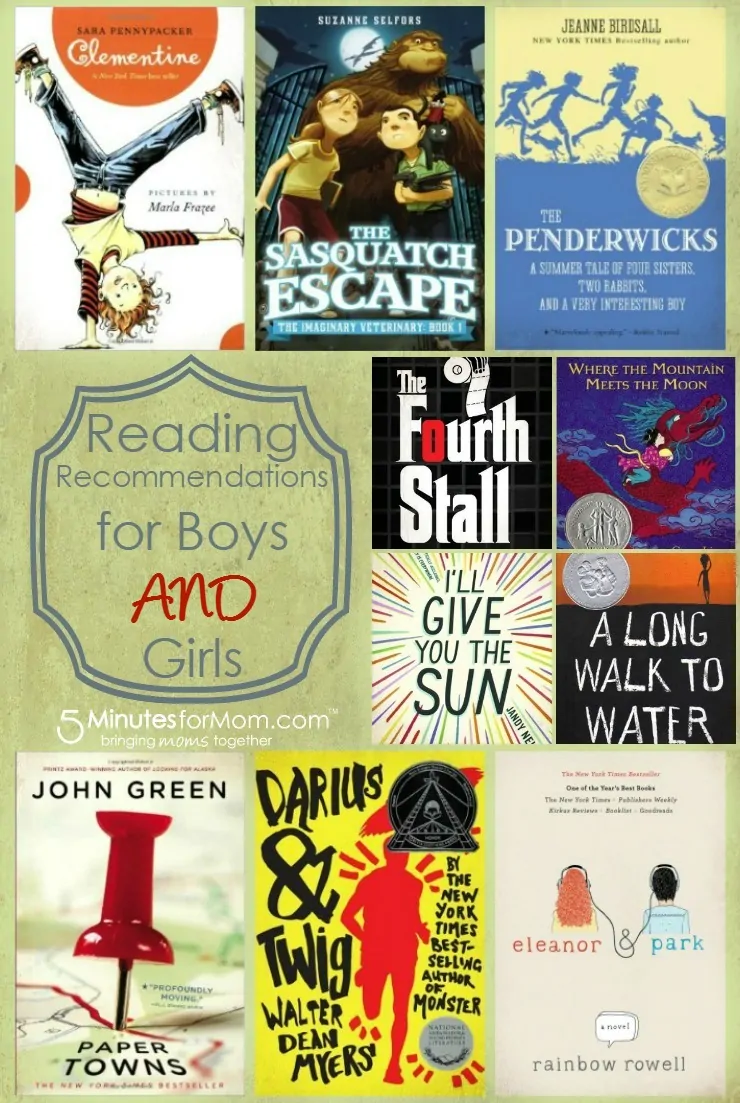 When a message pops up at the bottom of my screen, and I see a Facebook friend from college, or a local friend who I don't see regularly, I quickly figure out that once again my tendency to blog and post about children's literature has influenced another friend to ask for reading recommendations for her child. This makes me smile, every single time. I have spent my days with young children for almost twenty years, and in that time I've read more books to little ones than I can even estimate. My small home has shelves bursting with picture books, middle grade novels, and a growing collection of Young Adult selections now that my oldest child is teenager. Every week, I spend time perusing library shelves for new-to-me picture books, and I predict that I'll still be doing that with my walker in tow in fifty years.
When I get a request for book recommendations, it never fails that two pieces of information are shared– the child's age, and the child's gender. Age and reading level are important, though not necessarily consistent from one child to the next, and I try to think a little above the child's current level, too, so I can offer some books to look forward to or ones that can be read aloud with a parent, or even better, as a multi-age family read aloud. But how imperative is it to know the gender of the child? In my opinion, society does too much, right from the onset of a child's life, to make distinctions based on gender, reinforcing the idea that boys and girls are inherently different across the board. This doesn't need to apply when choosing books!

Going beyond boy books and girl books
Looking past the cover images and the gender of the main characters might be necessary sometimes when offering books to kids, and they might need to hear that message, too. Even young kids have heard countless messages about gender differences, and this may spill out to their own self-selections of books. Encourage your kids to look beyond those boy vs. girl factors, and they might find new books that hit just the right spot. When I make recommendations to inquiring friends, I'd rather look to some other factors first when trying to gather recommendations, so I ask these types of questions.
What are his/her interests?
Looking to children's hobbies and interests can provide a great starting point for book recommendations. Sports lovers might enjoy books by Mike Lupica or Matt Christopher, and kids who always seem to be cracking jokes would surely laugh out loud at Chris Rylander's The Fourth Stall series or, an absolute favorite of my sons and daughter, Sara Pennypacker's Clementine books. Don't feel like the protagonist of the story must match your child's gender. Trust me, Clementine makes my boys guffaw (even the teen still chuckles if he hears us reading about her antics!), and my daughter loves plenty of stories revolving around a male character. Try to match subject matter with your child's likes as a starting point.
How would you describe your child?
Rowdy or quiet? Always getting into a new adventure, or one to stick close to home? Imaginative? Curious about cultures and people around the world? Serious and pensive? If I know the child for whom I'm offering a book recommendation, I try to picture him or her at play. For those always into pretend play, rich with creative language, I might suggest Where the Mountain Meets the Moon by Grace Lin and tell them to get ready for quite a journey. Or, I could point them toward Suzanne Selfors's The Imaginary Veterinary series, with fantastic illustrations by this year's Caldecott Medal winner Dan Santat, a series that my daughter raves about for its wild creatures and wacky adventures. For older kids who I know to be thoughtful and curious about the world beyond their everyday experiences, I'd recommend Linda Sue Park's A Long Walk to Water, a book that my son and I read together when he was an older preteen that we still will reference in conversation years later. A child's personality and temperament can help guide book choices, so I love to hear a parent's description of his or her child when thinking of books to recommend.
What do you want your child to get out of this reading experience?
In an awesome growing conversation in the world of children's literature right now, the idea of books acting as "mirrors" or "windows" is a big component. Children need both, no doubt. To see oneself in a story is a powerful and affirming experience, and books can also give young readers a look into worlds that differ than their own. The children in Jeanne Birdsall's The Penderwicks book series share so many characteristics with my own trio of kids, and I've heard that same sentiment from many a friend. It's absolutely one of my go-to recommendations for family read alouds, regardless of the genders of the children. (And fantastic news– there is a fourth title in the series, The Penderwicks in Spring.) For YA readers, boys and girls alike are drawn to the realistic teen portrayals by both John Green and Rainbow Rowell, two authors who get re-read again and again by my own teenage son. Walter Dean Myers, beloved and prolific YA author, said once that he wrote books he wished he could have read when he was a teen, and his books often shone a light on the experiences of urban teenagers. Jandy Nelson's I'll Give You the Sun, (winner of this year's Michael L. Printz Award for excellence in literature written for young adults as well as an Honor Book for the Stonewall Book Award given to books of exceptional merit relating to the gay, lesbian, bisexual and transgender experience), is an excellent choice for teens of both genders and any sexual orientation for its beautiful character development. Choosing a variety of books that will serve as both mirrors and windows will give your child affirmation and insight.
I hope you'll keep these ideas in mind the next time you're looking for books for your child. There are so many more valuable factors to consider beyond gender!
Find More
Find more great book suggestions on our Books Pinterest Board, and please pin this one for future reference.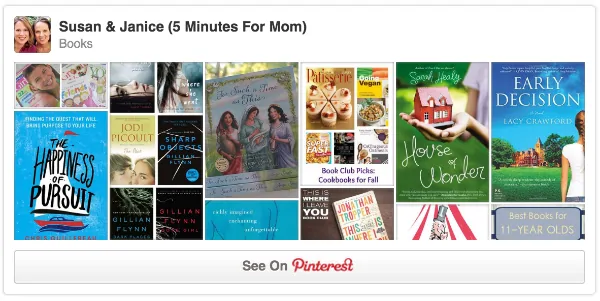 Follow all our Pinterest boards at pinterest.com/5minutesformom
More Tips to Get Your Kids Reading
Here are some more ways to encourage your children to read and enjoy learning.