This post may contain affiliate links. Read my disclosure policy here.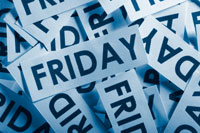 Am I the only one who gets depressed when faced with a Friday?
I remember when I lived as Dilbert in a cubicle and counted down the days and minutes until Friday afternoon released me. I couldn't wait for Friday. I lived for the weekends.
But now, it's all very, very different.
Now I work at home and run online businesses.
My girls are content in their activities during the weekdays and I have help with childcare. We have a weekly routine that flows quite well.
But still there isn't enough time in each day and the week rips by like an obnoxious teenage driver.
And I'm left reeling on Friday by a sense of failure from a to-do list that never got tackled.
Monday's high hopes for huge productive leaps forward have disappeared and another week is gone. And I feel like I'm a week older, my girls are a week older, and I don't have enough to show for it. Not enough work done and not enough time treasured with them.
I try to push away those defeating thoughts and get excited about spending my weekend days with my girls, but I'm still nagged by the work I never completed.
I'm sorry if I sound depressing and like I'm complaining about my wonderful, blessed life. I don't mean to… I am profoundly thankful. But still, I battle these feelings as the week ends.
Do any other moms feel like this?
~ Susan
While much of my time is spent on fun social media stuff here at 5 Minutes for Mom, I also own two e-commerce stores Pedal Cars and Retro and A Rocking Horse To Love.