This post may contain affiliate links. Read my disclosure policy here.
Nikki Gardner is our new Food Editor here at 5 Minutes for Mom. Nikki is a freelance writer and photographer capturing the simple things in life: art, food, and story. She blogs at art and lemons.

We are thrilled to have Nikki join our team here at 5 Minutes for Mom.
As the main cook in the house, I scramble around most weeknights to get dinner on the table at a reasonable hour.
After clocking a full workday and caring for my active toddler, all I want is a fast simple meal full of fresh ingredients and flavor. Usually this means reserving one weekend day to cook a few meals for the coming week. During the fall months, this means a pot of soup or chili, a pan of roasted root vegetables, cooked beans, and a baked winter squash or two.
We belong to a year-round CSA farm share, so our meals begin with seasonal fresh produce. This week's share includes a 2-pound bag of Yellow Finn potatoes and 3 large leeks, perfect for a rustic soup. We also have a few pears to top off a dessert pancake.

First, let's talk dinner.

Potato Leek Soup
A French farmhouse soup, that is simple and satisfying.
The potato skins are left intact to enhance the soup's overall character. It's an undemanding soup, both in character and in time, one that won't take away from your weekend plans to pick apples or tromp through leaf piles. It's a soup to cozy up to along with a hunk of crusty bread.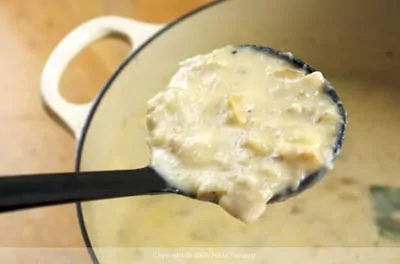 Soak the leeks in a bowl of cold water while you wash and scrub the potatoes leaving the skins on. Quarter the potatoes lengthwise then thinly slice them. Remove the leeks from the bowl and chop the white ends.
Melt a few tablespoons of butter and olive oil in a soup pot and then adding the potatoes and leeks. Cook over low heat for 10 minutes or so before adding 6 cups of water and a teaspoon or two of sea salt.
Bring the vegetables to a boil then lower to the heat to a simmer and cook until the potatoes are soft and falling apart, about 35 minutes.
With a wooden spoon, press a few potatoes to the sides of the pot to break them up and add body to the soup. Add one cup of milk along with a heaping spoonful of creme fraiche to thin the soup and allow it to heat through. Season with salt, pepper, and a handful of chopped fresh parsley. It serves about 4 to 6 people.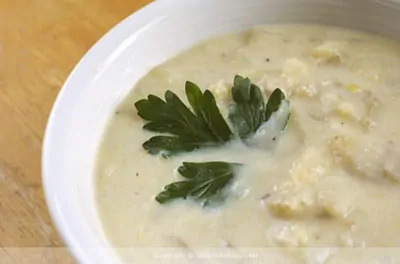 For this last batch of potato leek soup, I did something a little different. I substituted an equal amount of evaporated milk for the milk included in the recipe.
I recently received two free cans of Carnation's Evaporated Milk from a Carnation rep, so I decided to try it out in this recipe. (I also received a gift card to cover the cost of a few of the ingredients used in this recipe.)
I have used evaporated milk in a few recipes before, but this was my first time trying it in a savory one. Evaporated milk is fresh milk that is lightly heated to remove about half of the water, what is left is a rich and creamy condensed milk. I didn't expect a big difference in the soup's overall flavor, so I was a bit surprised by the results.
The Carnation Evaporated Milk added more depth and heartiness to the soup than regular milk without losing the flavor of the potatoes or leeks. I only wish that I had more leftovers for the rest of the week, since the soup was finished off in two nights.

Second, let's clear the table for dessert, a pear oven pancake.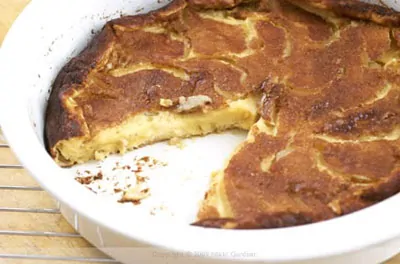 The recipe comes from Carnation's Holiday Recipe Guide, and calls for one 12-ounce can of evaporated milk, several large eggs, a little flour, cinnamon, sugar, salt, and a pear. It's a simple recipe that is easy enough to prepare any night of the week.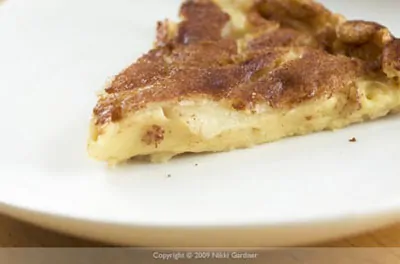 Just to let you know, it tastes more like sweet egg custard than your average pancake. Topped off with a cinnamon sugary pear, it's a little decadent for a weeknight dessert. Still, we fit a few bites after dinner.
Written by Nikki, 5 Minutes for Mom's new Food Editor. Nikki is a freelance writer and photographer capturing the simple things in life: art, food, and story. She blogs at art and lemons.