This post may contain affiliate links. Read my disclosure policy here.
Hosting during the holidays means more than cooking up a feast — it means cleaning up the house. This is Janice here with a Holiday Cleaning Schedule and Checklist printable to help you whip your house in shape before you put that turkey in the oven… And a special thanks to Merry Maids for sponsoring this post.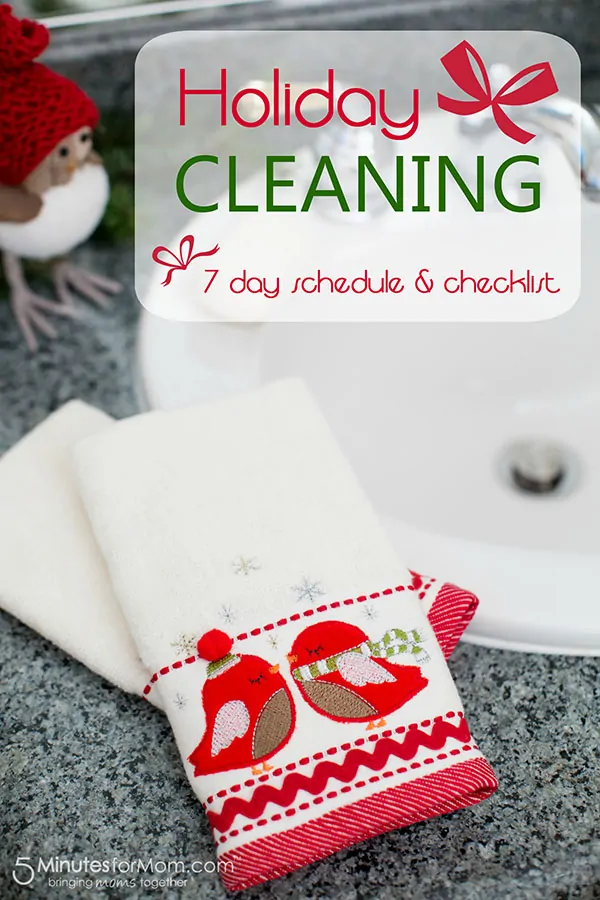 Do you get overwhelmed this time of year?
December can be such a beautiful time of year — twinkling lights and Christmas trees… mittens, scarves and rosy cheeks… colorful ribbons and bright red bows…
But behind those scenes, there are parents rushing around trying to orchestrate the magic.
In case you are feeling like an over-worked stage hand at your family's holiday performance, we have made up a Holiday Cleaning Schedule and Checklist printable to help simplify the cleaning chaos that comes with the holiday season.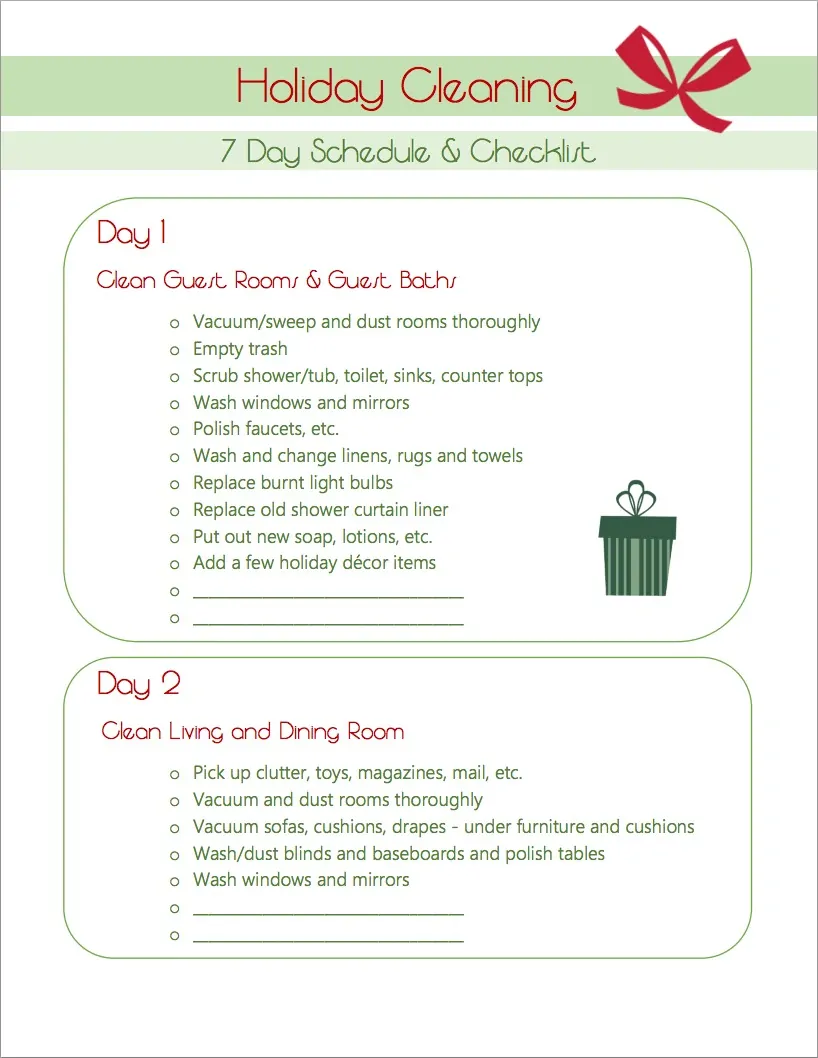 This printable will help you spread out your cleaning tasks over 7 days so that by the time your guests start arriving, your house is under control and you feel in control.
If you are hosting parties or having guests over before Christmas Eve or Christmas Day, just start your 7 day cleaning schedule asap, so you are ready for action.
Where to Start???
I know I get overwhelmed when I feel like I have too much to do and I don't know where to start.
But I got inspired to create this Holiday Cleaning Schedule and Checklist when Merry Maids sent us a list of Merry Maids "Season's Cleanings" tips and tricks from Debra Johnson, home cleaning expert for Merry Maids, that included some great ideas on how to get organized before guest arrive.
Here are two of Debra's tips:
Mother-in-Law Approved Cleanings

If anyone is making her list and checking it twice, it's your mother-in-law checking in to see if her child's home is naughty or nice. Before you host dinner for the family, leave no seat cushion unturned. Vacuum under the sofa, between the cushions and by the baseboards.

And don't forget the bathroom. When was the last time you changed your shower curtain liner? Last but not least, make sure the kitchen is spic and span – not just the windows and floors, but the appliances and cabinets too.

Holiday Party Prep

With all the cooking, shopping and office soirees, who has time to clean? Ditch that mindset and create a plan of attack one week in advance, taking on one room or chore every day. Johnson recommends starting with the rooms that are used the least (such as a guest bedroom) which are unlikely to be disturbed. Then take on the rooms used more frequently, such as the kitchen, which will likely need another cleaning in a week. By the time your guests arrive, your only worry will be whether or not you have enough cookies to go around.
Download our FREE Holiday Cleaning Schedule and Checklist Printable
With this printable, you can just start working through the list, and before you know it, your house will be holiday ready. In fact, you can turn off your over-worked brain, turn on some holiday music, and just follow the schedule. No stressing or planning required.
A great advantage to printing schedules and checklists is that it is makes delegating tasks so much easier.
I have to admit, I tend to avoid the conflict of asking my kids to help clean and I just do the cleaning myself — which is not good for any of us.
But with a simple and well laid out checklist, everyone in the family can get involved with the holiday cleaning.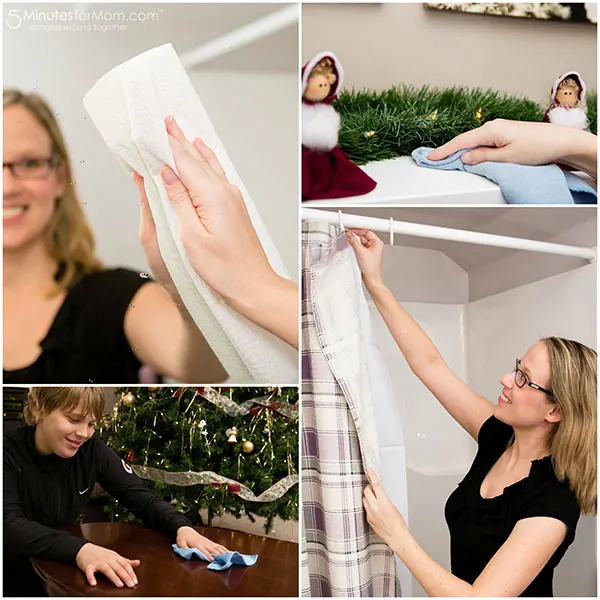 Okay, maybe not the family dog.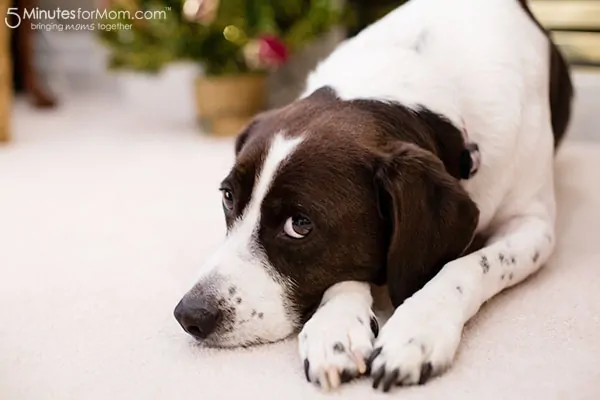 Our dog AJ gets so nervous when I am cleaning and sticks to me like glue. I think he is afraid I am packing to go on a trip and he doesn't want to be left behind. He follows me around with the saddest expressions on his face.
Did You Miss Our Holiday Centerpiece that Kids Can Make
In case you missed the first post in our three part series inspired by Merry Maids "Season's Cleanings" tips and tricks from Debra Johnson, we created a Holiday Centerpiece that Kids Can Make using the extra tinsel from the Christmas tree.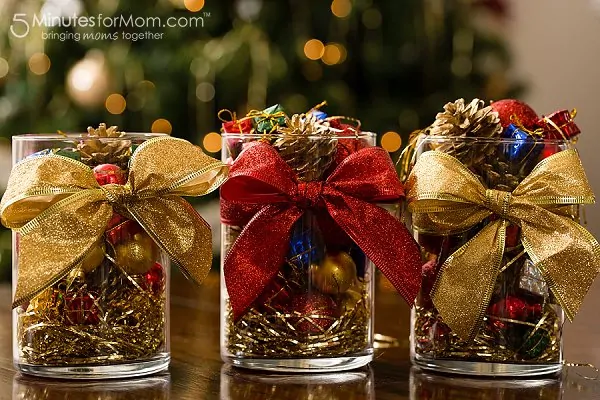 It is a super fun and easy way to get kids excited about decorating and cleaning up this season.
Stay tuned for our final "Season's Cleanings" post next week about how to handle last minute Holiday preparations…
Thanks again to Merry Maids for sponsoring this holiday post. To find out more about Merry Maids "Season's Cleanings" check out Merry Maids on Facebook and on Twitter at @merrymaids.
Written and photographed by Janice Croze, co-founder of 5 Minutes for Mom
Talk with me: @5minutesformom and Facebook.com/5minutesformom
Pin with me at pinterest.com/5minutesformom