This post may contain affiliate links. Read my disclosure policy here.
Janice here with a super easy Christmas craft your kids can make that will actually make your house tidier this holiday season… a holiday centerpiece to decorate your table. Special thanks to Merry Maids for sponsoring this post.
Too Much Tinsel??? We've Got a Christmas Craft for That…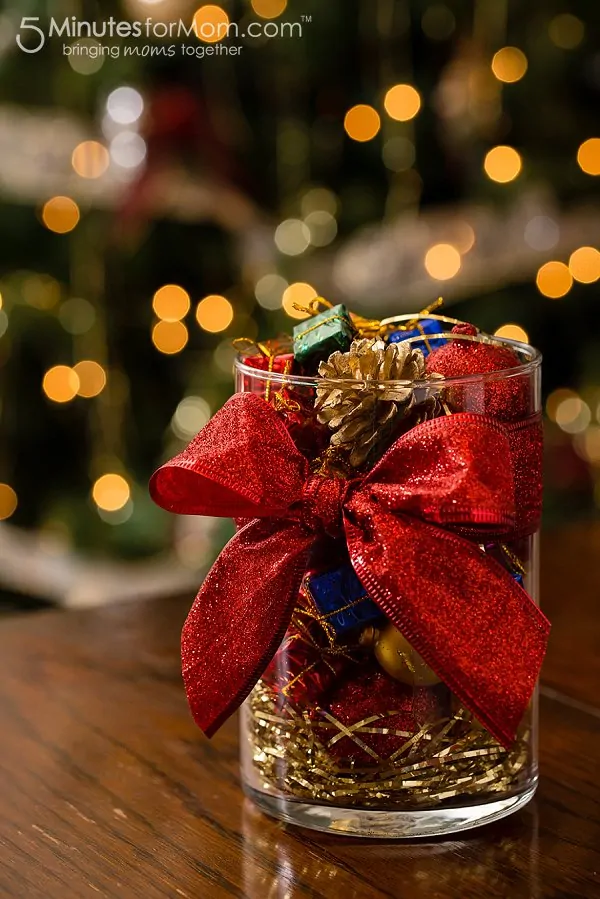 I remember when my mother finally said "no more!" to tinsel on our Christmas trees. I was horrified, of course. To a child, tinsel on the tree is magical. But to a mom, tinsel on the tree means a mess on the floor.
And now I can see her point.
Having gotten used to life without tinsel, I haven't used tinsel for decades. This year however, I let my kids have a chance to decorate our tree with some gold tinsel.
And, as if on cue, my daughter Olivia began to "hang" the tinsel by hurling handfuls of it at our tree…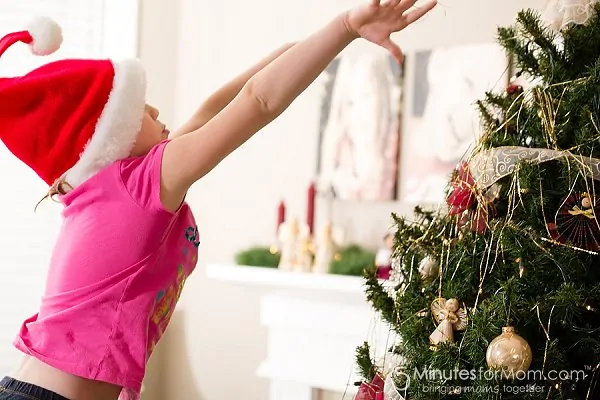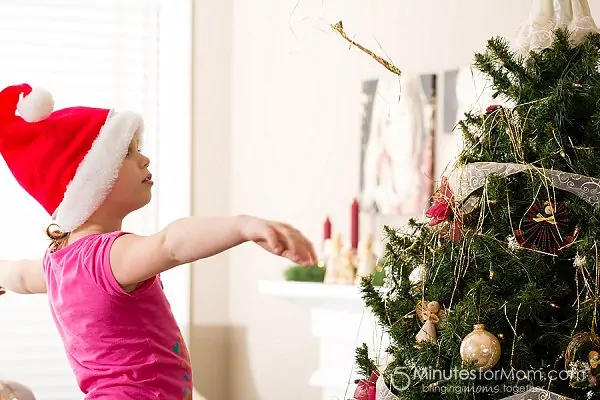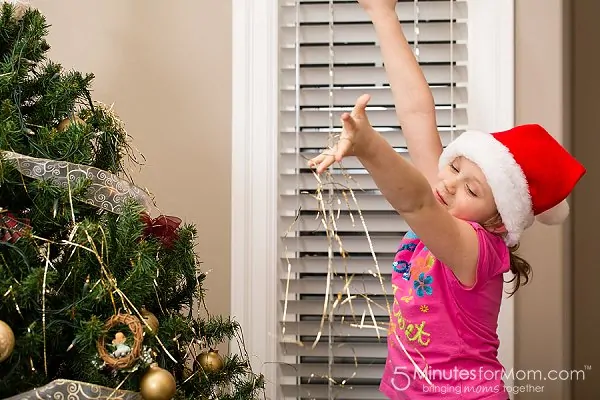 Not only were tree branches covered in clumps of tinsel, but so was our carpet…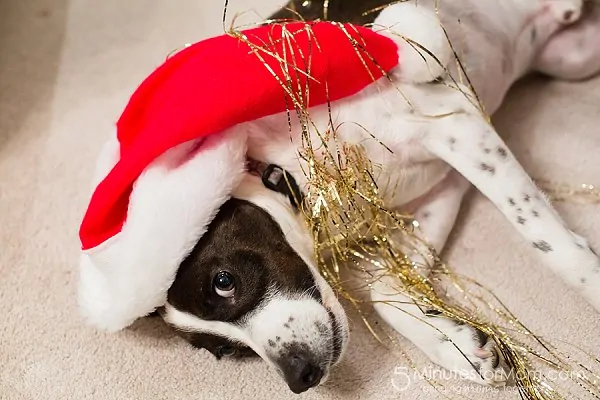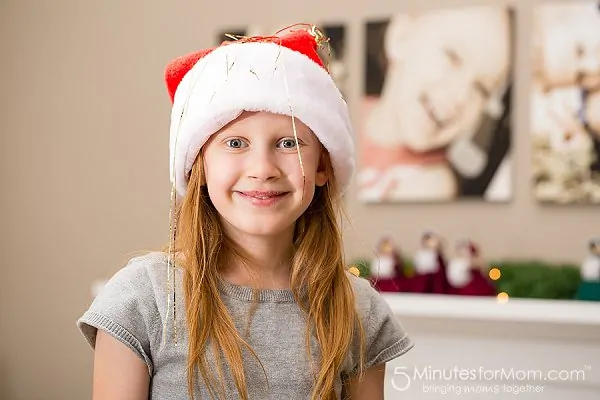 But I had a plan I wanted to try out. This month, Merry Maids sent us a list of Merry Maids "Season's Cleanings" tips and tricks from Debra Johnson, home cleaning expert for Merry Maids, including a fun tip about how to deal with the nuisance of tinsel on the floor.
Double-Duty Holiday Décor

Holiday décor is essential to giving spaces a more festive appearance, but it can also double the amount of housework you have each day. Give your holiday décor a second life after it's hung. For starters, if tinsel is adding more sparkle to your floor than your tree, don't toss it all away. Get the kids involved in picking it up and adding it to a vase or hurricane to make a festive holiday centerpiece. By the time the holiday arrives, you and your little ones will have a lot to be proud of.
Christmas Craft for Kids — The Easiest Centerpiece Ever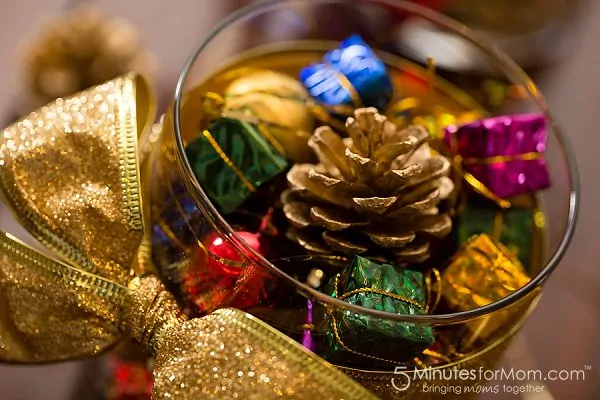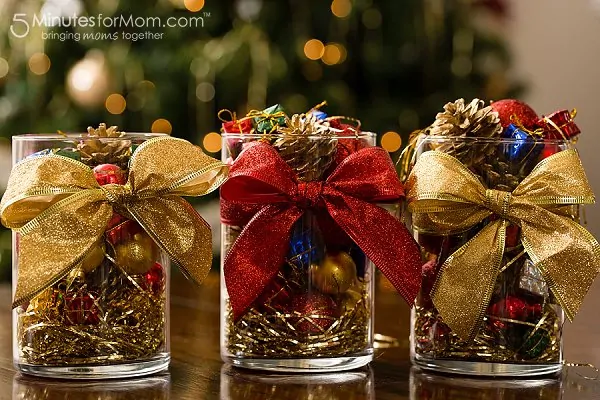 Inspired by Debra's tinsel idea, I bought three simple glass vases, gold and red ribbon, and some small decorations from the dollar store.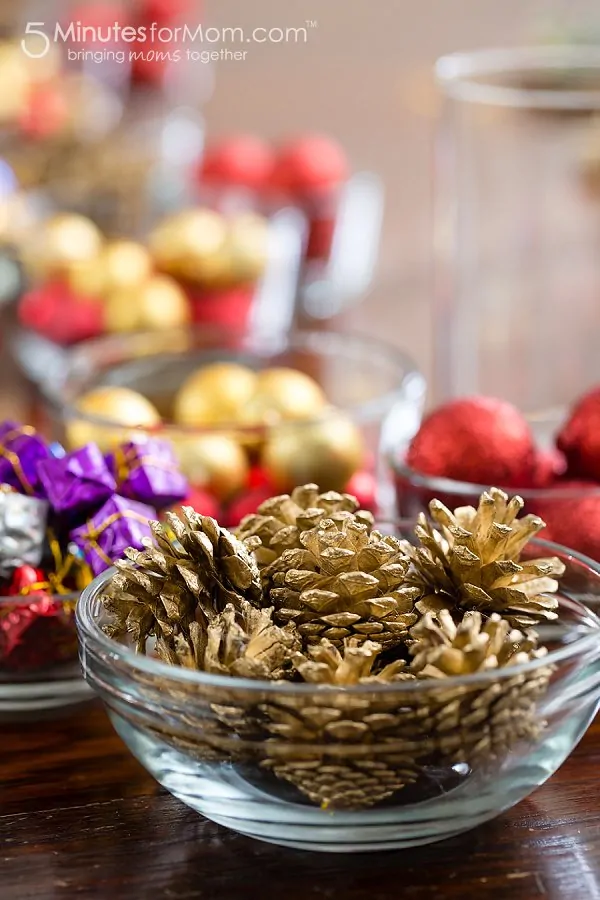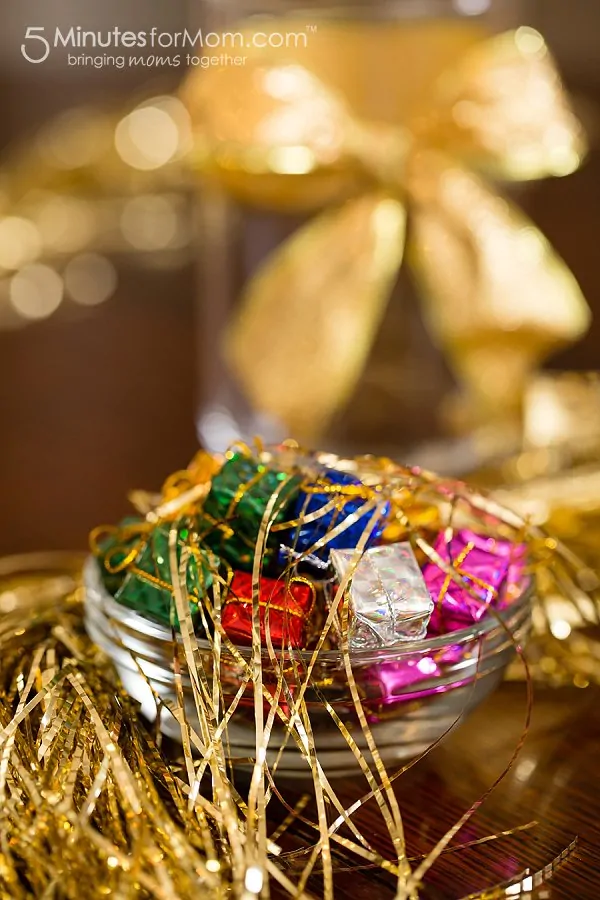 After our kids were finished decorating our tree (and our floor) with tinsel, I got them to pick up all the extra tinsel off the floor, (while I quickly declumped the tinsel on the tree,) and set them to work building our centerpiece.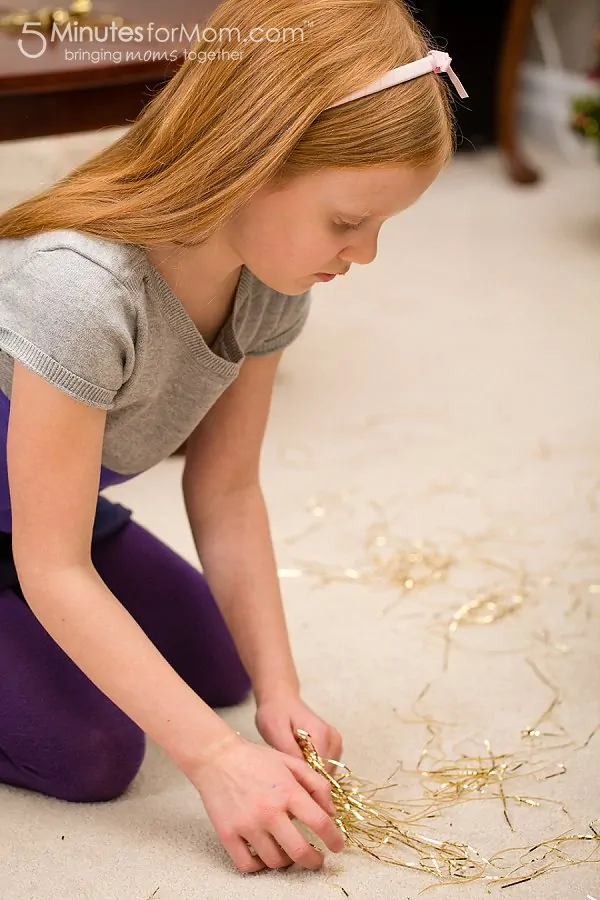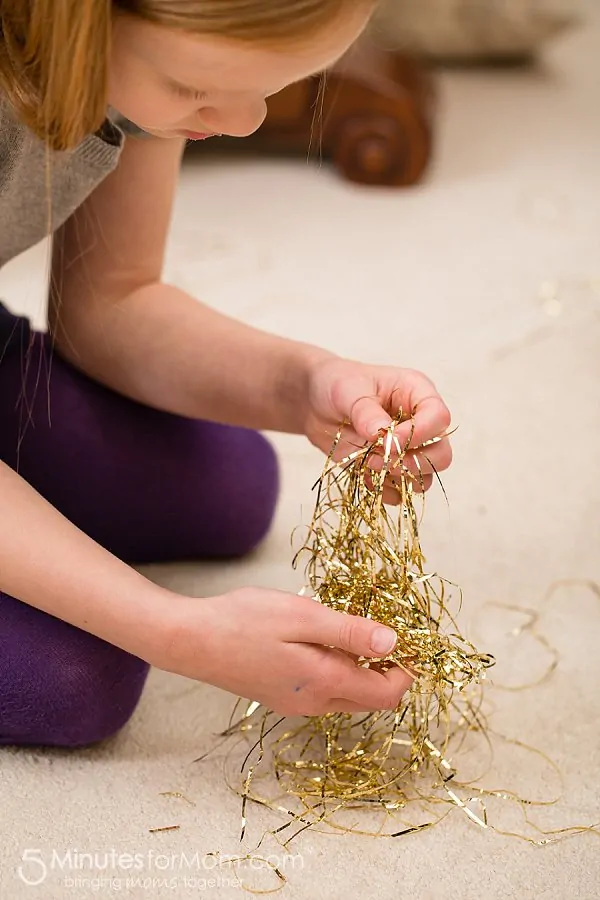 Each girl had one vase and a set of decorations. They lined their vase with the extra tinsel and then built their arrangement.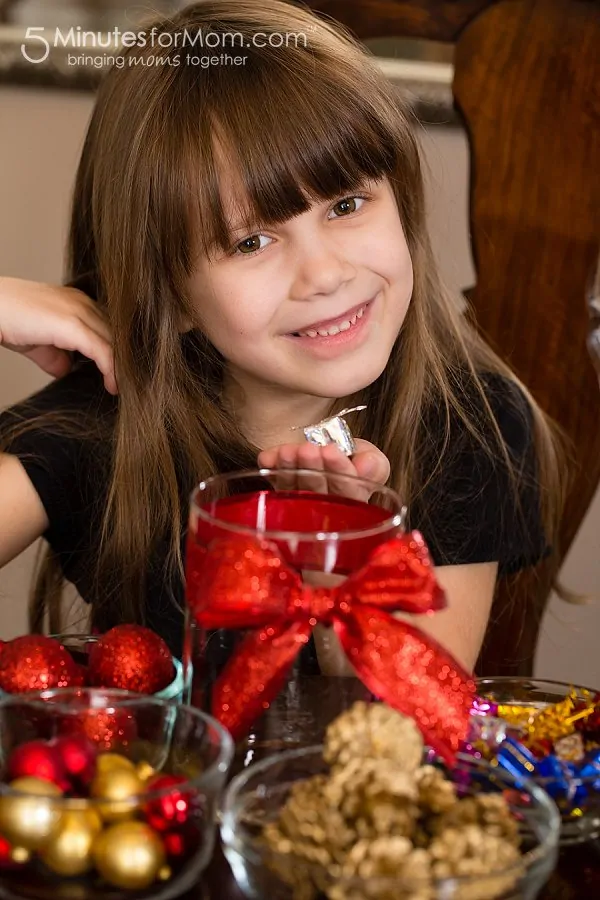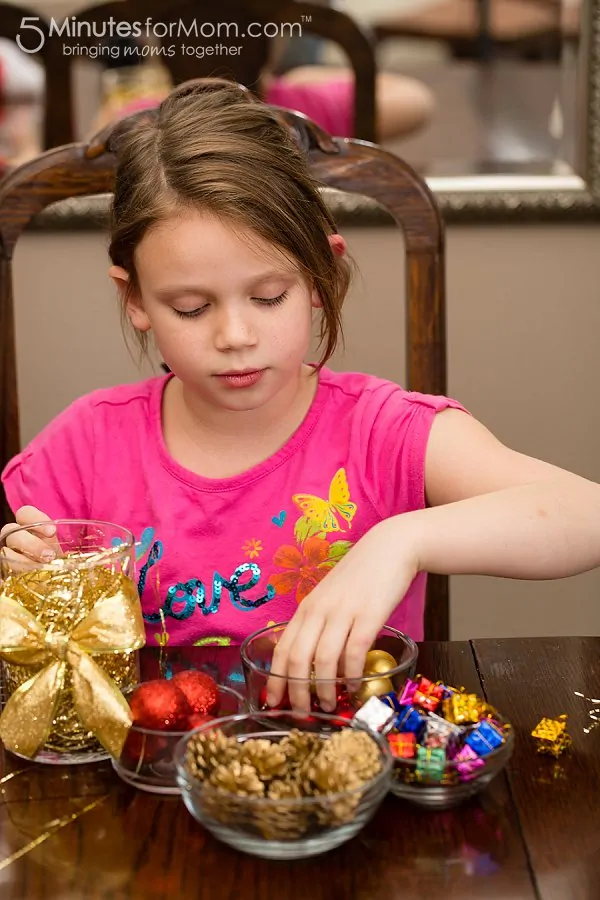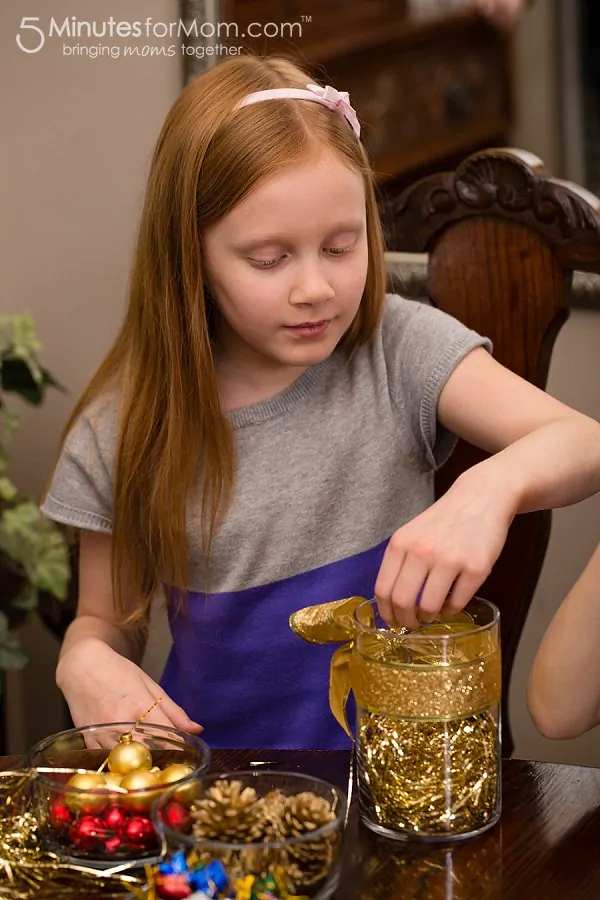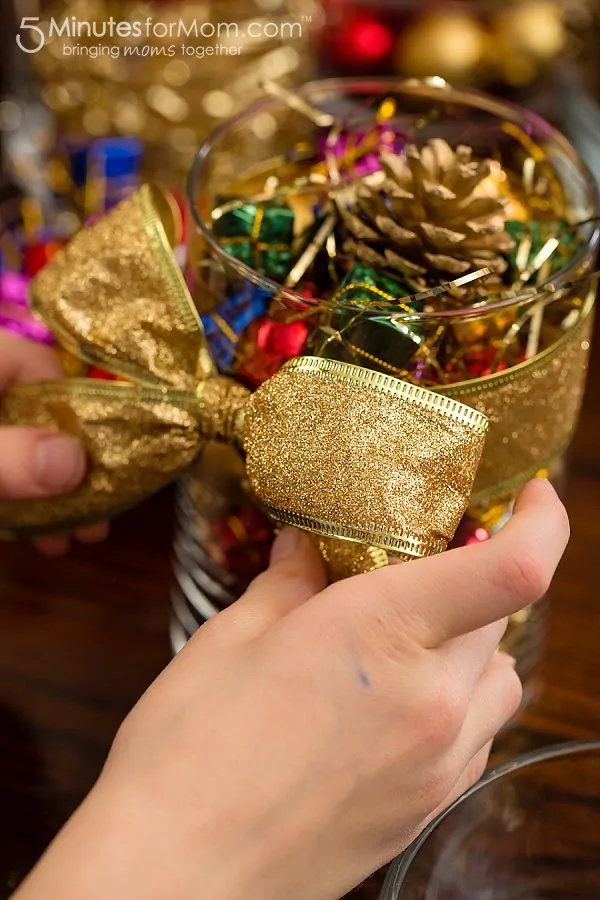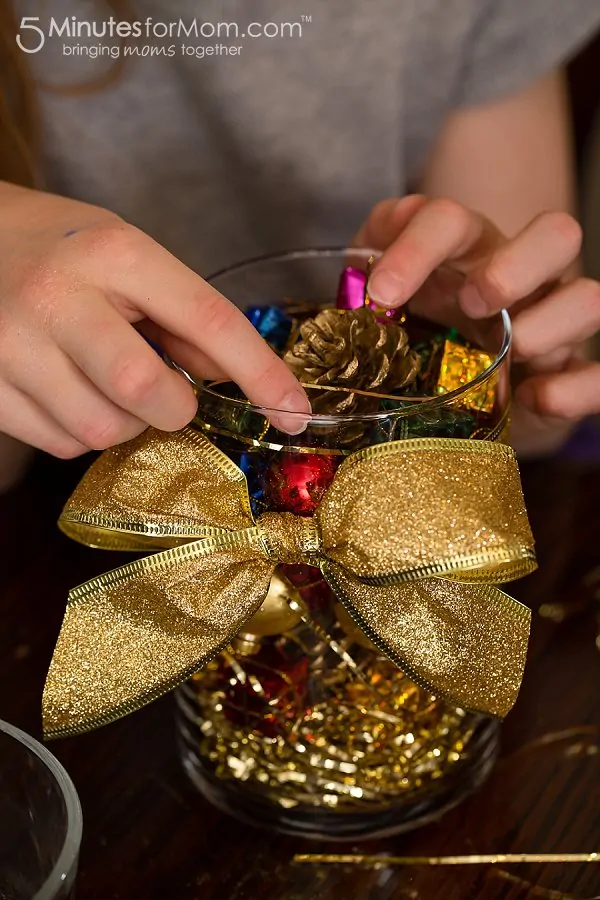 Ta Da — The Girls' Centerpiece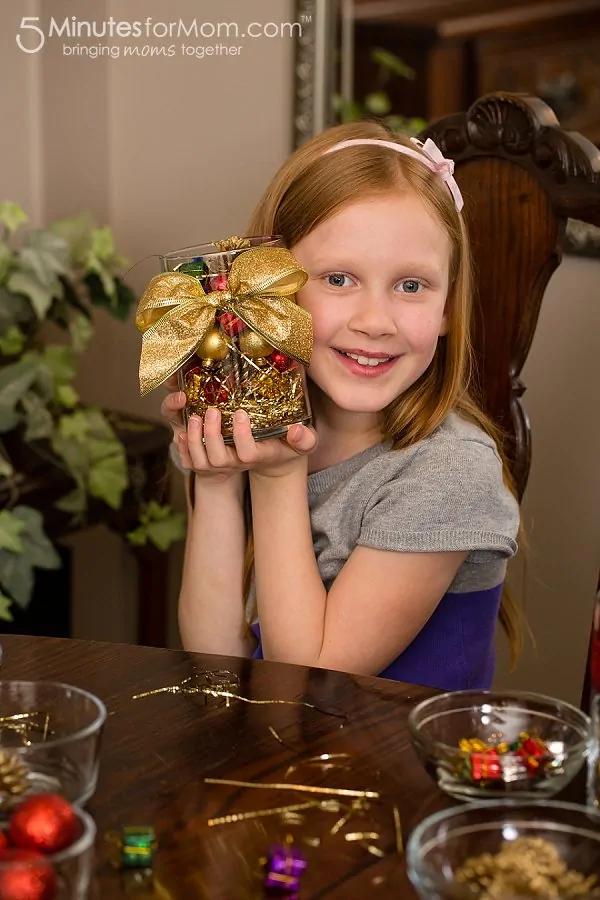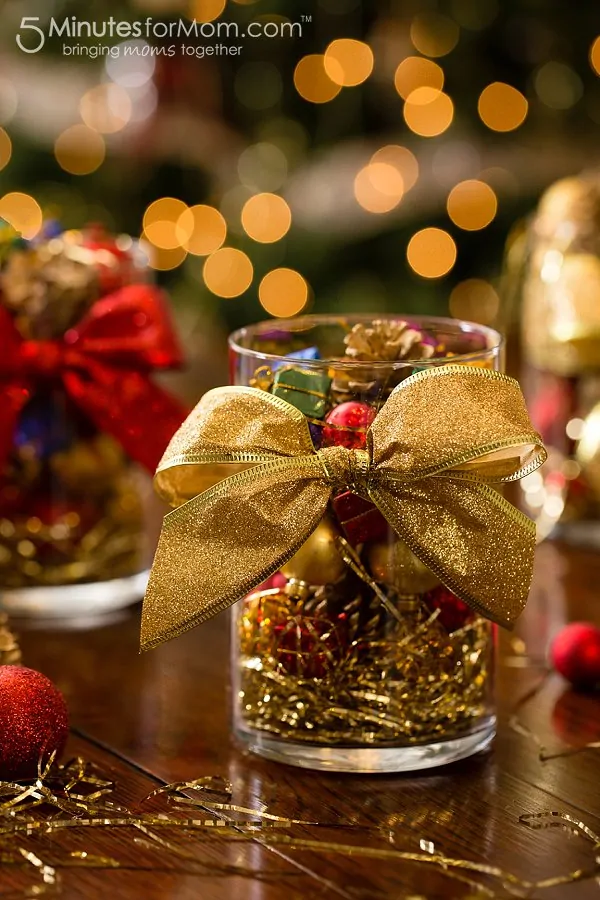 Within a few minutes, we had a fun, kid-created centerpiece for our holiday table. The girls loved making their works of art — and I loved that the tinsel was off the floor and tucked into their vases.
Thanks again to Merry Maids for sponsoring this holiday post. To find out more about Merry Maids "Season's Cleanings" check out Merry Maids on Facebook and on Twitter at @merrymaids.
Written and photographed by Janice Croze, co-founder of 5 Minutes for Mom
Talk with me: @5minutesformom and Facebook.com/5minutesformom
Pin with me at pinterest.com/5minutesformom