This post may contain affiliate links. Read my disclosure policy here.
Janice here with a sweet and crispy sweet potato fries recipe and spicy honey mustard dip that tastes as incredible as it sounds. Thanks so much to Wish-Bone® for sponsoring this delicious post.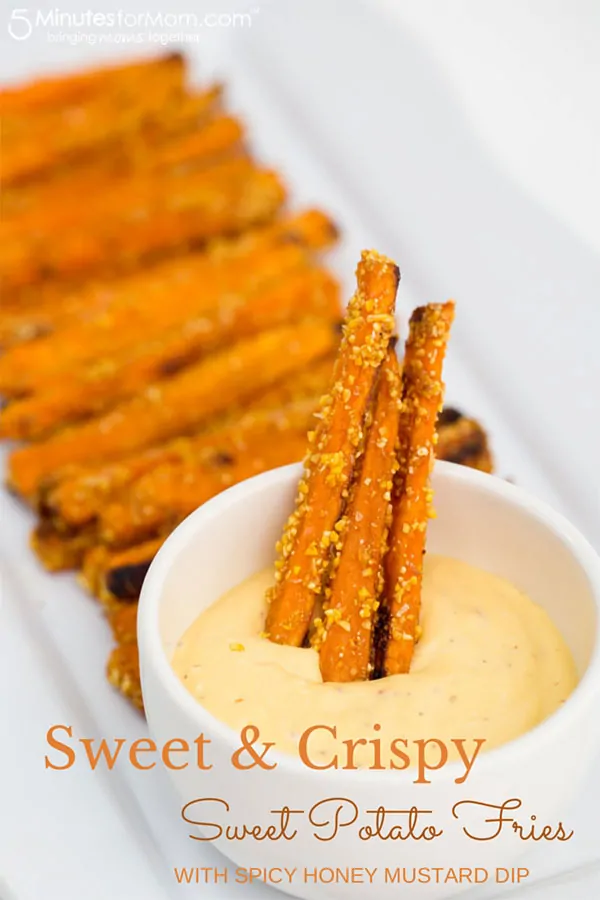 Whether you call them sweet potato fries or yam fries, if there is a plate of them in front of me, I will devour every last one.
I love sweet and salty combinations and so when sweet potato (or yam) fries became popular and restaurants started serving them, I became obsessed. (Here in Vancouver, most people refer to them as yam fries.)
I have baked countless batches at home as well, desperately trying to create crispy baked sweet potato fries that tasted as good as the ones my favorite restaurants serve.
Some batches were more successful than others, but for this batch I tried something different — and it is my favorite version by far.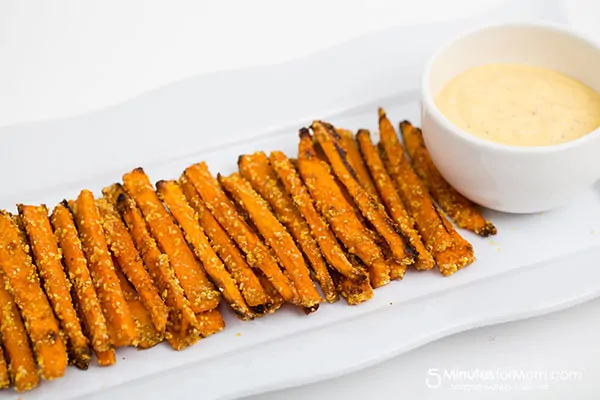 Not only were my sweet potato fries sweet and crispy, but I paired them with a delicious dip I whipped together using Wish-Bone® Sweet & Spicy Honey Mustard Dressing.
I love this Sweet & Spicy Honey and Mustard Dressing — and I love that Wish-Bone® makes their dressings with no high fructose corn syrup!
When I mixed it with mayonnaise to make a quick dip, it was creamy and thick with the perfect amount of spicy and sweet.
I serve sweet potato fries with a variety of different dinners at home — rarely do we have barbecued hamburgers without a side of sweet potato fries.
But of course, there is nothing like some sweet and salty finger food when you and your family gather around the TV for your favorite Game Day.
Serving your family a big batch of these Sweet Potato Fries with Spicy Honey Mustard Dip will have them licking their fingers and asking you for more. Forget going to a restaurant or a bar to enjoy Game Time, you can have your game and your fries right from the comfort of your own home. And your fries will be crispy too…
How to Make the Crispiest Sweet Potato Baked Fries

There are a few tricks to making sweet potato fries crispy.
Sweet potatoes have a tendency to become mushy when baked — which is fine if you are not trying to turn them into crispy fries.
First, the thinner you cut your fries, the crispier they will be. Since I want my fries as crispy as possible, I cut my strips quite thin, between 1/4″-1/2″ thick.
Second, to remove excess starch from the sweet potatoes – the starch can make fries soggy – I rinsed and dried my sweet potatoes after cutting them.
If you have time, soaking your cut sweet potatoes is reportedly the best way to reduce starch. However, I didn't have time and Sarah Britton from My New Roots recommends rinsing versus soaking. So, I gave my fries a good rinse and dried thoroughly with a tea towel.
Third, since I wanted a nice crispy crunch to my fries, I decided to try Sarah Britton's idea of adding a cornmeal coating.
To give my fries an extra line of defense against sog, I also added cornstarch to my cornmeal coating mixture, and upped my flavor with brown sugar, cayenne pepper and paprika.
Once my fries were dry, I added them to a large zip bag with some olive oil and gave them a good shake. Then I added in my cornmeal mixture and shook until they were all covered in their scrumptious coating.
Finally, I spread my fries out in a single layer on a parchment covered baking sheet, being careful to give each fry its own breathing room. When I have been in a hurry and not wanted to bake two separate sheets, I have let my fries get too cozy and bad things happened. Soggy fries.
So, don't get tempted to drop those fries in a big heap. Spread them out evenly and opt for a second baking sheet if you can't fit them all on one. (You definitely want to bake a second sheet, because one sheet of these sweet and salty fries will not be enough.)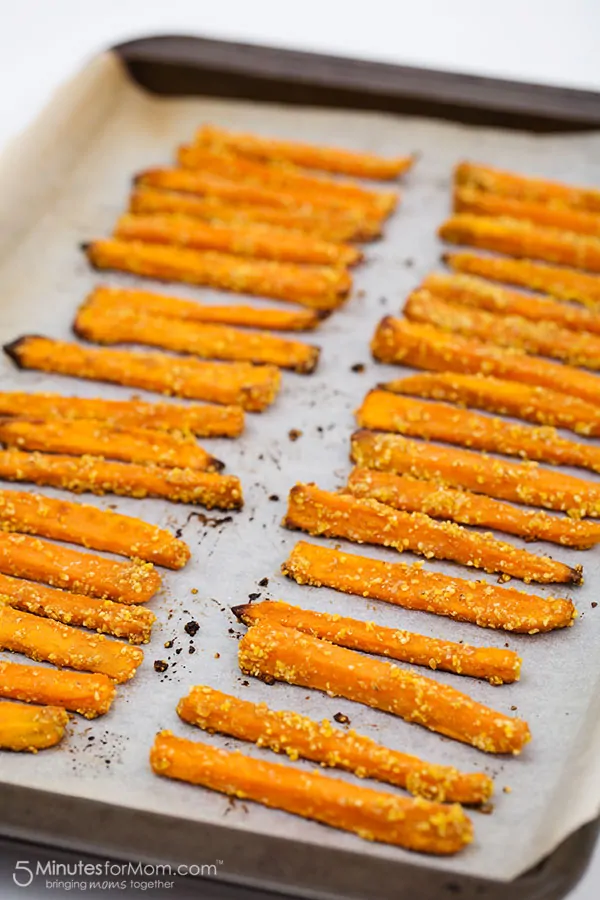 I baked for thirty minutes at 400°F, flipping at fifteen minutes and keeping a close eye to make sure my fries didn't burn.
While they were baking, I whipped together 1/2 cup of Wish-Bone® Sweet & Spicy Honey Mustard Dressing with 3 tablespoons of mayonnaise to serve alongside. I was thrilled with how perfect this dip paired with my sweet and salty sweet potato fries.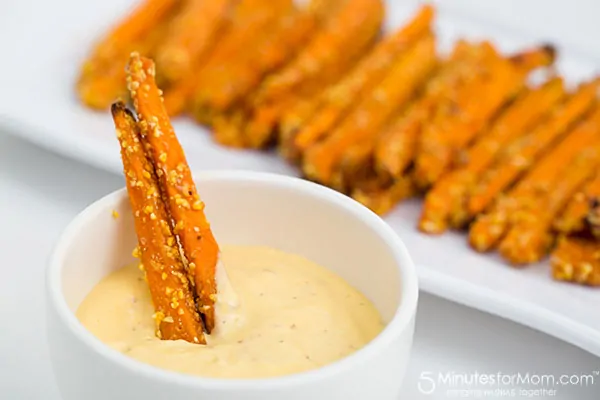 I have to admit, I was stealing fries and dip as I photographed and before I even sat down to eat dinner, I had polished off most of my first batch. Good thing there was a second baking sheet in the oven.
Sweet Potato Fries with Spicy Honey Mustard Dip Recipe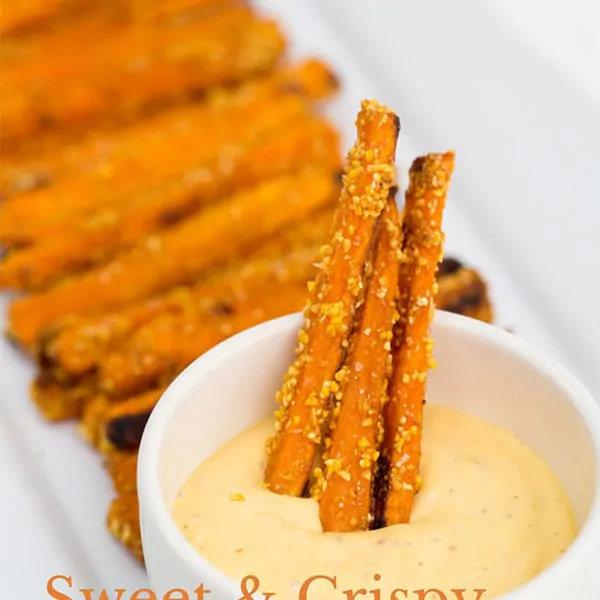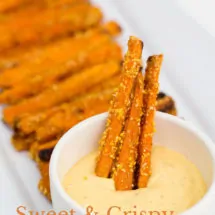 Sweet Potato Fries with Spicy Honey Mustard Dip
A sweet and crispy sweet potato fries recipe and spicy honey mustard dip that tastes as incredible as it sounds.
Print
Pin
Rate
Servings: 2 -4
Ingredients
2 medium to large yams/sweet potatoes
2 1/2 Tbsp olive oil
3 Tbsp cornmeal
2 Tbsp brown sugar
1 tsp corn starch
1 tsp sea salt
1/2 tsp cayenne pepper or chili powder to taste
1/4 tsp paprika
1/2 cup Wish-Bone® Sweet & Spicy Honey Mustard Dressing for dip
3 Tbsp mayonnaise for dip
Instructions
Preheat oven to 400°F and line two baking sheets with parchment paper

Wash and peel sweet potatoes

Cut sweet potatoes into long strips, between 1/4"-12" thick

Rinse well with cold water and dry well with tea towel

Add olive oil and cut sweet potatoes into a large zip bag and shake to coat

Mix cornmeal, brown sugar, corn starch, sea salt, and spices in a bowl

Add cornmeal mixture to zip bag with olive oil covered sweet potatoes

Shake bag well until sweet potatoes are covered well with cornmeal coating

Spread cut sweet potatoes in a single layer on parchment lined baking sheets, without allowing fries to touch or crowd each other

Bake for 30 minutes, flipping after 15 minutes, and watching to ensure fries do not burn

While fries are baking, mix Wish-Bone® Sweet & Spicy Honey Mustard Dressing with mayonnaise

When fries are crispy and browning on edges, remove from oven and serve alongside honey mustard dip
Written and photographed by Janice Croze, co-founder of 5 Minutes for Mom.
Please Note: This post was sponsored by Wish-Bone®. along with compensation for my time to create and publish this recipe. All opinions are entirely my own.