This post may contain affiliate links. Read my disclosure policy here.
It's no secret…Moose are my absolute favorite animals. There is just something about their big bodies and heads balancing on those long skinny legs. How can you not just love them!
Needless to say, I was very happy when given the chance to review Shankman and O'Neill's I Met a Moose in Maine One Day!!!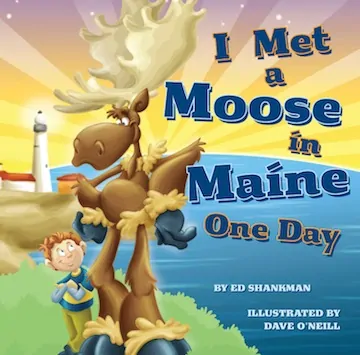 I Met a Moose in Maine One Day tells the tale of a boy as he travels through Maine with his newly acquired house guest, a Moose! From shopping and dancing to planes and log-rolling, they take in all the sites of Maine. Of course having fun at every stop!
My daughter loves the artwork and how the moose tries to hide behind a lamp while playing hide-and-seek. She cracks up at that part every time! I love the story itself and how fun it is to read, a lot like Dr. Seuss. We've actually read the story so many times now that my daughter knows what is coming up before I even turn the page!!!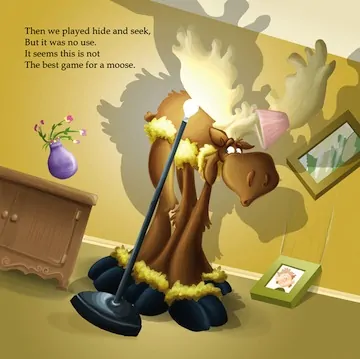 All of Shankman and O'Neill's books are amazing. Clever stories that my girls want to hear over and over again and illustrations that draw you in to each page of the book. You can read our reviews of Boston Balloonies and The Cods of Cape Cod here and here.
All of these books would make great gifts this holiday season. You can purchase any of these books online. And, once your child has fallen in love with these books (which won't take long), have them get creative and submit their book fan art to Shankman and O'Neill (details on their website)!!!
You can learn more about these wonderful books and what you can expect next from Shankman and O'Neill by visiting these sites:
We are excited to be giving away a SIGNED copy of I Met a Moose in Maine One Day to one lucky reader! This is a great opportunity to not only receive an amazing book but a signed copy!!! To enter simply leave a comment on this post. This giveaway is open until Friday, November 6 and is open to US shipping addresses.
And don't forget to check-out our reviews of The Boston Balloonies and The Cods of Cape Cod on 5 Minutes for Giveaways and 5 Minutes for Books where you can enter to win signed copies of each of those books as well!!!
The winner of Touched by a Vampire is #7 Benita G.
Written by 5 Minutes for Mom Contributing Editor: Stacey Lynn