This post may contain affiliate links. Read my disclosure policy here.
Last year when my daughter Amanda was in fifth grade —fifth grade— she insisted that all of her friends were reading the Twilight novels, and she wanted to read them. When I'm in doubt about whether or not a certain book's content is appropriate for her, I often just read it myself so that I can decide. I have not read the Twilight Series
, but I have talked to people who have.
She reads a lot, and by knowing what's out there is one way I can guide her to appropriate books that she'll love. In addition to reading books myself and talking to those who have read them, I love reading great blogs that give recommendations and plot summaries for children's books and Young Adult novels (one of my favorites is Jen Robinson's Book Page). 5 Minutes for Books also has a Kids' Picks carnival the 3rd Tuesday of every month, which provides me with great recommendations from other kids Amanda's age or who share her reading tastes.
So–back to the Twilight Series
. I have just discovered a fantastic new resource dealing specifically with this hugely popular series for both teens and adults (and apparently every tween at my daughter's school, except her).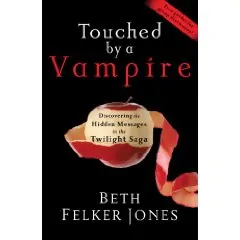 Touched by a Vampire: Discovering the Hidden Messages in the Twilight Saga is a great book. It is a fantastic resource for moms who are either trying to decide whether or not to let their daughters read the books, or those who want to open up a meaningful discussion about the books. It would also be a great springboard to use so that you could discuss the issues that Bella's, Edward's and Jacob's lives evoke with your own Twilight-obsessed grown-up friends.
Amanda is now in sixth grade and we've already had yet another chat about the books. "Everyone has read them, Mom. It's fine if I read them. Really." For now, my answer is still no. I thank Beth Felker Jones for writing Touched by a Vampire. She's bolstered me in my decision, because now I realize that I'm not just protecting her from that romantic content that is beyond her maturity level, but I'm also protecting her from the view of love that Meyer paints.
But one thing that I've learned by reading some of her books alongside her, is that it's a great way to open up discussions. If you want to discuss Twilight with your daughter (and perhaps a group of her friends), or if you to fully understand them before you let your daughter dive in, I can highly recommend Touched by a Vampire: Discovering the Hidden Messages in the Twilight Saga. I also now almost look forward to letting her read it in a few years when these issues will be relevant to her.
One can use the book two ways. There are discussion questions that address the themes of the books as a series — from beginning to end. Topics covered include:
obsessive love
abusive love
sexual purity
marriage and motherhood
There are also about 10 questions on each of the books at the very end of the book that you could use as a discussion guide as you read each book, but I think that the topical chapter entries are much more relevant and powerful in looking at the series as a whole.
This book is written within the context of a Christian worldview, and Beth Felker Jones does share some scriptures and some Christian viewpoints about love and marriage, purpose etc. However I would think that any mother could use the thoughts and questions about the portrayal of love to open up a meaningful discussion with her teenage daughter, regardless of religious faith.
You can read an excerpt at the publisher, Waterbrook/Multnomah's site.

If you'd like to win a copy, leave a comment telling us your experience with the Twilight series. Are you an adult who loves it? Has your teen read them? Your comment is your entry. We'll announce the winners in next week's 5 Minutes for Books column.
The very lucky winners of Family Feasts for $75 a Week by Mary Ostyn are:
#31 Jen
#61 Marj M. (@yahoo)
#83 Marine Corps Nomad
#87 LBynum (@yahoo)
#89 Brenda Rupp

Contributing editor Jennifer Donovan manages 5 Minutes for Books and contributes to 5 Minutes for Giveaways. She blogs at Snapshot.