This post may contain affiliate links. Read my disclosure policy here.
Like books? Check out our wide variety of reviews at 5 Minutes for Books. Better yet — check out our current giveaways where you can not only discover a new book, but enter to win it!
This book title sums it up well. Family Feasts for $75 a Week: A Penny-wise Mom Shares Her Recipe for Cutting Hundreds from Your Monthly Food Bill is not just a book of cost-cutting methods (in fact, she doesn't even use coupons!). In aiding the reader to save on her monthly "food bill," Mary Ostyn challenges the reader to look at all places were money is spent on food, including trips to the coffee shop, fast food, and eating out.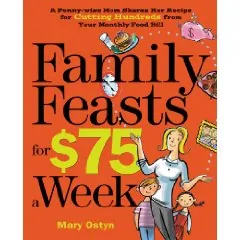 The book is 1/3 narrative about her money-saving habits, and 2/3 recipes, since cooking — and cooking from scratch for the most part — is the primary way to realize significant savings on food.
Mary Ostyn asserts that she is confident that most people could save $100 a month by making most of the changes she suggests, but she challenges each reader to set her own goal, and to make changes gradually so that they will stick.
If you don't like to cook, or don't feel like you can cook well, don't be intimidated by these recipes. Although most are from scratch — not using expensive and over-processed products — they are fairly accessible to even a beginner cook.
Some people might balk at some of the international recipes that she shares, but she encourages you to give them a try, since these recipes generally rely on things other than meat to give them flavor. While the recipes included are not typically "kids' fare," they are healthy and the kind of thing that could appeal to most children's palates after a few exposures.
I've tested three of the recipes so far: the Spinach Fritatta, Grandma's Mushroom Chicken, and Chili Corn Pone Pie. They were all a hit! My 11-year-old daughter balked at the spinach, but ate it anyway. I made the second two dishes when my sister-in-law was visiting, and she and I could have eaten a vat of the delicious mushroom gravy that was featured in the chicken dish. Better yet, her 4-year-old daughter enjoyed them both as well.
I have tried a lot of recipes in my lifetime and generally know when one will succeed, or if it's not something that is easy enough to make on a regular basis, and the other recipes that I marked to try soon are sure to be a success as well.
This book would be a terrific gift for a new bride or anyone looking to get more familiar with cooking, an art that has been lost by many. Do you want to treat your family to Family Feasts for $75 a Week? Buy Mary Ostyn's book now.
A bit about the author: Many of you may know Mary Ostyn from her blog Owlhaven.net, where one of her frequent and popular topics is feeding her large family on a budget. Speaking of large families, she also wrote A Sane Woman's Guide to Raising a Large Family (linked to my review). And in the interest of full disclosure, she was my roommate on the trip to the Dominican Republic that we took last November with Compassion Bloggers. It's been my privilege to feature these books, and because I've enjoyed them each so much, I'll gladly review any book she writes without reservation (or bias if I can manage it!).
But wait — FIVE of you won't need to buy it (actually, I'd buy it anyway and give it to a friend if you win it). Just leave a comment here now as your entry, and I'll announce the winners in next week's book column.
The two winners of Sue Monk Kidd's Traveling with Pomegranates are #50 Karen K. (@yahoo) and #69 Shawna F. (@hotmail).

Contributing editor Jennifer Donovan manages 5 Minutes for Books and contributes to 5 Minutes for Giveaways. She blogs at Snapshot.