This post may contain affiliate links. Read my disclosure policy here.
It's not too late to enter the 5 Minutes for Books Mother's Day giveaways. You have until April 30.
Should I start this review out with the disclaimer that I have two lovely children — the "perfect family" one boy and one girl, and I plan on keeping it that way. I reviewed this book because I know a lot of you out there either have large families or are exploring the idea of having a large family (I wrote a bit more on my blog Snapshot about my love for large families, and why I only have two children. Check it out and let me know your thoughts about family size). I also know Mary Ostyn** personally, and wanted to help her get the word out.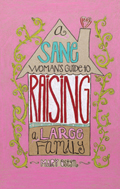 Because I know Mary, when she told me the title A Sane Women's Guide to Raising a Large Family, I thought it was absolutely perfect, because she IS perfectly sane. She seems "normal" — not like someone who would choose to raise ten children! Okay, now that I've perhaps alienated all of you with a large family, and maybe piqued the interest of those of you who do not have or want a large family, can I move on to the official review?
I found this book completely delightful. Mary's sense of humor and love for children came through loud and clear. If you are familiar with her blog Owlhaven, you probably would have expected this.
For those of you who don't "know" Mary, or who don't think that a book about raising a large family would have anything to offer you, let me give just list a few of the bits of information that were helpful or encouraging to me:
What do you do if you and your spouse don't agree on family size?
"Frugality is not deprivation. Frugality is freedom. Frugality gives options" (page 23)
How to handle children's activities
Children's Chores
Encouraging Sibling Friendships
The reason that this book is so readable and so helpful is that Mary manages to write about the way she does things — what works for her — without alienating those of us who make other choices. She's a co-sleeping, homeschooling mom of many. I'm a "babies-in-their-cribs," public-schooling, happy mother of two. We disagree on many parenting philosophies, but I know that her choices are right for her, and she doesn't presume that her choices are right for everyone.

Enter to win your own copy of A Sane Women's Guide to Raising a Large Family by leaving a comment here. We'll announce the winner in next week's column.
Read Mary's tips about How to Raise a Reader in our On Reading column at 5 Minutes for Books.
**Mary was my roommate in the Dominican Republic when I went last November with the Compassion Bloggers. A new group just arrived in India today. Please follow their journey. Pray for them. Learn more about the country and the children in need over there.
The grand prize winner of the Welcome, Little One $149 is #79 Marlena U.

The winners of the Welcome, Little One book are #51 Karen, #111 Krystal, #104 Kathy D., #86 Adrienne Gordon.

The winners of Things I Want My Daughters to Know are #30 Deborah Wellenstein, #33 Mozi Esmes Mommy, #51 Barb.

If you didn't win, you can still enter to win this novel and a bunch of other books over at the 5 Minutes for Books Mother's Day Giveaway (open for entries through April 30).