This post may contain affiliate links. Read my disclosure policy here.
Enter to win one and give one — Harry Potter that is —
through April 21 at 5 Minutes for Books.
Although I did not order Welcome, Little One thinking that my 4 1/2 year old son would love it, when I took it out of the box, he scrambled up beside me to look at it and sat rapt as I previewed this creative book.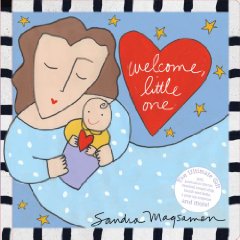 The sticker on the front says, "The ultimate Baby Gift," and I agree.
It's oversized, which makes it easy to share with a child, the interior pages are colorful and interactive and include
a soft baby blanket and a fuzzy heart to feel
other pop-up hearts
a letter to take out of an envelope
and a musical chip to listen to.

The book ends with a mirrored insert that excites kids every time they peer in.
I like the text a lot too. It's sweet and affirming, but not overly sappy or trite.
I would think that the target audience would be around two or three years of age (and any woman filled with new-mother hormones), but judging from the reaction that my son had, it could become a traditional favorite that kids might enjoy year after year.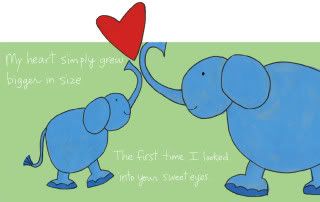 Welcome, Little One is a deluxe interactive novelty book celebrating the magic and joy that come with the arrival of a new baby – an irresistibly sweet gift, or a treat for your family to enjoy yourselves.
In this special interactive gift book, beloved author and artist Sandra Magsamen celebrates the miracle of baby's arrival. With soothing, lulling text and a wide variety of novelty elements, including touch-and-feels, pull-tabs, lift-the-flaps, a musical sound chip, pop-ups and more, readers are invited to remember all of the special moments that are experienced when baby arrives.
One Grand Prize winner (U.S. shipping addresses only) will receive a prize package valued at $149:
* 2 Baby Outfits from Sandra's clothing line "Messages from the Heart"
* 1 copy of Welcome, Little One
A copy of each of these other titles by Sandra Magsmen as well:
* Peek-a-boo, I Love You
* Baby Love
* My Blanket
* Little Blossom
* Goodnight, Little One
* Butterfly Kisses
* Love Bug
* Bedtime Bunny
* Little Angel
Four winners will receive a copy of Welcome, Little One (U.S. shipping addresses only).
Please leave a comment if you'd like to win. This prizing is for U.S. residents only, and is subject to our terms and conditions.
This contest ends 4/26 and the winners will be announced in this column on 4/27.
The winners of Chicken Soup for the Soul Power Moms are #47 Toby, #53 Linda Gilbert, #49 Kathy D.

If you're disappointed that you didn't win, we'll be giving away two more Chicken Soup books at 5 Minutes for Books in April in our giant Mother's Day Giveaway (starting April 15).
Contributing editor Jennifer Donovan manages 5 Minutes for Books and blogs at Snapshot.