This post may contain affiliate links. Read my disclosure policy here.
This post is a result of a press trip sponsored by Relativity Media where I participated in parent blogger roundtables with the cast. My opinions remain my own.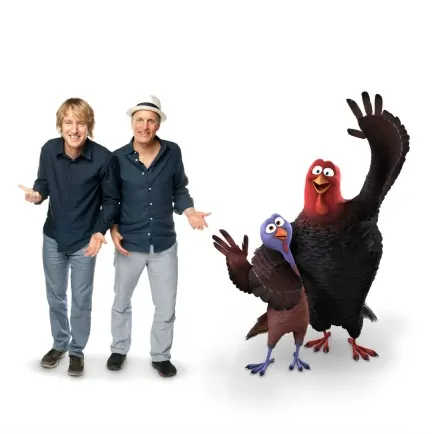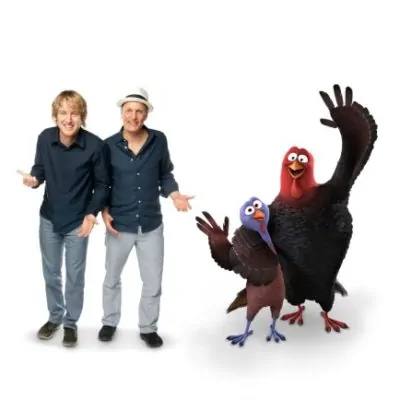 With the plot of the movie being described by the studio as this. . .

In this hilarious, adventurous buddy comedy for audiences of all ages, directed by Jimmy Hayward (Horton Hears a Who!), two turkeys from opposite sides of the tracks must put aside their differences and team up to travel back in time to change the course of history – and get turkey off the Thanksgiving menu for good.
. . . many of the bloggers wondered, "Would children ever want to eat turkey again?"
Director Jimmy Hayward addressed it this way: "I think it's natural for characters who want to try and protect themselves in all these types of films. In all the movies that I've worked on, it's insects trying to keep from getting killed (A Bug's Life), toys trying to keep from getting killed (Toy Story). I think it's part of the natural obstacles you face in an adventure picture. Most of your kids probably still smash toys. I'm not too worried.
I think the most important thing for this movie, for me, was to make an entertaining and emotionally resonant film about two characters. The main message in this movie is that you're absolutely part of something bigger than just yourself. It's not about turkey or being a vegan or anything like that, because we all know that turkeys don't talk–well, at least not to us. And they don't fly in time machines named Steve.
I asked him, "I have a nine year old son, and so the whole time as I watched the movie, I was saying to myself, this is nine year old boy humor. Do you think that people in animation are just like little nine year old boys?"
Jimmy Hayward: I kind of think that everybody is a nine year old boy. I think at the end of the day, I like really intelligent jokes that work on two levels so that adults will get the reference and kids will laugh at the event. I love comedy like that. When you make comedy for everybody, that's the most difficult type of comedy to make — and the most rewarding — when it works. When you sit in a theater and you've got 1,000 people laughing at the same thing, you touch the same button on everybody, that's the greatest response. It's that type of comedy that I think appeals to the nine year old boy or girl in all of us.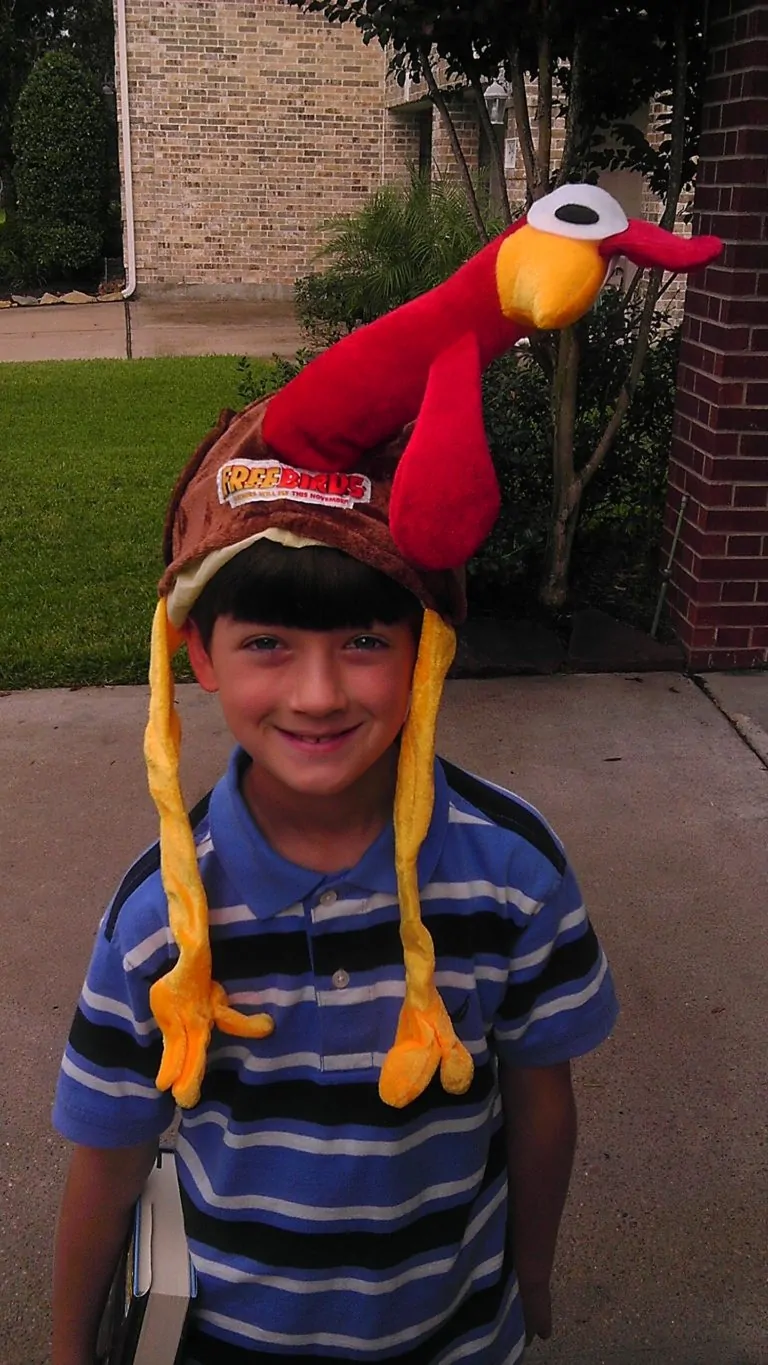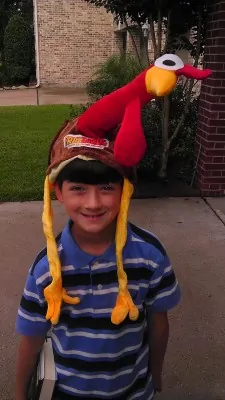 That boy of mine hasn't seen the movie yet. I plan on taking him this weekend, but he did like the hat (that one of you can win below).
My thoughts on the movie
My kids enjoy the perks of my writing gig here at 5 Minutes for Mom and 5 Minutes for Books. They like "getting free stuff," and now that my daughter is a teenager, she thinks it's really cool that I get to see movies early and interview celebrities.
We saw some early previews at other kid movies this summer. When she found out I was attending the Free Birds junket, she said, "Well, it doesn't matter what the movie is. It's always cool to do those things," so I was thinking she wasn't really feeling it. She's 15, and not the targeted audience, but she's very interested in animation and still enjoys "family films." When we saw the poster advertising "The Greatest Turkey Movie of All Time," we both laughed and figured it would at least live up to that!
You can probably see that I wasn't expecting much out of this movie, but perhaps having low expectations was a good thing, because I ended up enjoying it. I laughed a lot as I was watching it, and I especially knew that my son will think that it was hilarious. I told my daughter that I think she'll like it too, so we all plan to see it opening weekend.
There is somewhat of an historical element with real characters such as Miles Standish and William Bradford, but there is a disclaimer at the beginning, saying that it's not history, even though some of the people are real, the way they are portrayed is not necessarily based in fact. But I liked all the clever elements, like time travel and how the turkeys tried to outsmart the colonists. The other thing I appreciated is there didn't seem to be a lot of that typical kid potty humor. In fact, Jimmy Hayward says that he has a "no fart joke" policy.
Be sure to check out my interviews with Amy Poehler and Woody Harrelson and Owen Wilson (you'll get bonus entries for commenting on them).