This post may contain affiliate links. Read my disclosure policy here.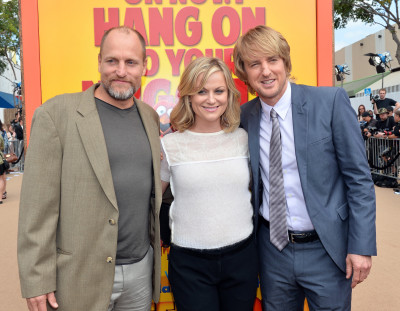 5M4M writer, Jennifer D.went on an expenses-paid trip to L.A. sponsored by Relativity Media to participate in parent blogger roundtables. Her opinions are her own.
Jenny, voiced by Amy Poehler:
What the director Jimmy Hayward said about her:
When I pitched the movie to Amy — and maybe it's because I grew up in such a feminist household, thanks Mom– it was that Jenny's the smartest person in the movie. Jenny's the smartest person in the movie all the way through.
Amy's thoughts: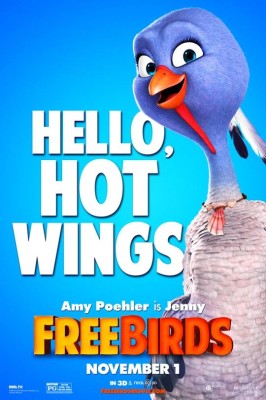 When I read it, I was like, oh, that's great. Unfortunately, not as typical as it should be and so it was cool to play.
It's fun to play a strong female character, natural leader, a girl who's kind of following in her powerful father's footsteps.
She's kind of the straight turkey in the movie. And animation's so fun because you get to take really big jumps but you do sometimes need a force that's grounding everything together, which I think the character Jenny is. And I didn't really do so much of a voice in this because they really kind of wanted it to be kind of natural. I've played all across the spectrum of that. So, it's cool to actually play someone that feels like a somewhat normal animated character, if that makes sense. But, she's also a turkey.
Owen and Woody playing Buddies Reggie and Jake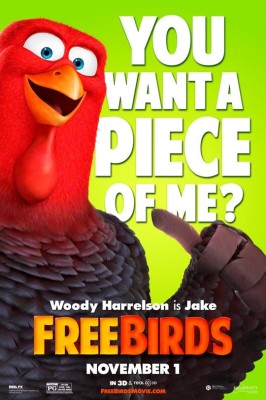 Interviewing Owen and Woody was like herding cats, seriously. They were paired, and not only do they play buddies in the movie, apparently they are real-life buddies.
As cast member Amy Poehler said about the Free Birds movie, "It's like a buddy comedy with the two of them. And their chemistry is really natural. I knew that everyone would buy that they would be friends like they are in life."
That definitely came across as they joked around the whole time. We started off the interview by asking if any of their kids had seen the movie yet:
Woody Harrelson: My little girl Makani, 7, and I asked her the other day what her favorite movie was honestly. She said Free Birds. Of course, I had asked her every other day before that and sent her to bed without dinner–.
Owen Wilson: —So, she was a quick study.
Woody Harrelson: Yes, she got to eat that night.
Owen Wilson: I did one of the talk shows the other day, so they sent some clips over, and I showed them to Ford, who's almost three. And, bless his heart, but he just loved it. He thought it was the funniest thing he'd ever seen. He was like "Dada. When were you going to tell me about this? What the heck? You're just keeping this to yourself? Hang onto your nuggets. Come on."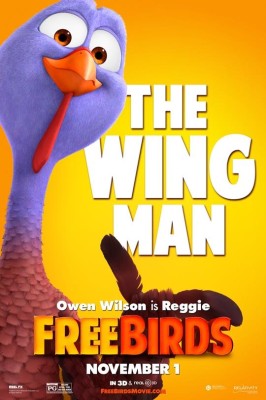 This was Woody's first time to do an animated film, and he enjoyed the process. Owen is a staple as Lightning McQueen, and here's why he prefers animation, "I'm trying to think of a word that sounds better than easier. You don't worry about wardrobe or kind of people coming over with hair and makeup and stuff, and you just go in and kind of make believe. So, yes, I like doing animated."
What Jimmy Hayward, the director, said:
"Owen and Woody are both such great actors. Owen really comes across like Owen, in the appeal that his voice has. When you see him play in all these other movies, he's just got that sort of stumbly sort of an Owen thing where it's basically like he always sounds like he's telling you a secret or something.
And then, of course you know Woody's played, a wide variety of characters. He is a great lovable dumb guy in a lot of stuff. Even though he's a whip smart person, he plays a lovable dumb guy really, really well."
Free Birds, from Relativity Media & Reel FX Animation–opens November 1
In this hilarious, adventurous buddy comedy for audiences of all ages, directed by Jimmy Hayward (Horton Hears a Who!), two turkeys from opposite sides of the tracks must put aside their differences and team up to travel back in time to change the course of history – and get turkey off the Thanksgiving menu for good.