This post may contain affiliate links. Read my disclosure policy here.
This post is a result of a press trip sponsored by Relativity Media. My opinions remain my own.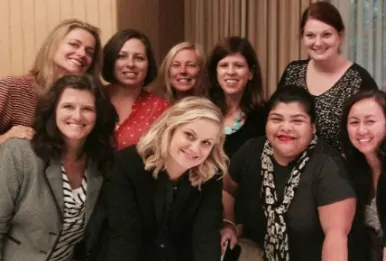 It's always fun interviewing actors and directors, hearing more about how movies are made, and why they do what they do (It's pretty cool when they tell you to kneel down and share their chair as well).
Earlier this month we chatted with Amy Poehler about her new movie Free Birds. In this movie, two turkeys go back in time to get turkey off the first Thanksgiving menu:
As you can see, Reggie (voiced by Owen Wilson) likes pizza, so that figures into the plot.
We asked her if she was going to add pizza to her Thanksgiving meal this year:
She said that she's just happy that her kids eat anything at all. Like a lot of us, she is fighting that battle in her home, trying to introduce new foods.
Amy told us that she enjoys cooking, though doesn't get to do it as much as she used to. Her take on holidays was interesting (and freeing!):
I feel like holidays in general–correct me if I'm wrong, you guys would know more than me–are becoming really lose in a good way. I feel like everybody's deciding how they want it to be. Especially when you have your own family, you kind of get to decide how you want to spend your holiday, like what suddenly is important.

What traditions is Amy trying to create for her family?
One is watching movies with her kids Archie and Abel on Thanksgiving night: "Showing them a movie they've never seen is always really fun. Last year, we watched Willie Wonka, which was a big deal."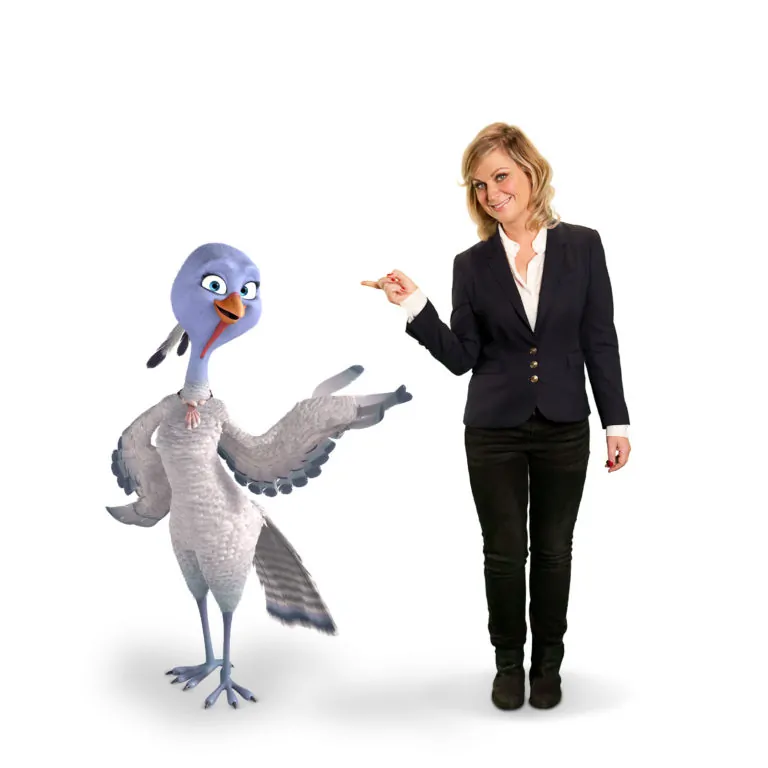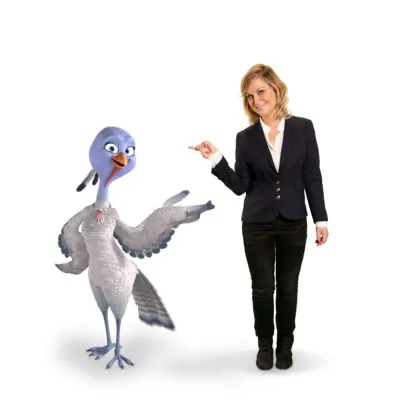 And the question that all successful working moms get asked:"How do you balance it all?"
My answer is pretty much the same all the time, which is just kind of figuring out what is good for you. What works for you is what works. Everybody's thing is different. And especially as you at anybody says. Do your thing. Whatever works for you and your family is the right thing.
She mentioned books several times in our conversations, so being the good book blogger that I am, I asked about some of their favorites. Check out Amy Poehler's thoughts on reading with her children at 5 Minutes for Books.
Free Birds, from Relativity Media and Reel FX Animation Studios, opens November 1