This post may contain affiliate links. Read my disclosure policy here.
Jennifer here to share with you about a brand new Ball product that will literally make your jam and jelly making easier! We were provided product for review and one to give away. No other compensation was received.
I started making my own homemade jams and jellies a couple of years ago. I found out how easy it was to do, and because I am trying to provide better foods for my family, I knew this was something I really wanted to perfect. Here is my most recent recipe I made.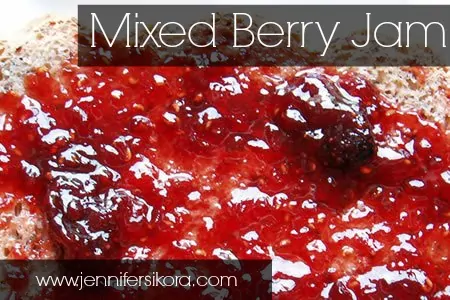 Click here to view this recipe.
Now, normally when I make jam, I do it right on the stovetop in my big sauce pot, but I recently was introduced to the Ball® FreshTECH Automatic Jam & Jelly Maker. Since getting this appliance, my jam making sessions have been cut in half!
It usually takes about an hour to make jam on the stovetop, but with the automatic jam and jelly maker, I can create all different kinds of jellies and jams in under 30 minutes. I love this little contraption!
I am going to be experimenting with pepper jellies next week. I love this kind of jelly poured over a block of cream cheese with some reduced fat wheat crackers. It is my all time favorite snack.
About the Ball® FreshTECH Automatic Jam & Jelly Maker
With the Ball FreshTECH Automatic Jam and Jelly Maker, you can treat your family to delectable fresh fruit preserves and spreads at any time. The appliance provides an easy, fast process for making old-fashioned jam. You can choose to make a variety of spreads with fruit ingredients like blueberries, peaches or strawberries along with pectin, sugar and butter. You can even make a reduced-sugar recipe for low calorie jam.
The innovative new Jam Maker appliance will make a fruit spread in just 30 minutes. Instead of the traditional time-consuming large batch canning method, the user friendly jam and jelly maker can make small batches. Now you can try-out fun new recipes and experiment with old recipes without the commitment of making a large batch.
Enter to win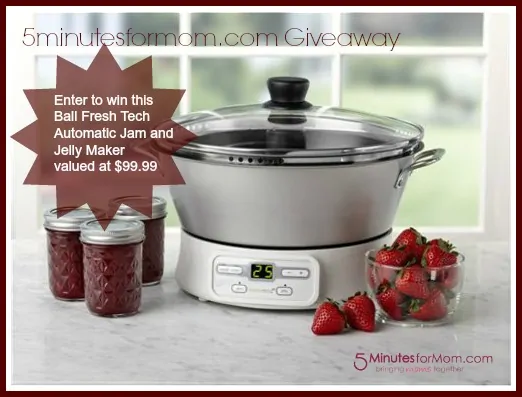 One winner will win this jam and jelly maker. Use the Rafflecopter form to enter this giveaway. New to Rafflecopter? Watch this 45-second video on how to enter!
a Rafflecopter giveaway

So — what is your favorite jam or jelly flavor?