This post may contain affiliate links. Read my disclosure policy here.
Jennifer Donovan here to tell you about a new series that begins on the Hallmark channel this Saturday, July 20. I was sent an advanced screener, and we were compensated for this campaign.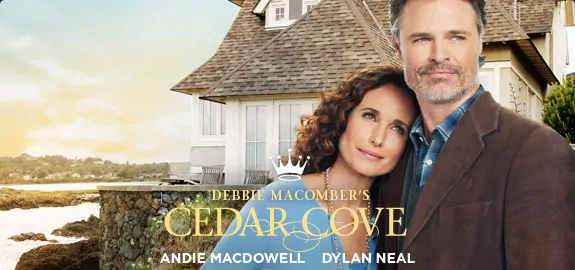 Meet Olivia (Andie McDowell). She lives in a small town in the Pacific Northwest, where she wears many hats: judge, mother to an adult daughter, ex-wife, daughter to a busy-body, and who knows what she'll be to Jack (Dylan Neal), the new guy in town.
I previewed the two-hour premiere, which can be seen this Saturday July 20 at 8p/7c on the Hallmark Channel. I liked it enough that I'm planning to tune in to future episodes. I know that I can usually count on the programming on the Hallmark Channel to be family-friendly viewing, and this was. I didn't watch it with my teen daughter, but we are always looking for shows to watch together, so she might join me this Saturday.
It seems like the kind of show that will both follow the characters as we get to know them better each week, as well as some sort of episodic drama. In this two-hour premiere, Olivia was presiding over a divorce case, and instead of granting the simple legal act, she held it over in a continuance. You'll have to watch to see what happens.
Watch CEDAR COVE Saturday nights at 8p/7c beginning July 20 only on Hallmark Channel!
CEDAR COVE is a new primetime series based on the bestselling books by Debbie Macomber starring Andie MacDowell & Dylan Neal.
In "Debbie Macomber's Cedar Cove," Andie MacDowell plays Judge Olivia Lockhart, whose Cedar Cove Municipal Court is the professional milieu and social microcosm of issues the judge will face in her own day-to-day life with family and friends. Jack Griffith (Dylan Neal), the editor of the Cedar Cove Chronicle, is a new friend and potential love interest for Judge Lockhart.
Win it!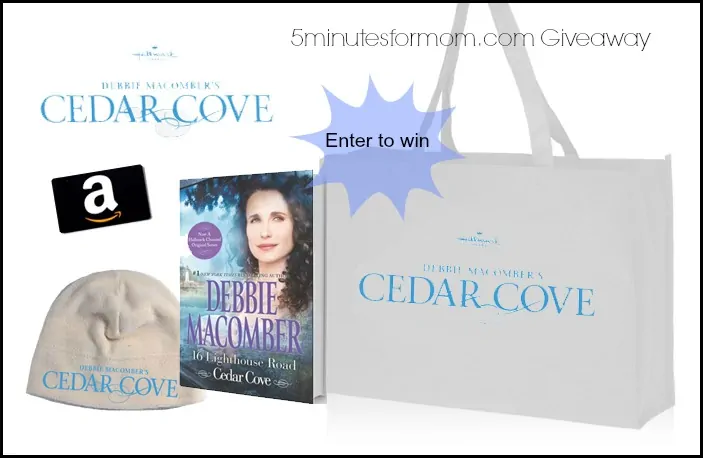 We have a fun Cedar Cove gift pack worth $75 for one of you (U.S. only). Use the Rafflecopter form to enter this giveaway. New to Rafflecopter? Watch this 45-second video on how to enter!
$50 Amazon Gift Card to purchase the Cedar Cove book series on Amazon.com
Recyclable shopping tote
Debbie Macomber's 16 Lighthouse Road (Cedar Cove) book
Micro-Fleece winter beanie
Like Cedar Cove on Facebook
Watch the trailer, clips and more on YouTube
Follow @CedarCoveTV on Twitter #CedarCoveTV
Use the Rafflecopter form to enter this giveaway. New to Rafflecopter? Watch this 45-second video on how to enter!