Giveaways – Where To List Your Giveaway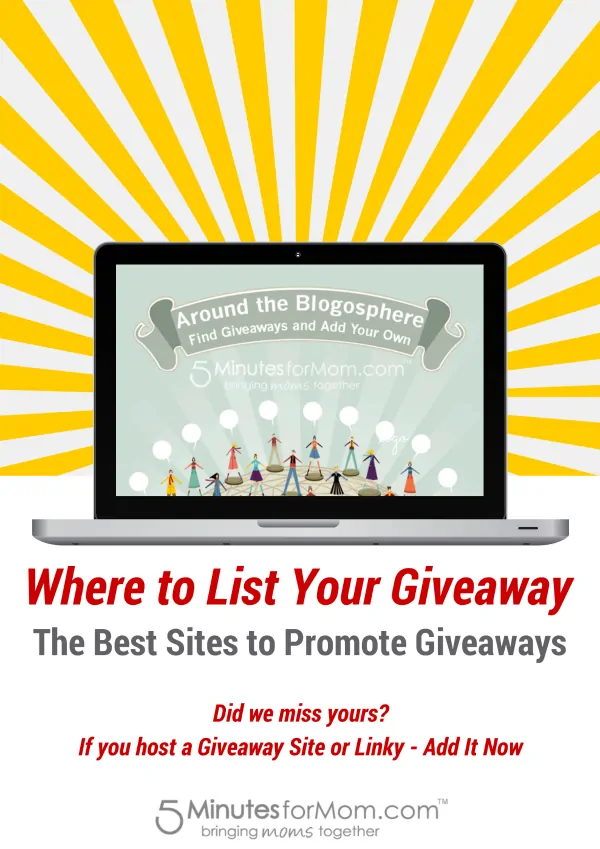 Here at 5 Minutes for Mom, we love hosting giveaways for our readers. Find our current giveaways.
List your giveaway in our weekly Around the Blogosphere with Giveaway Linky.
Learn more about how we can help promote your brand or organization, on our Advertising Page.
Best Places to Submit Your Giveaways
We have compiled a huge list of different places where you can submit your giveaways. This will not only help increase the traffic on your site, but will also help get the word out about your giveaway listings.

Giveaway Directories:
Sweepstakes Listings
Linky Lists:
Do you Host a Daily or Weekly Giveaway LINKY or Website?
If you host a regular daily or weekly giveaway LINKY List on your own site, where bloggers add their links, you can share the link with us and we'll add it to this page so that everyone can stop by and add their giveaways to your list. Please share the category level link or wherever someone will find the most recent link up.
Contact us and let us know so that we can update this page.
How Do Giveaways Work?
In 2006, we were one of the first mom blogs to expand online product reviews into giveaways and sparked the now huge giveaway movement in blogs.
Today, we continue to lead the blogosphere with some of the most exciting and popular giveaways.
5 Minutes for Mom runs giveaways for a variety of companies, ranging from large companies such as Huggies, Kodak, Kraft, Lands' End, HP, Toshiba, etc. to small Mom-owned and Family-owned stores.
One of our goals is to promote Mom-owned business and sites, so we feature them as often as possible.
Our product giveaways are usually open for entries for two weeks and readers enter using a GiveawayTools entry form. Once we announce a winner, the giveaway sponsor sends the winner(s) prizing.
If you'd like us to promote your brand through a sponsored giveaway here on our blog, please contact us.
Please take a moment to review our Disclosure Policy.