This post may contain affiliate links. Read my disclosure policy here.
Homemade bread is the best! If you're looking for a delicious recipe, you will love this Rosemary Olive Oil bread.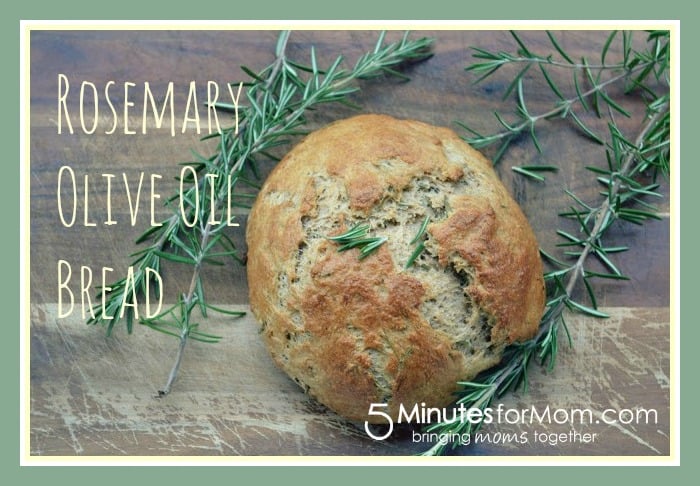 When we bought our first house, a rosemary plant was one of the first things that I planted. It was a gift from my husband that meant so much to me. When life is full and busy, we need to celebrate the little things like being able to step out the front door, pick Rosemary and then later fill the house with that amazing smell of homemade bread.
The other day, my 4 year old helped me make some Rosemary Olive Oil bread. He helped me pick it, washed it for us, and then he carefully plucked the green deliciousness off of the branches. This bread made our house smell amazing. I hope you'll give it a try and let me know what you think.
Rosemary Olive Oil Bread
This recipe for a delicious homemade bread makes 1 round loaf.
Prep Time: 15 minutes
Cook Time: 20 minutes
Resting Time: 1 hr 55 mins
Total Time: 2 hours 30 minutes
Course: Bread
Cuisine: American
Servings: 5 slices of bread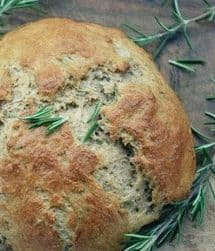 Ingredients
1 cup warm water (100-110 F)
1 Tbsp. sugar
2 tsp. active dry yeast
1 tsp. salt
3 Tbsp. fresh rosemary (chopped)
1/2 tsp. freshly ground black pepper
2 Tbsp. extra virgin olive oil
1 1/2 cups whole wheat flour
1/2 cup bread flour + extra for kneading
1 egg (whisked + 1 Tbsp. water, for egg wash)
dried rosemary (for sprinkling)
Instructions
In a large bowl, combine the warm water, sugar, and yeast. Let sit 10 minutes.

Stir in the salt, rosemary, pepper, olive oil, and whole wheat flour. Add the bread flour and stir until the dough forms a ball. Knead on a lightly floured surface until smooth, adding more flour as necessary to prevent sticking.

Place the dough in a lightly greased bowl and cover. Rise in a warm area until doubled in size, about 1 hour.

Punch down the dough and form it into a round loaf. Place it on a greased cookie sheet, cover and rise until doubled in size, about 45 minutes.

Meanwhile, preheat oven to 400 degrees F. Once the dough has risen, gently brush the top with egg wash and sprinkle with rosemary.

Bake in preheated oven 20-25 minutes until the top is golden brown and sounds hollow when tapped.
Nutrition per serving
Calories: 263kcal
Fat: 9g
Saturated fat: 2g
Cholesterol: 33mg
Sodium: 402mg
Potassium: 233mg
Carbohydrates: 41g
Fiber: 6g
Sugar: 3g
Protein: 9g
Vitamin A: 305%
Vitamin C: 1.9%
Calcium: 47%
Iron: 2.3%
Keyword: baking
More Delicious Bread Recipes
Irish Soda Bread – You'll love how incredibly quick and easy this soda bread is to make.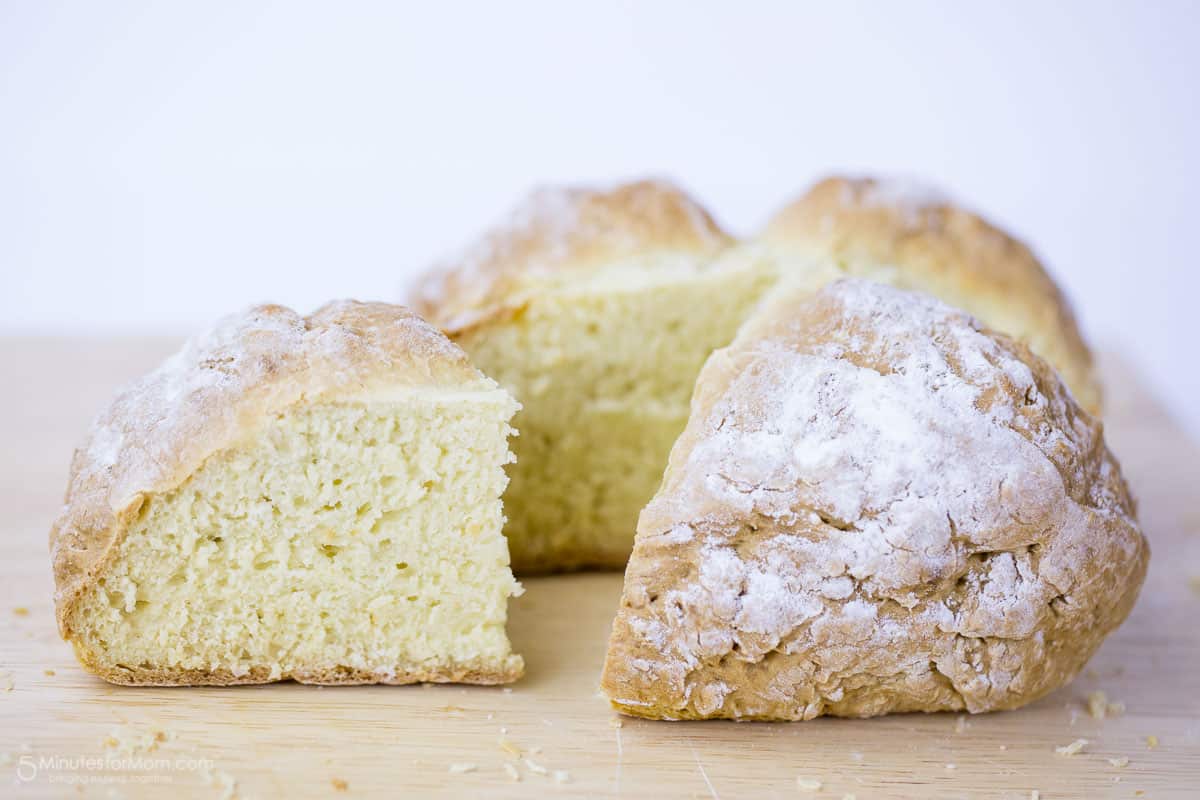 If you can't have gluten, you'll love this scrumptious Gluten Free Pumpkin Bread…