This post may contain affiliate links. Read my disclosure policy here.
Women enjoy being productive. We multi-task. Our work seems to never end. Do you agree with these statements?  We could all use a few more hours in the day.  There may not be a way to to create a thirty-six hour day, but there is a way to do more with the time that you have. That's the purpose of the Moredays app.
I am a big fan of products that make my life easier.  When I bought my first smart phone I was excited to discover all of the apps that I could use to help organize my life. However, I was ultimately overwhelmed.  There were so many options and I had so many different apps for different things that it really wasn't saving me much time at all. The Moredays app is the perfect solution because it has multiple functions built in to one easy-to-use app.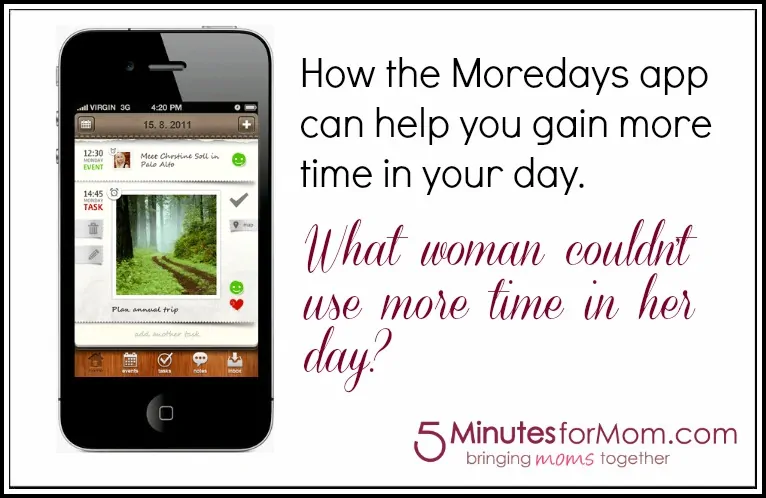 Want to schedule an appointment, create a to-do-list, or record a memorable moment with your children?  Moredays can offer you all of that with a stylish and functional app. Moredays uses pictures and images more than text.  This makes appointments and tasks stand out more.  Not to mention, it is much more fun to use a graphic to remind you of something than to merely write it down.


The layout of the app is extremely fresh and simple. So many apps leave me feeling like I need to be a technology guru to operate them.  Moredays is streamlined and appealing.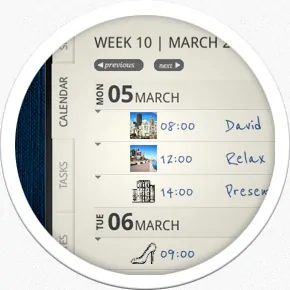 I have always loved a beautiful hardbound planner, but in reality it sits on a shelf and does not get much use.  My computer and phone, however, are always on and nearby.  I can access all my appointments quickly and efficiently with Moredays, without sacrificing style. This app reminds me of my hardbound planner.

Useul Functions of the Moredays app
load pictures
record memorable events
schedule events
assign graphics to represent your events
scroll through your calendar by day, week, or month
Synchronize with other apps such as Google Apps or Evernote
Record your thoughts without having to assign them to a category immediately
Share your notes, pictures, or information with different social media outlets
coordinate your meetings and appointments with a map that will show you where you need to be
order your planner printed as a real book
I enjoyed using this app.  It was fun to assign cool graphics or personal photos to my upcoming task and appointments.  The cool this that I love is being able to turn my Moredays memories into a printable book.  As a busy mom, I am lucky to snap a few quick pictures with my phone.  Being able to print those memories as a keepsake is a priceless opportunity.


Wonder what Moredays can do for you? Check out this video to learn more.
iPad Screencast from MOREDAYS on Vimeo.
This post is part of a promotional campaign with Moredays. All opinions listed are my own.