This post may contain affiliate links. Read my disclosure policy here.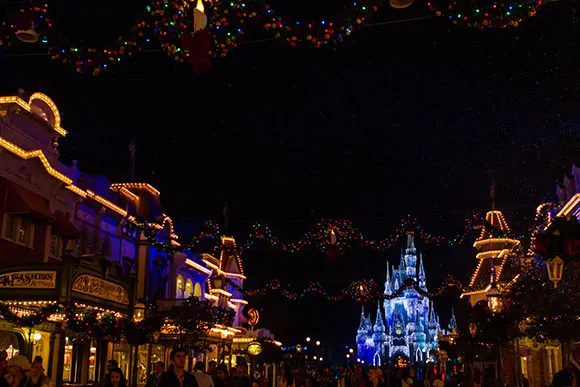 "Snow" falling on Main Street in Walt Disney World
Last week, I had the honor of attending the opening of the
New Fantasyland
in Walt Disney World. I have never been to
Disney during the holidays
and it is as beautiful as everyone always told me it is!
The fireworks can always make my eyes mist up, but add in all the holiday music, lights, and even "snow!" and I was just blown away. It was fabulous!

Have you ever been to a Disney park during the holiday season? What was your favorite part?
Please Note: I attended the New Fantasyland as a member of the press and my travel and expenses were covered by Walt Disney World. I was not compensated or required to post.
What is Your Weekly Photo?
Mom Bloggers (and Dad Bloggers too!) post a photo on your site, link up and find others… Wordless Wednesday is tons of fun. (And I know it says "wordless" but I usually just can't bear to not write anything! If I had created it, I probably would have named it something different! LOL So feel to link up your word-full or word-less Wednesday photos!)
Leave the URL to your photo (clearly mine are never truly "wordless") and then visit others!
Here is a fun thumbnail linky:



And here is a basic link:
Thanks to Uisce for creating Wordless Wednesday.

Written by Janice, co-founder of this Mom Blog 5 Minutes for Mom
If you like this post, we would love it if you gave it a Stumble, Tweet, Pin, or Facebook Like. Thanks so much! We really appreciate your support of 5 Minutes for Mom.