This post may contain affiliate links. Read my disclosure policy here.

I am a sucker for keepsakes. I used to be an avid scrapbooker, back when my oldest was my only child. But after adding two more kiddos to the bunch, scrapbooking has been put on hold. It's sad, really. I have boxes and boxes of photos along with several empty albums just waiting to be transformed into precious treasures.
On the other hand, my 5-year-old daughter loves to be creative and has all the time in the world it seems, since I am always being reminded about just how BORED she is ALL OF THE TIME. 😀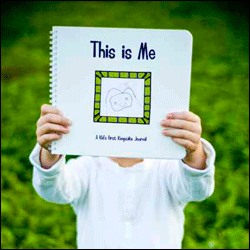 That is why the This is Me keepsake journal is PERFECT!
Filled with writing prompts, drawing spaces, and frames, the This is Me journal gives your child the creative control for what might be their very first journal.
It is perfect to start at the beginning of a new calendar year, on a birthday, or even at the beginning of a new school year.
My daughter, Audrey, started kindergarten last week, and received her This is Me journal this past weekend. We have already started filling it out together.
Since she can't write yet, we discuss the writing prompts together and I complete those pages for her. I then hand the journal off to her, so she can draw pictures of her friends and favorite things.
Here are a few of the entries we have made so far in her This is Me journal:

My Favorite Color is Bright Blue.
When I grow up I want to be a doctor because I want to take care of children and help them to not be sick.
When I grow up I want to look like Cinderella because she is pretty and wears blue.
My favorite thing about being 5 years old is I can paint!
We are going to have such fun this year completing her This is Me journal. There are special places for holidays, many places for photos and mementos, and a special pocket to hold Audrey's most important things (art work, greeting cards, report cards…etc).
I think that the This is Me journal may become a yearly back to school tradition. I look forward to presenting Audrey with a brand new This is Me journal next year on the morning of her first day of 1st grade.
Would you like to win a This is Me Journal for your child? We have one to give away to one lucky reader. The retail value is $18.00
This giveaway open to both US and Canadian shipping addresses, and is part of our 2009 Back To School Giveaway Event. Simply leave a comment on this post to enter (US and Canadian addresses) and, please, be sure to read our Back To School Giveaway rules.
As always, don't forget to earn more entries: subscribe to our Feed, sign up for our 5M4M Newsletter, add our 5M4Giveaways button in your sidebar, write a post and link back to this contest on your blog, and spread the word via Facebook, Twitter, or email! One Tweet per giveaway, please.
Please see our site's Terms and Conditions of Use for a complete list of our contest and giveaway rules.
Written by 5 Minutes for Mom contributing editor Erica