This post may contain affiliate links. Read my disclosure policy here.

It's time for school! Ready or not, it is time to get back into our school routines — packing lunches, supervising homework, and taxiing our kids to all of their activities. The only thing busier than summer is the school year!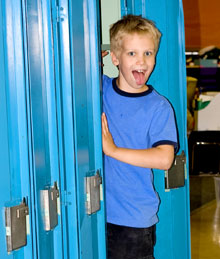 I can't believe that school has already begun for many of your children! In our neck of the woods, kids don't hit the classrooms until after Labor Day. So I still have some time to get organized.
This year, Jackson is heading into Grade Two, (or 2nd Grade, as you Americans say,) and I am so excited for him. There is nothing like that thrill of being a grade older and heading into a new year…
I am also excited about the fun giveaways we have in store for you during our 5 Minutes for Mom Back To School Giveaway Event. Whether your kids are already in school or you haven't even begun to get ready, you can have some fun getting ready here!
Win prizes, find shopping ideas and get in the mood for fall.
From printers to backpacks, we have something for everyone. Our Back To School Giveaway Event begins today, August 14th, and will end on Friday, August 28th. We will announce our winners on Saturday, August 29th.
Here's what you need to do to join in on the fun and make sure you are signed up to win the prizes –
Add a comment on the giveaway you want to enter. PLEASE note: You need to enter each giveaway individually so we know who wants to be entered in what giveaway. So make sure you click over to each giveaway and leave your comment there.
Either link back to this post and include a "Back-to-School Giveaway" button in that post or on your sidebar (to get the code scroll to the bottom of this post,) or link to the individual giveaways you choose to enter. (If you post and include the button, either in your post or on your sidebar, and link back here, you are good for all the giveaways. No more linking required.)
As always, non bloggers are welcome to participate! We understand you can't link from a blog – but please link from your Facebook, MySpace or Twitter account and spread the word to your friends.
Some giveaways may be open to Canadian shipping addresses. Please check individual giveaways.

Please see our Terms and Conditions for a complete list of our contest rules.
Back To School 2009 Giveaway Posts
This section will be updated with links to each new giveaway post. Be sure to check back so that you don't miss out
PLEASE REMEMBER: You need to click over and comment on each giveaway you want to enter. All giveaways will be open for entries through August 28th. We will CLOSE the comments on THIS post so that people do not get confused and comment here to win the prizes. Head over to each giveaway you are interested in and comment at THOSE posts.
Back To School Lands' End Twitter Party

For even more back to school fun, we will be holding a Back To School Lands' End Twitter Party from 7-9 P.M. CT on August 20th. (Mark your calendars)
You will want to check out LandsEnd.com as well as their backpack micro-site before the party starts.
We have some great prizes in store including backpacks, lunchboxes and Lands' End gift cards. We will be asking you to tell us which back to school items from their site you like best. So do your homework, to help ensure that you will walk away a winner.
It's going to be fun and we hope to see you all there. We know that the next couple of weeks are hectic ones for many of you, so don't worry, there will be plenty of reminders.
Button Code