This post may contain affiliate links. Read my disclosure policy here.

Today, I made a pocket sized photo book — from start to finish, right here at home!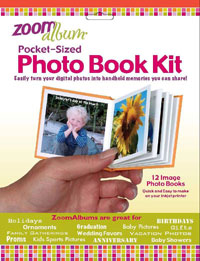 A few months ago, when I was at Startup Princess, I met Ellen from ZoomAlbums. I fell in love with her pocket sized, print at home, photo books. They were just so cute!
Ellen was kind enough to send me some to sample and today I finally made a ZoomAlbum with photos from our trip to Disney World. It was super easy and quick — although I am sure the next one I make will go so much faster now that I know what I am doing.
Making My Zoom Album
To get started making my photo book, I headed over to www.zoomalbum.com to download the software. A strange glitch on their site made the download feature not work for me. But no worries, I called their support line, and they emailed me a direct link. (I love companies who have live, telephone support!)
After I got the software working, I began creating my album. First, I selected the twelve photos I wanted in my photo book.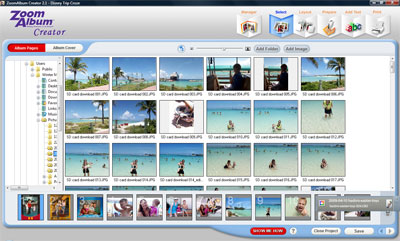 That was easy! Selecting and moving the photos is as simple as clicking and dragging.
After I selected the layout I wanted — I chose plain white borders with no frame — it was time to position my photos. Again, super easy.
I didn't want to add any text to my album pages, so I moved right past that step. I was ready to start printing…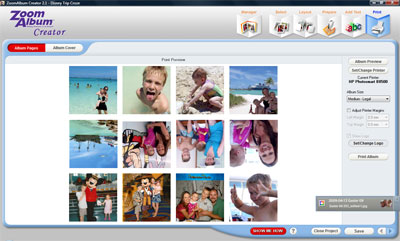 The print preview allows you to make sure everything is just as you want it. And of course there are help menus along the way for us newbies. I made sure to study up HOW to actually make this print correctly!
If you are wondering why some photos are upside down, that is because when you are finished printing, you will fold it up and ta da — a book with photos on each page.
The printing went perfectly for the album pages and I was ready to do the cover.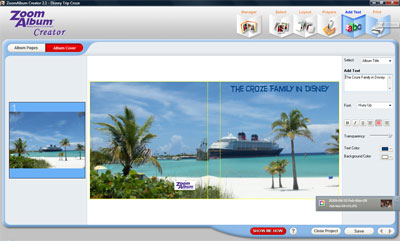 It was a bit harder to choose the perfect photo for the cover since I needed to have a shot that fit for both the back and front of the album. Once I had the photo selected, I positioned it, added a title and got ready to print.
But, printing the cover wasn't as easy. My HP printer didn't like the odd size. But ZoomAlbum warns us about HPs issues with their product and suggests that we tape the cover onto a legal size piece of paper and then feed it into the printer. The first time I did that it jammed, but the second time I added even more tape and it worked!
Then all I had to do was follow the very helpful instructions on the back of the photo sheets and fold up my book.
YES, it was as easy as that! And so much fun!
Here is a short YouTube video of me with my finished ZoomAlbum.
Perfect for any time of year — and especially Back to School
These handy little books are ideal any time of year. But since it is back to school time, what a perfect product to use to celebrate your summer!
A "What I Did This Summer" book for your children to take to school would be a great project to do together with your kids. Or you could make up a set of albums that cover all your summer vacations. Once you make one, I promise you won't want to stop!
WIN a Set!
If you want to win a set of ZoomAlbum Pocket Sized Photo Books, enter to win here by leaving a comment telling us what kind of photo book you want to make first. Do you want to make one for your purse that shows off photos of your kids? Are your summer vacation photos the perfect shots? Or do you want to make a "What I Did This Summer" book for your kids?

This giveaway open to both US and Canadian shipping addresses, and is part of our 2009 Back To School Giveaway Event. Simply leave a comment on this post to enter (US and Canadian addresses) and, please, be sure to read our Back To School Giveaway rules.
As always, don't forget to earn more entries: subscribe to our Feed, sign up for our 5M4M Newsletter, add our 5M4Giveaways button in your sidebar, write a post and link back to this contest on your blog, and spread the word via Facebook, Twitter, or email! One Tweet per giveaway, please.
Please see our site's Terms and Conditions of Use for a complete list of our contest and giveaway rules.
Written by 5 Minutes for Mom co-founder, Janice