This post may contain affiliate links. Read my disclosure policy here.

This afternoon, as I am working on my laptop at the kitchen table, my seven year old son Jackson is sitting next to me, his laptop playing pitches as he moves his mouse to the matching note on the keyboard on the screen. He is using an interactive music program called Music Ace Deluxe that we were sent to review.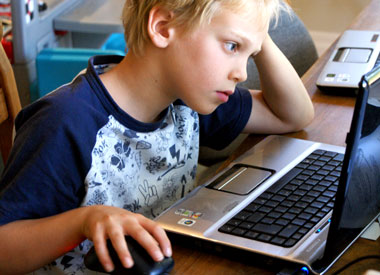 While Jackson listens intently and plays the games, "Maestro Max" lends encouragement and direction — with an Austrian accent of course!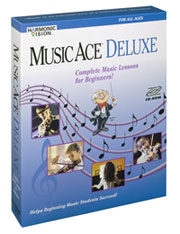 Jackson has been in piano lessons since he was five and so I was happy to accept a review copy of Music Ace Deluxe. Jackson will be continuing his lessons of course, but Music Ace is a perfect complement to his traditional lessons.
I figured using Jackson's love of computer games to help reinforce his music lessons would be a brilliant idea.

Now that Jackson is using the program, he is enjoying it. However, it took awhile to convince him to try it. Apparently the back of the box with its keyboards and staffs didn't seem as exciting as his video games. So when I suggested he try out his virtual music lessons this summer, he sighed, "Moooom… no… it looks boring…" and made a run for his X Box or DS.
I was a bit discouraged to say the least. I spend a small fortune on his piano lessons. This computer program can do a ton to compliment that investment.
Finally I cornered him and loaded on the software.
I think he was surprised at how much he did like the program. It can't compete with dueling light sabers of course, but the fun games that accompany the lessons are a hit with him. (The only problem is he wants to skip the lessons and get to the games. But once he realized that he can't get high scores on the games without learning from the lessons, he makes sure to do the lessons first.)
I hope I can keep Jackson committed to finishing the entire program. And I will definitely use it for Olivia as well when she is old enough. (The software can track the progress of 10 family members and is designed for kids 6 and older.)
It is fantastic to have another method of teaching music to my kids. And I think Music Ace Deluxe offers creative ways to effectively teach children.

There are three learning environments in Harmonic Vision's Music Ace Deluxe program.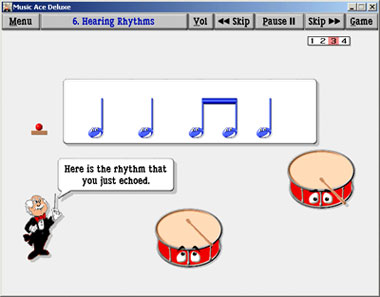 First, there are 36 lessons that introduce and reinforce a series of musical concepts — rhythm, pitch, note reading, listening and the keyboard.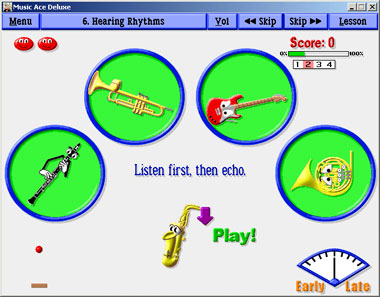 Second, there are 36 games that reinforce the materials in the lessons. The games are colorful and fun and reward the student with an "applause screen" for an exceptional game.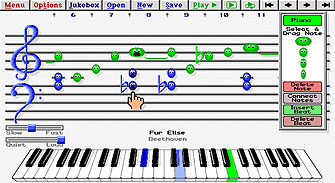 Finally, there is the Music Doodle Pad that lets students notate familiar runs and construct arrangements. Students can also listen to short pieces or compose their own! Up to six sounds, or timbres, can be combined to create fully realized compositions and orchestrations.
Music Ace Deluxe, the game-type Windows and Mac-compatible CD-ROM, is available directly from Harmonic Vision, for the MSRP of $79.95. But it is also available from other online sources such as Amazon, and Jr.com for $44.99.
If your child is interested in learning more about music or if you would like a computer program to complement their traditional lessons, enter here to win a copy of Music Ace Deluxe.
This giveaway open to both US and Canadian shipping addresses, and is part of our 2009 Back To School Giveaway Event. Simply leave a comment on this post to enter (US and Canadian addresses) and, please, be sure to read our Back To School Giveaway rules.
As always, don't forget to earn more entries: subscribe to our Feed, sign up for our 5M4M Newsletter, add our 5M4Giveaways button in your sidebar, write a post and link back to this contest on your blog, and spread the word via Facebook, Twitter, or email! One Tweet per giveaway, please.
Please see our site's Terms and Conditions of Use for a complete list of our contest and giveaway rules.
Written by 5 Minutes for Mom co-founder, Janice