This post may contain affiliate links. Read my disclosure policy here.

In Feburary, IMAX released its newest 3D film,Under the Sea, offering viewers an in depth look at some of the most exotic creatures in waters around the world. The film received such rave reviews that it is being re-released for a limited time only beginning August 19th.
Recently, I took my children to the Tampa Aquarium, where we all ooh'ed and aah'ed over the many brilliant creatures swimming in the blue waters of the surrounding tanks. My children were in awe of the world they'd never before seen.
It was both inspiring and thrilling to see their eyes light up as they took in new sights and saw just how expansive the world really is.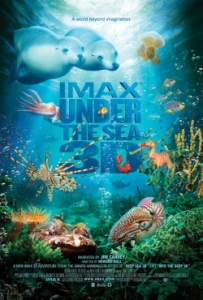 But I found myself wishing that somehow I could show them more. Sure, it was fun to see the fish swim around behind the glass. But I want my children to really see the beauty of the underwater world. When they're old enough, we will take them snorkling, but what do we do until then?
The IMAX Under the Sea documentary is the perfect answer to my dilemma. Through the magic of 3D and a gigantic movie screen, my children can now see life Under the Sea in a way they've never seen it before.
Imagine taking your children to the IMAX where they will experience the world of sea life in 3D. It will be as if they entered the tank with the mysterious and stunning sea creatures, allowing them to learn and experience life in a way that will educate and inspire them.
To celebrate the re-launch of this fascinating documentary, IMAX is offering one lucky reader a "Too Cool for School" IMAX Prize Pack.
The Prize Pack includes:

1 Under the Sea 3D movie poster signed by our filmmakers and narrator Jim Carrey
Family 4-pack of IMAX tickets
1 Under the Sea USB drive
1 "Too Cool for School" Under the Sea youth-sized t-shirt
2 Under the Sea zipper pulls to attach on hoodies, backpacks, etc.
2 Under the Sea 3D bookmarks
2 Under the Sea temporary tattoos
Not only does this beautiful underwater documentary offer your children a glimpse into the beauty of an unknown world, it also educates them on the impact of global climate change. Your children will be inspired to better care for and appreciate the world around them through the images offered up in splendid color and variety.
So, what do you think? Are you ready to WIN?
You know the drill – simply leave a comment below.
This giveaway is part of our 2009 Back To School Giveaway Event. Please be sure to read our back to school giveaway rules.
As always, don't forget to earn more entries: subscribe to our Feed, sign up for our 5M4M Newsletter, add our 5 Minutes for Mom button in your sidebar, write a post and link back to this contest on your blog, and spread the word via Facebook, Twitter, or email! Please see our site's Terms and Conditions of Use for a complete list of our contest and giveaway rules. This giveaway is open to US shipping addresses only and is void where prohibited.
What better way to bid adieu to the summer than with one last excursion to the crystal blue waters of the ocean deep? All within the comforts, of course, of your local IMAX theater. Leave a comment today for your chance to win!