This post may contain affiliate links. Read my disclosure policy here.

It seems today, more than ever, we are a bit more focused on price tags when we shop for our children for back-to-school. For many of us, money is tight. I admit, I have been purchasing shoes for my children at places like Wal-Mart and Target, where the prices are a bit more within my budget.
While I have a Famous Footwear right down the street from my house, I haven't shopped there in years. I have always assumed that I couldn't afford Famous Footwear because of all of the name brands that they sell. But I might just have to check them out, and soon.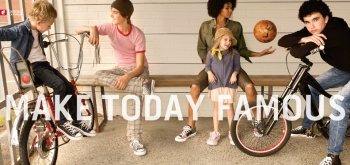 Famous Footwear recently emailed us and shared with us a great back to school promotion that they are currently running. It is perfect for me, because my daughter and I are both in need of a great pair of tennis shoes.
Right now, Famous Footwear is offering a buy one get one half off deal in all of their stores and online. It's perfect for those of us who have several children to shop for. It is also a fun way to reward ourselves with a new pair of shoes, while also checking a back to school item off of our list.
With great brands at great prices, I have been missing out these past few years. I know where I am headed this back-to-school season.
In addition, Famous Footwear recently launched a campaign called "Make Today Famous" which focuses on new celebrity styles (Carlos Santana, Libby Edelman of Sam & Libby fame, etc.) and the way a great new pair of shoes can make you feel – famous in your own right. On the website, you will find tips on lifestyle, health, and fashion, plus special coupons.
Along with informing us about their current sale, Famous Footwear also offered us two $25.00 gift cards to give away to ONE lucky reader. That's right, one of you will get $50.00 to spend at Famous Footwear. To enter, please leave a comment below. This giveaway is open to US shipping addresses only.
Again, this giveaway is part of our 2009 Back To School Giveaway Event. Please be sure to read our back to school giveaway rules.
And don't forget, like all of our giveaways, you can earn additional entries. subscribe to our Feed, sign up for our 5M4M Newsletter, add our 5 Minutes for Mom button in your sidebar, write a post and link back to this contest on your blog, and spread the word via Facebook, Twitter, or email! Please see our site's Terms and Conditions of Use for a complete list of our contest and giveaway rules.