This post may contain affiliate links. Read my disclosure policy here.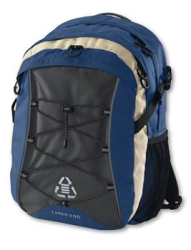 When you think Back-to-School, you gotta be thinking about the backpack, so of course we want to tell you all about one of our new favorites. When my tween daughter saw the "recycle" symbol on the backpack, she was really excited. "It's recycled?" she asked. "That's awesome!"
Yes, Lands' End has created a brand-new line of backpacks and lunch packs that are made from 100% recycled fabric.
In addition to this earth-friendly construction, the Eco-friendly Backpack has everything that you've come to expect from Lands' End: sturdy straps and good quality for a fair price. Backpacks and Lunch Sacks take a beating, and my daughter has been able to use her Lands' End packs for more than one year.
Another thing I love about shopping at Lands' End, is the variety of sizes that they offer. This Eco-friendly Backpack is marked for ages 10 and up. It's a full-size backpack perfect for older elementary students through high school or college (It dwarfed my five-year-old. I just ordered him the ClassMate SmallHaul Backpack, specially designed for ages 5 – 8.). The colors are more muted too, which is more appealing to an older child or adult.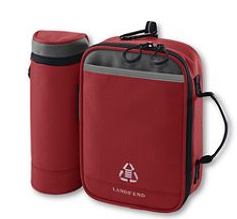 The Eco-friendly Lunch Pack is nice and roomy. It also comes with an insulated drink holder, so that you can send a bottle or a can and it will stay cool for hours.
The drink holder is removable, and can also attach it directly to the backpack if you prefer.
The lunch pack can also be attached to any Lands' End backpack with the carabiner clip (leaving more room inside the backpack for books and binders, and keeping it smoosh free).
For our Back To School Giveaway, Lands' End is giving 9 winners an Eco-friendly Lunch Pack and an Eco-friendly Backpack. Leave a comment if you'd like to win. This giveaway is open to U.S. and Canadian residents.
Again, this giveaway is part of our 2009 Back To School Giveaway Event. Please be sure to read our back to school giveaway rules.
And don't forget, like all of our giveaways, you can earn additional entries. subscribe to our Feed, sign up for our 5M4M Newsletter, add our 5 Minutes for Mom button in your sidebar, write a post and link back to this contest on your blog, and spread the word via Facebook, Twitter, or email! Please see our site's Terms and Conditions of Use for a complete list of our contest and giveaway rules.