This post may contain affiliate links. Read my disclosure policy here.

Have you started your shopping yet? Do you have bags of Back To School supplies piling up in the corner? Well, if you're still looking to purchase some of those supplies or haven't quite found what you're looking for, may I suggest heading over to Oompa Toys.

Oompa Toys? Why would I do my school supply shopping at a toy company?
Because Oompa offers more than just toys. Oompa offers everything from toys to furniture to books and supplies!
And Oompa products are not just your everyday kids stuff. Oompa features some of the most unique furniture, lovable dolls, wooden toys, and learning gear out there!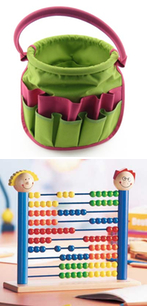 My daughter recently received the HABA Summarum and the Round Stuff Bucket from Oompa.
The Round Stuff Buckets, available in three fun color combinations, are a great way to keep your supplies organized whether it is for your art corner at home or for all those bathroom supplies! If you are looking for something a little more portable, check out the array of pencil cases and crayon caddies that Oompa offers.
I love Oompa's Early Learning product line. The HABA Summarum has been a great tool in teaching my daughter to do simple addition and subtraction, as well as counting by 10s. You can also shop for toys that teach color, shape, and size relations!!!
Oompa's line of Back To School products include everything from pens and pencils to backpacks and at-home learning tools. And those are just a few of the products offered at Oompa. You really must visit Oompa.com to appreciate all the items you can purchase there!
Whether you are sending your little one off on their first day of school or they will be learning their state capitals at home this year, Oompa wants you to start off the school year in style! Oompa Toys is giving away a $25 gift certificate to their on-line store to one of our lucky readers. Pick up a few more school supplies, a new lunchbox, or maybe do some early Christmas shopping!
Simply leave a comment on this post to enter the Oompa Toys giveaway (US shipping addresses only please).
This giveaway is part of our 2009 Back To School Giveaway Event. Please be sure to read our Back To School Giveaway rules.
As always, don't forget to earn more entries: subscribe to our Feed, sign up for our 5M4M Newsletter, add our 5M4Giveaways button in your sidebar, write a post and link back to this contest on your blog, and spread the word via Facebook, Twitter, or email! Please see our site's Terms and Conditions of Use for a complete list of our contest and giveaway rules.
Written by 5 Minutes for Mom Contributing Editor: Stacey Lynn